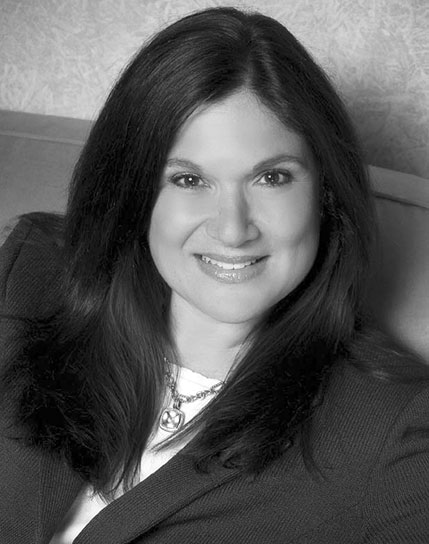 Diana Ganger "Whether as a Jew in Argentina, or an Argentinean in Israel, or a Jewish-Israeli Argentine in the United States, throughout my life I have had the fortune to have outsider eyes, shaped by G-d's Lech lecha message to Avram: 'leaving a known place.' This has provided me with the opportunity to see what could be different. I saw what could be, and what was. I strived to create what I believe so many Jewish families seek: institutions that know how to forge complex, deep relationships. My life was shaped by illuminating Jewish experiences. My only real core identity, given the variety of backgrounds and influences that have shaped my life, is my Jewish one."
Diana Ganger grew up in Buenos Aires, Argentina, born to a German Jewish family that just barely escaped the atrocities of the Holocaust. Between attending British schools and growing up in a geographically diverse neighborhood, Diana was cosmopolitan at an early age, viewing the world from a global perspective. Her Jewish journey began at Lamroth Hakol ("In Spite of Everything"), a synagogue created by German Jews during the waning moments of World War II that still thrives as a vibrant center of Jewish life. Diana's youth group met weekly to discuss Israel, ethics, the social order, and politics, and she and her peers advanced to become youth leaders in their turn, "madrichim" for the next generation. Attending camp in the summer and youth groups the rest of the year, Diana's extracurricular activities at Lamroth Hakol supported her interest in political activism and leadership and helped her to cultivate lifelong friendships, community, and a formative Jewish identity. Indeed, she married one of her youth group leaders, Danny, at age nineteen. Rich as these experiences were, Diana and Danny longed to draw closer to Jewish life, so shortly after their marriage they made aliyah. Diana traded her preliminary studies in Biology for an opportunity to become immersed in Israel, its pulse and its people, by studying Social Work at Haifa University. It was in Israel that Diana first began a serious investigation into the ritual and practice of Judaism. One of her teachers at Haifa University, who was traditionally Orthodox, took Diana under her wing. Once a week, they would study the parsha and delve into the tenets of Jewish philosophy.
In 1981, she and Danny changed hemispheres once again; this time, they moved to Saint Louis, Missouri. Diana earned a Master's degree in Social Work, with a specialization in Family Therapy and Gerontology, at Washington University. Thus, while Diana's first child, her daughter Sharon, was born in Haifa, her son Iony was born in St. Louis.
Diana's career in Jewish early childhood education began in 1985, when she became Director of the Moriah Childcare Center in Deerfield, Illinois. Once again she quenched her thirst for Jewish knowledge, studying at the Florence Melton Adult Mini-School and participating in a Wexner Heritage Leadership program. Together with a paradigm-shifting visit to the Reggio Emilia schools in Northern Italy, these experiences provided impetus and inspiration for her work during the twenty years that she led the Moriah preschool.
Aided by an outstanding staff of nearly thirty, Diana was able to realize her creative vision: a Jewish educational institution capable of creating "Covenantal community." Over time, Moriah's success became widely recognized, and the expertise supporting Diana's vision of familycentered schools was disseminated throughout the United States and Canada.
In 2004, Diana moved on to become Program Director at JECEI: the Jewish Early Childhood Education Initiative, which was created to bring about transformative change in the field. In this role, Diana continues to explore the ways that families and institutions can become more interdependent as co-visionaries and co-thinkers of Jewish life. What rights does the Jewish family have? How will we impact the next generation? Diana and Danny now live in Glen Ellyn, Illinois. Sharon is working as an attorney in Chicago; Iony is studying to become a Rabbi in Israel. Diana says that her network of family and friends both ground her and give her wings.
From Diana Ganger's Statements of Motivation and Purpose
"It is my life's purpose to act as a catalyst and to shepherd change towards creating 'Covenantal communities,' institutions that reach out to visitors in a Jewish embrace. Although I strive to create this transformation in Jewish early childhood education, my hope is that these communities will create a 'tipping point,' an awakening, in institutional Jewish life as a whole.
"When I first came to America in 1981, I found the adjustment to American life challenging. There was a dissonance between my Jewish values of friendship and close-knit community and the atmosphere in America, which seemed to be marked by a ubiquitous paucity of warmth in interpersonal relationships.
"Over the years, I had deepened my appreciation for Judaism by studying its treasure chest of deep wisdom. The more I learned, the more I yearned to enhance my knowledge. Then, as a Fellow of the Wexner Heritage Foundation, I had a startling realization: the Jewish big ideas resonated deeply with the Reggio Emilia philosophy of Early Childhood Education, which had been cited by Newsweek as the leader in the field and best early childhood program in the world.
"During my twenty years at the Moriah Preschool and Daycare Center, I developed a systemic vision of educational leadership. All growth starts with a vision: what is the potential of a community if its values are realized? I viewed myself as a change-leader who could harvest and, more importantly, express these Jewish values through everyday practice. A change-leader is someone who stretches an institution constantly, in a healthy way, until the institution itself sees reflection and growth as a natural state of affairs. The key is for the vision to move beyond the leader to the community itself, so that it can adopt the vision as its own. "Judaism provides the compass, the content, and the context. The process of broadening institutional cultures by using Jewish thought to inform practice will result in a transformation of the agencies themselves."
From her Letters of Nomination and Support:
"Diana knew, both from her background in social work and her cultural background in Argentina, that the early childhood center should be able to offer families a school that becomes the center of Jewish, social, and educational needs for all families. By creating a school of this kind, one also creates a culture of life-long learning, partnerships, self-reflection, and continuous change and growth. Diana was able to break down the walls between social work and education. This changes a school dynamic to incorporate the family as a client and to create a social-emotional focus as part of the classroom environment.
"For the past twenty years, Diana Ganger has – with patience, drive and limitless energy – enlightened and inspired the field of Jewish early childhood education to be self-reflective."
Cantor Mark S. Horowitz Executive Director, Jewish Early Childhood Education Initiative
"Diana, with her tremendous drive, was able to move our national group's thinking out of a response mode and into a place where intellect, emotion, and relationships could converge in order to deepen our thinking, focus our collective efforts, and begin to address the needs of our Jewish early childhood professionals. She has truly nourished our professional community with her sense of mutual respect, caring leadership, and expertise. She has worked with the Jewish early childhood directors in South Florida to create programs that are responsive, fluid, and adaptive to emerging needs and opportunities."
Margie Zeskind
Director, Helene and AB Wiener Early Childhood Department
The Center for the Advancement of Jewish Education in Miami
"Diana was a pioneer in recognizing the benefit of adopting the Reggio Emilio approach to early childhood education and adapting it both to the culture of North America and to that of a Jewish institution. Diana ensured that families would feel comfortable embracing the values and traditions of Jewish life by creating an atmosphere of acceptance and belonging. She recognized that parents would have the opportunity to redefine their own Jewish identities and establish unique family rituals by learning alongside their children.
"The words 'visionary' and 'Woman of Valor' come to mind very quickly when one seeks to describe Diana Ganger."
Jill Kantor
Director, Moriah Childcare Center
"The early childhood school which Diana has created is an extraordinary gem; the program develops the child's capacity, respects the full dignity of staff, and generates an atmosphere that is loving, nurturing, and responsive. She has created one of the great exemplary institutions of Jewish life.
"Diana is a modest person. However, her achievement of excellence and the extraordinary role model that she offers, both religiously and humanly, make her one-of-a-kind and one of the great educators of this generation. Honoring her adds to the dignity and importance of Jewish education and will help to spread her model of humanity, love, and religious depth to the entire field and the entire Jewish community."
Rabbi Irving Greenberg, President
Jewish Life Network/Steinhardt Foundation