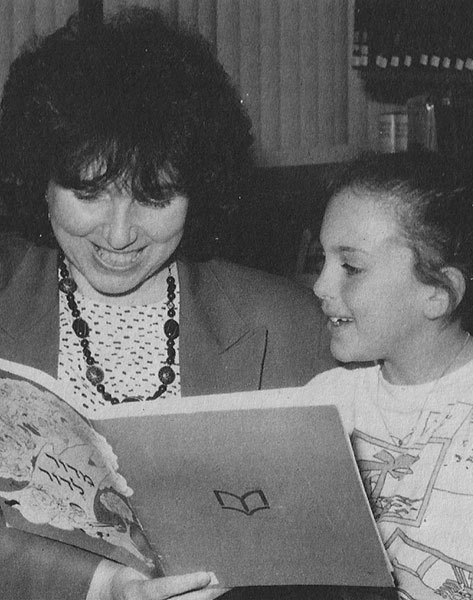 Tova Shimon was born in a small village in Rumania. Since there were no Jewish schools in her village, her father hired an out-of-town melamed (Hebrew teacher) and started a cheder in their home. At the age of ten her family moved to Israel where she remained through her formative years. In addition to high school studies and special studies at the Weizmann Institute of Science in Rehovot, she attended Hebrew University where she received her bachelor of arts degree in geography and Jewish history. She later earned a master of arts in Judaic Studies from Sir George University in Montreal and a master of arts in curriculum development from Concordia University in Montreal. Mrs. Shimon speaks five languages: Yiddish is her first language, her "mama lushen"; Rumanian is her second; Hungarian is her third; Hebrew is her fourth; and English is her fifth.
From 1972 to 1974 she was a Hebrew and Jewish history teacher at the Herzliah High School. She taught grades five and six at the Akiva School from 1975 to 1983, becoming principal in 1985. From 1981 to 1991 she taught "Methodology of Teaching Hebrew as a Heritage Language" at McGill University's Jewish Teacher Training Program. Mrs. Shimon is currently Director of Curriculum Development and Implementation at the Jewish Education Council of Montreal. She developed and implemented the widely used Tal Sela Hebrew Language Arts Curriculum.
Among the honors Mrs. Shimon has received are the 1989 Safra Authors Award, granted by the Educators' Council of America, in recognition of publications for the advancement of Jewish education. In 1979 she was the recipient of the J. I. Segal Award/the Jacob Zipper Award for Jewish Education from Montreal's Jewish Public Library in recognition of her outstanding achievements in Jewish education.
Tova Shimon's Statement of Motivation and Purpose:
"My mother used to kiss me on my forehead and say, I hope you will have brains, zim gitten (for the sake of good). Once when I asked her what she meant, she explained that…I have a 'good head' that she hopes and prays I will use it to do good…. The question was, what (to do with it)?…
During high school I excelled in art, literature, math, and science…. I studied math and science at the Weizmann Institute in an enrichment program for two years. I hoped to become a scientist. 'Be a Jewish educator,' my mother advised. 'It will enable you to serve your people well and at the same time leave you ample time to raise a family.' Little did she know about the endless hours and long days and nights I would spend in my 'lab' of Jewish education. I became a Jewish educator. By being a Jewish educator I am fulfilling my artistic aspirations through using creativity in designing learning experiences and implementing them. I am fulfilling my hope to be a scientist by employing scientific methods of research, testing, analysis, and problem solving to develop curricula.
Today I function well in several languages but the only language that I am at home with, the only language in which I sense a real bind between my soul and my mind and a congruency among my thoughts, feelings, and beliefs is Hebrew. As S. Y. Agnon said: 'Lashon Hakodesh [The Holy Languagel is unlike any other language. Whereas other languages were developed and agreed upon by people, the Torah was given in lashon hakodesh; the world was created by the Holy One Blessed Be He in lashon hakodesh, and the serafim, ofanim, and hayot hakodesh (heavenly beings) praise God in the holy language….In lashon hakodesh Jerusalem will be rebuilt and the exiles returned unto her….Therefore all of Israel must rigorously maintain, teach, and preserve the holy language…. '"*
From Her Letters of Support:
"Tova Shimon demonstrates exceptional achievement in the area of Hebrew language arts curriculum development. Tova's visionary and creative drive has spawned the…Tal Sela program, currently utilized in more than 125 Jewish day schools in North America. Integrating theory and practice, this outstanding educator draws on current research in language acquisition, cognitive development, and effective instruction; she sets a new standard for a holistic and integrated approach to Hebrew studies, evident in the conceptual framework of Tal Sela and in its practical implementation.
Tova's prodigious efforts and intense commitment to her work are rooted in her deep-seated belief that young Jews must be literate in the language of our people in order to have access to the Jewish past and participate fully in the contemporary realities of Jewish society both in the Diaspora and in Israel. Children who learn Hebrew through Tal Sela grapple with…issues such as social relationships among people, the environment, and political emancipation, in addition to exploring Jewish values, the Jewish holidays, customs, and traditions. They utilize all the modalities of language learning through listening, conversation, reading, and writing activities that relate to their own lives and classroom. Tapes and games complement the thematic readers and workbooks. Library books reinforce classroom lessons and encourage students to read for pleasure."
Dr. Elaine R. S. Cohen
"As part of her goal of improving the quality of Jewish education Tova has not only created a leading educational curriculum but has simultaneously stimulated teachers to become innovative, creative writers. She has also developed programs that have enabled teachers to expand their skills, broaden their visions, and search for better, more effective ways to stimulate and teach their pupils. She is an innovator with a practical approach; she is a visionary who makes visions realities; she is an outstanding educator who educates educators; she is a committed Jew who is committed to ensuring a heritage of committed Jews. It is an honor to know her, an honor to work with her, and it certainly would be an honor to honor her."
Stanley K. Plotnick
*From the story "Hush Hareah," included in Elu V'elu by S. Y. Agnon copyright 1966 by Schocken Publishing House Israel. Reprinted by permission of Schocken Publishing House Israel.