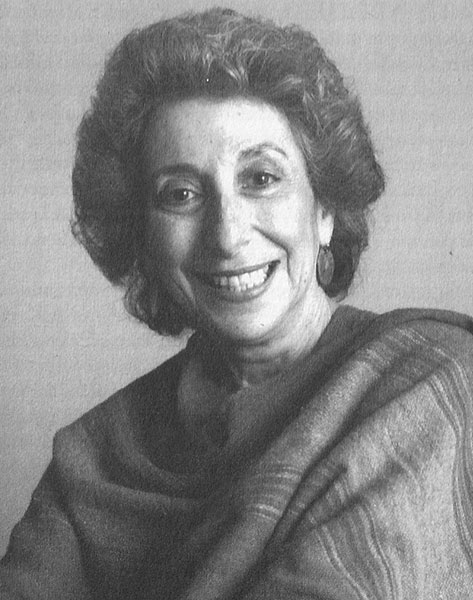 Peninnah Schram was born and raised in New London, Connecticut. As she was growing up, her father, Cantor Samuel E. Manchester, a chazan, mohel, shochet, and composer of cantorial music, spent much time recounting tales of the works and wonders of Elijah the Prophet, as well as other familiar and beloved tales from the Bible. Her mother, an entrepreneur and enthusiast of the Yiddish language, taught her daughter how to be a mensch through the telling and re-telling of stories and proverbs. Hearing her father's heart-felt voice and beautifully articulated words when he prayed, in addition to hearing wise stories from both her parents, enabled Peninnah Schram to comprehend deeply the power and fascination of the oral tradition.
After graduating from the University of Connecticut and Columbia University, Peninnah Schram and a friend created Theatre à la Carte, a theatre company which produced and toured adult and children's plays in the New York area. In 1966 they were invited to develop musical plays for children through the Jewish Heritage Theatre at the 92nd Street Y in New York. In 1967 she began her teaching career at Iona College. Two years after that she joined the faculty of Yeshiva University's Stern College for Women. Peninnah taught at Stern College for 45 years. She retired as Professor Emerita in 2015.
In 1970 Peninnah Schram started recording books for the blind at the Jewish Braille Institute. That experience inspired her to begin to teach Jewish storytelling as a separate subject, and in 1974 she taught her first course on Jewish storytelling. The year 1974 heralded several other groundbreaking projects: She became "storyteller-in-residence" at The Jewish Museum, and she recorded three record albums and broadcast two storytelling series on radio. Some of this recorded material is now in the National Jewish Archive of Broadcasting. Ms. Schram is the Founding Director of the Jewish Storytelling Center. She has told stories in America, Canada, England, and Israel, at synagogues, festivals, conferences, colleges, organizations, camps, and schools. She is also a catalyst, sparking ideas, inspiring others to tell stories, and creating places for other storytellers to gather and share stories. Several of her collections of folktales have been published by Jason Aronson Inc.: Jewish Stories One Generation Tells Another; Eight Tales for Eight Nights: Stories for Chanukah; and Tales of Elijah the Prophet. She is the editor of Chosen Tales: Stories Told by Jewish Storytellers, a collection of the works of 68 storytellers.
2018 Update:
Peninnah Schram became Professor Emerita at Yeshiva University in the Winter 2015, when she officially retired from YU.
Peninnah continues to write and publish as well as to present storytelling concerts and workshops in the US and Israel. She also coaches rabbis in the art of storytelling so they become inspired to integrate more stories into their divrei Torah and life cycle events.
From Peninnah Schram's Statement of Motivation and Purpose:
"As a storyteller, I never know when a story or an image or words from a story will take hold, like a seed that is planted that may take seven years to root and flower. But I know that with these Jewish stories I have been nourished and nurtured in my understanding of people and the wisdom of Judaism. And so I hope to enrich others with these stories. I want to instill an appreciation for the Jewish story…. Several years ago I realized that before I tell stories I needed to have a prayer, much like the cantors and the Hasidim who pray before their prayers. I must remember why I am telling these stories, so that I can become ready to tell the stories, and also to prepare my audience to listen and receive the stories…. One of the most awesome prologue prayers is the Hineni, the prayer the cantor chants before the main service on Rosh Hashanah and Yom Kippur. For me the Hineni evokes special associations because my father was a cantor. I see him, in my memory's eye, standing in the doorway at the rear of the synagogue, Ahavath Chesed, in New London, Connecticut, waiting to enter. He was waiting for the congregation to sense his presence, to become ready to hear his opening prayer, Hineni ("Here I stand"), in which he would ask G-d to consider him worthy and to accept his prayers and to accept him as a messenger who sends up the prayers of the people. And then, chanting the Hineni, my father would walk slowly, haltingly, up the aisle to the bimah, walking among the people in the congregation, singing out from his heart the words of the prayer. Along with the words, he prayed with his tears. And so, too, did we all walk and chant with him and call out, 'Hineni."'
"As a storyteller, I never know when a story or an image or words from a story will take hold, like a seed that is planted that may take seven years to root and flower. But I know that with these Jewish stories I have been nourished and nurtured in my understanding of people and the wisdom of Judaism. And so I hope to enrich others with these stories. I want to instill an appreciation for the Jewish story.... Several years ago I realized that before I tell stories I needed to have a prayer, much like the cantors and the Hasidim who pray before their prayers. I must remember why I am telling these stories, so that I can become ready to tell the stories, and also to prepare my audience to listen and receive the stories.... One of the most awesome prologue prayers is the Hineni, the prayer the cantor chants before the main service on Rosh Hashanah and Yom Kippur. For me the Hineni evokes special associations because my father was a cantor. I see him, in my memory's eye, standing in the doorway at the rear of the synagogue, Ahavath Chesed, in New London, Connecticut, waiting to enter. He was waiting for the congregation to sense his presence, to become ready to hear his opening prayer, Hineni ("Here I stand"), in which he would ask G-d to consider him worthy and to accept his prayers and to accept him as a messenger who sends up the prayers of the people. And then, chanting the Hineni, my father would walk slowly, haltingly, up the aisle to the bimah, walking among the people in the congregation, singing out from his heart the words of the prayer. Along with the words, he prayed with his tears. And so, too, did we all walk and chant with him and call out, 'Hineni."'
"I was in Tucson, Arizona, performing at the JCC, when I pulled out an apple to use as a prop in a story. With one voice, all the children called to me: 'Peninnah.' The apple is the image of one of Peninnah's signature stories…. For twenty years she has spread Jewish culture, encouraged Jewish education, and made Jewish storytelling integral to our family and communal lives."
Gerald Fierst
"Peninnah Schram has almost single-handedly revived an active tradition of Jewish storytelling in our generation…. Peninnah has built a network, an organization, a newsletter, seminars, conferences, classes, curricula, and much more so that Jewish storytelling is growing strong and becoming a significant part of Jewish life."
Arthur Kurzweil
"My own Boston University students have benefited from her enormous talents…. Last year we were privileged to have Peninnah visit our class, 'The Power of the Story.' My students did not stop talking about her and her stories. They had been assigned to read her book but I don't think they knew how inspired they would be by her active participation in the class. Her presence was deeply felt by all of us."
Elie Wiesel
"At a time when the unique culture of the groups within the Jewish community is fading, Peninnah is passing on their stories to future generations…. In the past, anti-Semitic rulers may have stripped the Jews of their material possessions in foreign lands but they could not take away their heritage. This they carried with them to every new area of settlement and transmitted it through their stories. Peninnah carries on their legacy."
Carolyn Starman Hessel