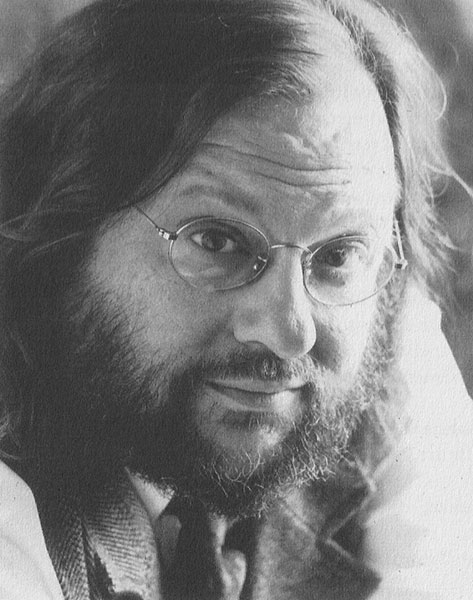 Joel Lurie Grishaver is the son of two active lay leaders in the Reform movement. The first dramatic event in his Jewish education happened at Camp Alpine on Cape Cod, when he was two or three years old. His parents were serving as volunteer youth advisors to the New England Federation of Temple Youth summer conclave. Hank Skirball, then "one of the kids," drove into town to borrow a sefer Torah and came back with it wrapped in a blanket. Joel saw Hank, asked questions, and then wound up on the blanket, on the lawn, examining that Torah.
Joel's formal Jewish education at Temple Sinai in Brookline, Massachusetts, went less smoothly. Nevertheless, the story ended happily with his active involvement in a youth group, a job working in the religious school office, attendance at Hebrew high school, college credits earned towards a certificate at the Academy for Jewish Studies, and a year in Israel at the Institute for Jewish Youth Leaders from the Diaspora. Joel earned degrees from Boston University and the University of Chicago and did significant course work (but did not complete degrees) at the Hebrew Union College-Jewish Institute of Religion and the University of Southern California. Throughout his education Joel worked as a teacher in supplementary schools and day schools, at the Los Angeles Hebrew High School, and as a long-time staff member at Olin-Sang-Ruby Union Institute and other Jewish camps. During this time, Joel also began a career as a creator of Jewish educational materials, starting with the "underground" textbook, the original and now well-known, Shema Is for Real. Joel was also a founding member of the Board of the Coalition for the Advancement of Jewish Education.
In 1981 Joel and two partners, Alan Rowe and Jane Golub, created Torah Aura Productions. Since then he has written, edited, and designed more than 100 pieces of curriculum, participated in major collaborations with other authors, such as Victoria Kelman and Ron Wolfson, and created his own body of published work, which includes 40 Things You Can Do To Save The Jewish People. Learn Torah With, the first weekly Torah fax, epitomizes Joel's work – conceived by his partner Alan Rowe, conceptualized in dialogue with Joel, Alan, and Jane Golub, and actualized by a whole team. Joel often creates through collaboration and always with a commitment to the polyphony of Torah.
Joel is a consultant to the Whizin Institute for Jewish Life. He co-edits four electronic weekly publications and maintains an electronic dialogue with students all over the world. He is still trying to share the wonder of that first look at a Torah on a blanket on Cape Cod.
From Joel Lurie Grishaver's Statements of Motivation and Purpose:
"Four or five years ago I was studying Torah with a six-year-old and his father over the Internet. He had ADHD (or whatever the diagnosis was then) and he had been removed from his day school. Dad and son learned together and then looped me in via e-mail. Shaye asked this question: 'Last week we learned that the Golden Calf was an idol. This week the Torah tells us that two golden statues of Cherubim on the Ark of the Covenant are holy. Why is one golden statue a sin and the other statues a place we are supposed to worship?' The question freaked me out. First, it was a great question, amazing for a six-year-old. Second, I did not know the answer. I went digging through my books and found nothing. I then sent out postings to all kinds of friends for help. I shared the answers with Shaye.
I still believe that the role of every Jew is Tikkun Olam. I believe that my life's calling – my vocation – is to teach Jewish texts. But, I know that my purpose is to stand in dialogue with all those I am privileged to teach and with whom I am privileged to learn. I continually try to get better at that.
Eleven years ago I left the 'non-profit' sector of Jewish education and created a private company with two friends. I did this because I truly believe that 'venture capitalism' is a good way to affect the curriculum of Jewish schools. The advantage of the business world is that, as my own boss, I am free to organize my own involvements. It has made my career in Jewish education wonderfully eclectic. While my prime day-to-day function is the creation of curricular tools, I also wind up doing a lot of other things to enable the success of those materials: I teach both adults and children, in order to field test materials. In the long run I teach not only to learn but also to have a language in common with real Jewish teachers who use my materials. I also teach because it gives me an important feeling of fulfillment. The larger truth, however, is that my life is a quest for dignity, purpose, and connection. Each of the roles I serve, each of the projects I complete helps to enhance a sense of self-worth and meaning.
The great joy of my work over the past eleven years has been the growth of a network of friendships and human connections with others who struggle in similar endeavors. Today when I create materials I do it as much for my friends and their individual responses as I do for any quest for posterity. There is no danger of ever growing rich."
From His Letters of Support:
"In the words of Joel L. Grishaver, 'Jewish identity is an entry point not an exit visa in Jewish education.' It is this kind of succinct observation that makes Joel Grishaver the potent Jewish educator that he is. His combination of laser-like observations, humor, creativity, and a dedication to excellence has brought to the world of Jewish education such works as Bible People, Torah Toons, Shema Is for Real, Bet Man's Book of Hebrew Letters, and literally a hundred more texts and tools that are used nationally.
Finally, Joel teaches real people. He is in the classroom teaching adults, sixth graders, and post-confirmants this year. Other years there are many other classes with other types of students. Joel is dedicated to his students, regardless of their ages; through the art of teaching. For Joel, teaching is not an occupation, but a mission."
Harlene Winnick Appelman
"By way of background, I am an attorney in Los Angeles, very active in the United Jewish Fund, serving for a year as the Vice Chair of the Legal Division. I have always felt that my Jewish education as a child was lacking, so several years ago I started taking 'adult education' classes. I really wanted to explore the Talmud and learn more about Jewish history, so when I saw Joel Grishaver's 'Talmud with Training Wheels' class offered for the first time, I signed up. Joel has been so wonderful that I have taken the class every time it has been offered since, probably six or seven times. He has presented the Talmud, plus a depth and breadth of Jewish knowledge in a unique, compelling, loving, and caring manner. His approach as a teacher, mentor, and friend, and his original materials, have opened a new world of learning to me as well as to his other students, many of whom are also 'repeaters.' His classes are often referred to as 'tangents' because our conversation, much like the Talmudic discourses we study, wanders from subject to subject, and back again. Yet, each evening the amount of new information transmitted is so mind-boggling it takes days to assimilate.
Over the years I have read many of Joel's materials – The Shema Is for Real Lab Book, The True Story of Chanuka, The Jewish Law Review, Bet Din-The Jewish People's Court, and dozens of Talmudic translations, as well as manuscripts of works in progress. I only wish these materials had been available to me as a youth. I have found [them] fascinating, captivating, and informative. [They] make you an active participant in the process, not just a passive reader."
Alan Rosen
"I have had the honor of knowing Joel Grishaver as one of his students at Los Angeles Hebrew High School. Mr. Grishaver has had a tremendous influence on the way I view Judaism as a religion, and as a way of life. His methods, though somewhat unorthodox, create a learning environment unlike any I have ever experienced. Mr. Grishaver will often teach directly from texts that he has personally written. Though these materials are always easy to read and understand, Mr. Grishaver's personal twist on his own material adds a deeper understanding to whatever the topic may be.
I personally know close to half-a-dozen students who are continuing their Jewish education simply to have Joel Grishaver as their teacher. For Joel, teaching does not stop in the classroom. He gives all his students his home phone number, fax number, and e-mail so they can ask any question any time. There is never a moment when he is not willing to help in any way he can. Joel Grishaver has a magical quality about him. When people are around him, they want to learn and he is always willing to teach them."
David Tytell