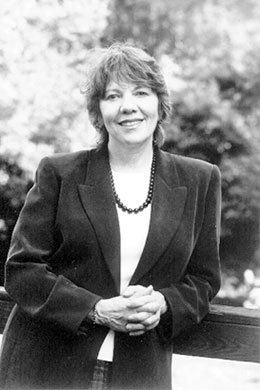 Associate Professor of Jewish Education
Azrieli Graduate School of Jewish Education and Administration
Yeshiva University
Dr. Karen Shawn was born in Albany, New York. Her father, of blessed memory, was a master teacher, an Associate in the New York State Department of Education in the field of Special Education. Her mother, the principal stenographer and secretary for the Assistant Commissioner for the New York State Department of Health, was a master teacher by nature. Karen's future as an educator was assured. Her early desire to teach was encouraged at home and cemented by the heady experience, in first grade, of being put in charge of her reading group.
Of her future in Jewish education, however, her childhood gave no hint. Her parents' Jewish world was steeped in Yiddishkeit and its attendant warmth, love, food, community service, and customs, but devoid of traditional religious education and observance.
With a Bachelor of Arts in English from Adelphi University, Karen became a junior high school English teacher. She received her Master of Arts in English Education from New York University and continued to study for her doctorate, specializing in curriculum development in middle level education.
In the summer of 1985, Karen and her husband, Keith Breiman, participated in the Jewish National Fund's Family Living Experience in Israel. The experience of working, touring, and welcoming Shabbat each week "kindled a spark long dormant" in Karen. These experiences, coupled with visits to Beit Lohamei Hageta'ot, the Ghetto Fighters' Museum in the Western Galilee, and to Yad Vashem, were to change the course of Karen's life.
The following summer Karen was awarded a Summer Study in Israel Fellowship in Holocaust and Jewish Resistance sponsored by the Jewish Labor Committee, the American Gathering of Jewish Holocaust Survivors, and the United Federation of Teachers. She returned as a student to the Ghetto Fighters' House and to Yad Vashem. She credits her teachers that year, including Vladka Meed, Dr. Yehuda Bauer, and Dr. Emil Fackenheim, with helping her to understand the imperative to teach her students about the Shoah. It would take years more, however, before she had the content and the methods to do so effectively.
Each summer she returned to Israel to study; each fall she practiced what she had learned, helping her young public school students find ways to make the Holocaust personally meaningful. In 1989, her first textbook, The End of Innocence: Anne Frank and the Holocaust, was published by the Anti-Defamation League. Also, that year, she was awarded a Mt. Scopus Fellowship, enabling her to live in Jerusalem and study at Hebrew University. Under the mentorship of Shalmi Barmor and Dr. Ze'ev Mankowitz, she wrote curriculum for Yad Vashem and taught a Holocaust literature course at the World Union of Jewish Students (WUJS) in Arad. In 1990, she joined the faculty of the Yad Vashem Summer Institute for Educators from Abroad, where she would design and teach the seminar's pedagogic workshops for the next decade.
As Karen's knowledge of the Holocaust deepened, and her involvement as a consultant broadened, so too did her interest in embracing a more traditional Jewish lifestyle. In 1993 she accepted a position creating and developing a Holocaust Studies program at the Moriah School of Englewood. She was delighted to devote herself to this task, but of equal importance was the opportunity such a position afforded her and her family to work and live in an observant community.
In her third year at Moriah, she was offered the newly created position of Assistant Principal for Secular Studies for the junior high school. In her concurrent role as consultant to the Ghetto Fighters' House and their Children's Holocaust Museum, Yad LaYeled, she has made Moriah a laboratory for learning based on materials she and the GFH staff have prepared collaboratively.
2018 Update:
Dr. Karen Shawn is currently the associate professor of Jewish education at the Azrieli Graduate School of Jewish Education and Administration at Yeshiva University, where she teaches educational practice, including Holocaust pedagogy. She is the founding editor of Yeshiva University's award-winning, peer-reviewed publication PRISM: An Interdisciplinary Journal for Holocaust Educators, now in its 11th year.
Dr. Shawn taught Holocaust education in the Yad Vashem Summer Seminar for Educators From Abroad for a decade, and served for 10 years also as the educational consultant for the American Friends of the Ghetto Fighters' House. She is a Fellow at the Holocaust Museum Houston (TX), where she has conducted workshops three times yearly for the past nine years. She has presented at conferences and gatherings across America and in other countries including Canada, Israel, Serbia, Poland, and, most recently, Chile, where she was invited to serve on the board of Santiago's Fundacion Memoria Viva. She has written extensively on Holocaust education, authored the widely used text The End of Innocence: Anne Frank and the Holocaust (1993), and is co-editor, with Dr. Keren Goldfrad of Bar-Ilan University, of the anthology The Call of Memory: Learning about the Holocaust Through Narrative (2008) and its companion teacher's guide. Her most recent research is focused on potential alternatives to traditional Holocaust curricula in American schools.
From Dr. Karen Shawn's Statements of Motivation and Purpose:
"'When did my love for Israel flower and become the overriding response to the time I spent there? Well within the first week, I knew.' I read from the journal that detailed my introduction to Israel in the summer of 1985. My husband and I were on a three-week Family Living Experience in Israel program sponsored by the Jewish National Fund, designed to help us to get to know Israel through touring and 'working the land.'
One afternoon led us to Beit Lohamei Hageta'ot, the Ghetto Fighters' House Museum, where I wandered for hours, trying to understand what I was seeing in this, my first visit to a museum that told the story of the Holocaust, including the meaning and scope of Jewish resistance. These particulars, new to me, left me aching and yet consumed with the need to know more.
In Israel, I spent hours walking, listening, learning, sitting at cafes, juxtaposing Jewish history with Jewish present and future, attempting to place the twelve-year Shoah, the death of the European Jewish community, within the context of thousands of years of Jewish life, of the spirit and vibrancy of Jerusalem and the entire country. At the same time I questioned my place and my future in the Jewish rhythms and rituals I was discovering.
Upon our return home, during a visit with my parents, as I talked passionately about the moments our photographs captured and tried to express my longings, both for Israel and for learning more about Judaism, I was overcome with emotion. My tears surprised us all into silence, until my father got up from the kitchen table to hold me in his arms. 'I knew you would feel this way,' he said. He wanted to continue to talk, he assured me, but he wasn't feeling well, and thought he'd lie down.
During his illness, my father and I sat and reminisced. I parceled out still more photographs, each with its attendant story. We would go there to Haifa and there to Netanya and there to Tel Aviv together, we assured each other, sketching out the details of a future family trip. But it was not to be. Four days later, while in the hospital, my father suffered a fatal heart attack.
My commitment to Israel was the place that I began to commemorate my beloved father, my teacher. His life was a study in contributing to society, in helping those less fortunate than he was, and he made it clear that this was a mandate for Jews. He had made me a proud Jew, bringing me up to understand the importance of the contributions the Jewish people had made to the world, well out of proportion to our numbers, and the centrality of Israel in our lives.
As my knowledge of Hebrew and the Holocaust grew, and as I incorporated my knowledge into the teaching of these subjects, so did my interest in embracing a more traditional lifestyle. Each Friday night we lit candles; new songs led to others. Learning each bracha, each niggun was motivated by, and was a memorial to, my father and the Jews of the Holocaust.
Through my work and study at Yad Vashem, the Ghetto Fighters' House, and later at WUJS, the ADL, and now, the Moriah School, I seek to develop in students the desire and ability not only to observe but also to judge and act; to have self-confidence in their intellectual and emotional responses to this subject (the Holocaust); and to realize that the study of the Shoah leads to questions and to exploration and clarification of personal and communal values. It is my goal that my students will take whatever personal lessons they need from this to help them remain on their path towards a committed Jewish adulthood."
From her Letters of Support and Nomination:
"Dr. Shawn is a wonderful, kind, and thoughtful individual, full of personal warmth, humor, good-will, and sincere concern for her students. That is why the students love her. She has endless patience, the ability to bring together teams of educators to solve problems, and an uncanny sense of what 'works' in the classroom setting. That is why the teachers respect her. She has the heart and soul of a Jewish educator, the ideas of a visionary, and a most impressive record of professional accomplishments which illustrate her achievements in the classroom, among students and their parents, and among teachers."
Deborah Nahshon
"Previously, 'Holocaust education,' at Moriah and most schools, was viewed as a day of commemoration on Yom Hashoah. Dr. Shawn's philosophy of age-appropriate preparation for understanding the Holocaust and a shift in focus from the tragic history to appreciating life before the Shoah was initially a challenge for her in gaining acceptance at Moriah. Today, Dr. Shawn is a most valued educator at Moriah. She engages students most effectively. Tangible evidence of her unique rapport with students is a student request for her to teach eighth graders in a Lunch and Learn program. Over forty students have voluntarily given up their free lunch period once a week to study with Dr. Shawn."
Rella Feldman
"Two of Dr. Shawn's early publications have not only become classics but provide models of pedagogical approach to use in evaluating other curricular materials—her book End of Innocence: Anne Frank and the Holocaust (ADL) and her article 'Helping Adolescents Learn about the Shoah' (Ten Daat and International Society for Yad Vashem). End of Innocence provides not only the history of the famous diary, diarist, and her family, but the historical frame without which their story lacks context. Karen has involved the students in an opportunity for critical thinking which challenges their understanding of historical decisions. Her article on adolescence demonstrates her understanding of both emotional and cognitive development of the teens we teach, an appreciation which is central to educators trying to make well-based choices of topics and resources in this highly sensitive field."
Josey G. Fisher