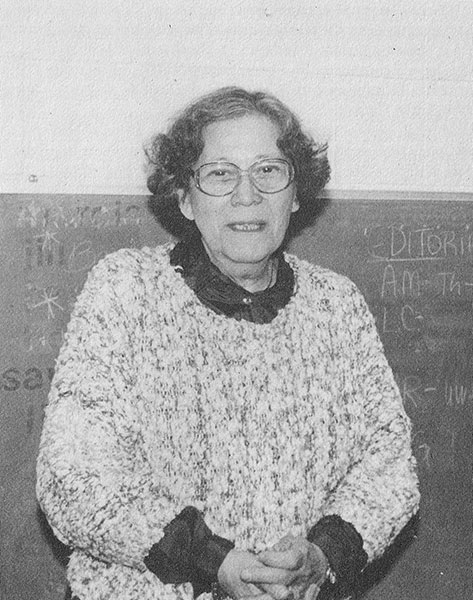 Ateret Cohn completed public high school and Hebrew high school and attended the College of Jewish Studies in Chicago. Beginning in 1958, she taught Hebrew, history, and music at Congregation Emanuel B'nai Jeshurun and was assistant director of its religious school from 1969-71. Ateret pursued her own education throughout those years, attending a summer institute for Hebrew teachers at Cornell University, studying at Ulpan Etzion in Jerusalem, and continuing her devotion to Bible study.
Her work in education touched many people within a variety of Jewish communal institutions. She was the Director of Camp Interlaken for ten years; she served as Director of Jewish Programming Services at the JCC; she directed the Judaica High School of the Milwaukee Association of Jewish Education for four years; she taught morning Bible classes to adults; and four years ago she began teaching the Bible to fourth and fifth graders at the Milwaukee Jewish Day School.
In addition to her ongoing affiliation with Jewish institutions, Ateret Cohn has consulted and lectured widely in the community. She was an organizer of support groups for Jewish women, a co-founder of the Kesher Conference of Jewish Women, and a resource adviser for the Milwaukee Public Schools, teaching a seminar on ethnic studies. She has lectured in public high schools, churches, and Catholic schools on Jewish history, religion, and the Holocaust, and she has instituted seminars on Holocaust studies in a number of educational institutions in Milwaukee. Ateret Cohn has taught for over forty years.
Ateret Cohn's Statement of Motivation and Purpose:
"It is my belief that the only freedom one has is the freedom to choose how to cope with the living situations that one confronts. It is knowledge and learning that frees us to choose. This learning allows students (of any age) to enter a process of becoming and assists them in setting standards for choices that need to be made. These standards can serve as the catalyst for one to do – to act. When one has an identity, that person is of value. When one is valued, the potential of that person is beyond limit. The Torah and our history certainly indicate that one's potential to create a just society is real, if not actualized.
Studying the Holocaust defines my goals as a teacher. I would endeavor to equip students with the sense of ownership of their history and to guide them toward an intimate as well as intellectual identification with the Jewish community.
What I wanted to do was to create dynamic models for Jewish living, or living Jewishly, in any setting – classroom, camp, group, organizations – to label and experience – these models and to challenge them. At present my teaching load includes nine-to-ten-year-olds and extends to Bible classes with adults in their seventies. In any Bible class there may be a couple of mothers who are nursing babies as we study. Labeling and identifying issues tends to permit introspection and suggested courses of change and action. In this way insights become precious. And precious things are cared about and tended.
When lecturing at a seminar for teachers, I speak of goals beyond the curriculum, objectives that can give empirical evidence for the curriculum. The most successful teachers in my experience are those who are active in the Jewish community, who study, who are advocates for their students, who support their students, who love and demand from them, and who touch them."
From her Letters of Support:
"Ateret has literally redirected the intellectual and religious lives of two generations of students – both children and adults. Through her personal life and her professional accomplishments, Ateret has served as model, mentor, and catalyst for Jewish education in the Milwaukee area for four decades. The words 'positive Jewish role model' and 'Ateret Cohn' are synonymous in Milwaukee for good reason, as I have learned since arriving here five years ago."
Dr. Doris Shneidman
"Because of Ateret's 'belief system,' the JCC residential camp was not simply a camp but a philosophical statement and environment, totally devoted to enhancing positive, humane, Jewish values. Ateret creates a Jewish environment that is incredibly effective and has had a significant impact on, large numbers of students (young and old) and campers. Everything…but everything just feels Jewish! It is interesting to note that many campers, camp counselors, students have become educators, Jewish Communal Workers, physicians, etc."
Ralph Sherman
"Strengthening Jewish identity and relating to survival are Ateret Cohn's primary agenda as an educator. She brings a personal intensity and commitment that gets totally transmitted, unrelated to methodology and educational techniques. It is so authentic and powerful; yet, she leaves room for differences, challenges, opinions…within the context of the educational environment she creates. It is nearly impossible to articulate the unique quality of the ambiance of her classes, whether they be for children or adults…. It is almost legend! It is simply a fact, not a superficial observation, that many Milwaukee Jewish families are 'more Jewish' as. a result of Ateret Cohn's teaching' and presence…letters, statements, behavior are testimony to this fact…. I have known Mrs. Cohn for over thirty-five years, as my teacher in a variety of contexts. Her teaching has had a profound impact on my life and on my family. Mrs. Cohn not only taught text, but she taught the underlying values which have helped sustain the many traditions which have lasted for over two thousand years. She gave me a context to understand that which might have otherwise been 'irrelevant,' 'sexist,' or downright silly. She has always sought to make us understand that we cannot simply superimpose a twentieth-century values matrix on values and traditions developed over the centuries past, that we must look beyond the superficial to attempt to understand the values and contexts of the otherwise incomprehensible."
Nancy E. Weisenberg