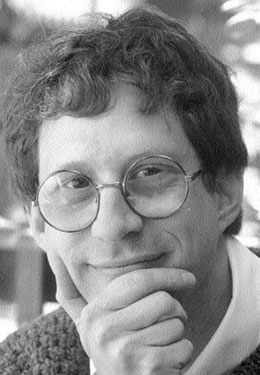 Yosef I. Abramowitz, better known as Yossi, lived in Israel as a child from 1969 to 1972, that brief moment between a miraculous and swift Israeli military victory and a humbling and costly war. The optimistic post-1967 character of Israel was deeply imprinted on Yossi's soul, and since his departure for Boston in 1972 at the age of eight, his sense of Jewish possibilities and power in the service of values has never been tempered.
The gift of early Hebrew fluency, followed by attendance at the Solomon Schechter School of Greater Boston, created a base of Jewish knowledge. Yossi found a home for his restless soul and an extended family of Jewish do-gooders at Young Judea. For 25 years he has considered himself a Young Judean, having served in leadership capacities at three YJ camps. At Boston University, where he majored in Jewish Public Policy, he was elected chair of the World Union of Jewish Students (WUJS) and led the international student movement on behalf of Soviet Jewry. In addition, he worked on an international campaign for the reunification of Ethiopian Jewry and participated in an international conference in Ashkelon with the goal of rescuing the remaining Jewish community of Yemen.
Toward the end of his chairmanship of WUJS, Yossi felt that the Jewish people were about to win the major "oppressed Jewry battles" and that it would be necessary to strategize what would animate students in the future. The WUJS international student executive committee resolved that it would be Judaism itself. Yossi has devoted the past 18 years to acting on that insight. After serving in the Israel Defense Forces during the first intifada, Yossi was awarded a Wexner Graduate Fellowship to pursue a Masters in journalism from Columbia University and to take courses at the Jewish Theological Seminary and Hebrew Union College. His first major job was as Senior Editor at Moment Magazine.
He and former Moment publisher Sue Laden later followed their dream of starting a national Jewish parenting magazine. Jewish Family & Life! was launched in March 1996. JewishFamily.com was launched later that year, the first webzine in Jewish history. This was followed by the bestselling Jewish Family & Life: Traditions, Holidays and Values for Today's Parents and Children (Golden Books, 1997), which Yossi co-authored with his wife, Rabbi Susan Silverman. The book's emphasis is on Judaism as life-affirming and relevant to people's lives.
In his role as CEO of Jewish Family & Life!, Yossi co-founded with the Avi Chai Foundation the BabagaNewz Jewish Values Initiative, which is being used in over 1,000 Jewish schools. With Hebrew College, he coproduced MyJewishLearning.com. He also co-founded the Jskyway.com
distance professional development program for Jewish educators. With Martin Kaminer, he co-produced Jewish Web Week, among other new Jewish media endeavors. Together, these initiatives reach record
numbers of Jews. Yossi lives outside of Boston with his wife and four children, Aliza, Hallel, Adar, and Ashira.
From Yosef I. Abramowitz's Statements of Motivation and Purpose:
"The sense of Jewish optimism that I inherited from my three years in Israel as a child has followed me through every stage of my personal and professional development.
"For the past 18 years, I've been obsessed with two related educational challenges: How do we position Judaism to be relevant to people's lives, and how do we reach critical masses of Jews with this accessible approach?
"A very simple strategy motivates my work. Three key groups of Jews must be reached and given inspiring and educational materials and experiences. Then the rest will follow. Reach children, who are the future; teach their parents, who make decisions about Jewish upbringing; give direction and tools to our educators, who transmit knowledge and, ultimately, the dream. I want to change the nature and content of Jewish journalism. Jewish journalism can be exciting, with Jewish values and teachings flawlessly interwoven into the fabric of each article. Jewish journalism should be responsive to the needs of real people and not just the news of Jewish organizational life. I believe that a spark exists in every Jew that can be ignited, usually by information.
"So in our own modest way, JFL is re-aligning what we do and how we do it by offering a range of educational services to people for the whole family and at each stage of their lives. Through BabagaNewz on one end and MyJewishLearning.com on the other, we are part of major endeavors that reach kids and adults. Both are high-quality and trans-denominational, and they reconfigure Jewish knowledge in new ways: BabagaNewz according to a curricularized Jewish values-based approach and MyJewishLearning.com through an innovative learning environment with multiple perspectives and a wide range of educational resources. At the highest level, both are engaged in an effort to define for their audiences—kids and their parents—what Judaism represents. The coming challenges are to fill in the blanks—teens, college students, and twenty-somethings. Jskyway.com, aimed at teachers, provides the skills to educators to be more effective in the classroom. If I can accomplish even a piece of this with our team and partners, I will have lived a charmed, fulfilled life as a Jewish educator."
From his Letters of Nomination and Support:
"Like Al Gore, Yossi Abramowitz did not invent the Internet. But no one can claim to be more responsible than he for its transformation into an important medium of Jewish learning and engagement. In the time you've been reading this, over a hundred people have logged on to JFL sites to immerse themselves in a uniquely individualized form of Jewish learning delivered directly to their living rooms. That happens every minute of nearly every day of every year—24/6 as Yossi likes to say— more than ten million times since JFL was launched. Is it a school day? Kids at over 800 schools are reading BabagaNewz magazine and enjoying its unique combination of print and online features. They're taking it into their homes, creating what sociologists call 'viral distribution.' And their teachers? Two hundred and thirty of them have already completed professional development courses over the Internet via Jskyway.com; many of them have no other avenue for learning the skills essential to remain current. MyJewishLearning.com, still in its infancy, seeks to be the most comprehensive and interactive Jewish learning resource available for exploring Jewish religion, history, and culture. Given Yossi's track record of success, I wouldn't bet against it."
Martin Kaminer
Board of Directors, JFL Director, Kaminer Family Foundation
"Yossi's greatest impact is in joining contrasts by marrying modern culture with traditional Jewish values and using contemporary media to give life to ancient texts and concepts.…
"I have been especially impressed by the way in which Yossi, who began his career as an anti-establishment activist and journalist, has developed JFL into an increasingly professional organization directed by a group of experienced lay leaders.…
"In a new world in which both children and adults receive much of their information and stimuli from the media, we must celebrate Jewish educators who effectively use both the Internet and print publications to reach directly into Jewish homes. In this new world, Yossi Abramowitz is a successful pioneer."
Yossi Prager
Executive Director, Avi Chai Foundation
"Two words characterize Yossi Abramowitz's unique role as a Jewish educator: leader and innovator. He is a leader in that he possesses the courage to challenge conventional wisdom and ingrained community habits, and the skills to mobilize others to tackle the hard questions and the real work. He is an innovator in that he has an active imagination that is not constrained by methods and boxes so readily pursued by others, but rather he reaches further, bigger, and deeper.
"Over the years Yossi has learned how to live and practice with one foot squarely situated within the established organizations and practices of Jewish educational and community life and one foot situated squarely outside of these structures. He has built his own organization, his own system. He has dreamed large dreams and pursued them. He has kept his soul intact in the process. His criticisms of certain aspects of Jewish organizational life have not always endeared him to more established figures, but on balance he has conducted himself as a responsible Jewish leader, sympathetic to our community's failings, proud of its successes, but always employing high standards of truth and excellence as he pursues his goals."
Larry Moses
President, The Wexner Foundation
"I believe that Yosef Abramowitz is that classroom teacher, is that administrator, is that curriculum developer that should be honored. He is committed to Jewish education with his entire being. And he also brings a vision and a demonstration of that vision that is without boundaries and itself will enable and empower his colleagues in Jewish education who spend more time in conventional settings."
Hillel Levine
Professor of Sociology and Religion, Boston University