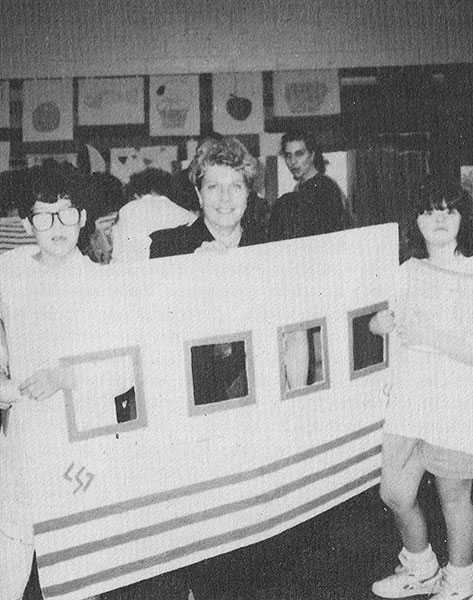 Director Emerita, Special Needs Department
Sara Rubinow Simon earned a bachelor's degree in zoology from Barnard College, a master's degree in education from the American University, a master's degree in special education from Fordham University, and she is a doctoral candidate in education administration at American University. Her Jewish education included private Hebrew lessons with her grandfather (a rabbi), attendance at a synagogue Hebrew school, at the Yeshiva of Central Queens, at Herzliah Hebrew School, at Camp Ramah, and at the Prozdor program at the Jewish Theological Seminary.
A specialist in Jewish special education, Sara was the Founding Chairperson of the CAJE Task Force on Special Needs, active in the founding of the Task Force on Jewish Individuals with Disabilities, Council of Jewish Federations, and Founding Co-Chairperson of the Consortium of Special Educators in Central Agencies for Jewish Education. She has given numerous presentations at general and Jewish community meetings and hearings, and has prepared workshops and professional in-service days, both locally and nationally.
Currently, Sara serves as Director of the Special Needs Department, Board of Jewish Education of Greater Washington. She has also worked, as Director of the Shema V'Ezer School for Special Education, and has been a secular and religious school teacher in Japan, California, and New York.
Sara Rubinow Simon's Statement of Motivation and Purpose:
"I have been granted the rare opportunity to be a 'change agent.' I feel gratification that significant changes have taken place in Jewish communities across North America during my years of involvement….
Attitudes have changed in the secular world toward people with disabilities as evidenced by the Americans with Disabilities Act signed this year. It is no longer possible to relegate individuals to the sidelines without consideration of their abilities. On the wall of my office at the Board of Jewish Education I have a number of posters that reflect my credo. The first, distributed by the National Organization on Disability, has a photograph of a Bar Mitzvah boy reading from the Torah. The caption reads: 'I Can!' The second is a rough drawing of jars and the caption reads 'Label Jars Not People.'…The Bar Mitzvah boy has Down Syndrome – but he read his Torah portion beautifully. He is now a resident in one of our Jewish Foundation for Group Homes houses, living a full Jewish life and working in the community. He can participate in the programs at the Jewish Community Center and learn more about his heritage through special classes co-sponsored by the Board of Jewish Education and the JCC. He can receive counseling from the Jewish Social Service Agency, and he can volunteer to help at Super Sunday. He knows he will be welcome at any synagogue because he possesses the appropriate skills, and because the congregants and clergy are accustomed to seeing individuals with all kinds of disabilities and special needs. He can!…Materials from our Dignity and Disability Jewish Discovery Box, developed with the BJE, Discovery Room and BJE Teacher Center, await the senior volunteers who will package them for distribution. The Discovery Box has enthralled teens and adults as well as younger children, and visitors to my office often linger to write their names in Hebrew Braille or do Hebrew finger spelling….
I have tried to demystify special education and blur the boundaries between special education for 'students with learning disabilities' and effective regular education so that each teacher understands that she/he is unique and each student is unique….
The years of 'noodging' and cajoling have placed access for all on the permanent agenda of Jewish life. The headline of a feature article in Washington Jewish Week says it succinctly: 'Educating Special Kids Has Become Major Goal in Washington Area.'"
From Her Letters of Support:
"The name Sara Simon is synonymous with special education in the Greater Washington area and perhaps in Jewish communities across our nation. In her capacity as Director of the Special Needs Department of the Board of Jewish Education of Washington and as a consultant to professionals in special education, Sara's visionary thought has been an inspiration to all.
The development of Sh'ma V'Ezer, a community school for the learning disabled and multiple handicapped, has been her pioneering effort and a model to anyone involved in the creation of special needs programming. Throughout the years of her sponsorship and administration, Sara has enabled these students to overcome previous limitations to their educational development. Through advances in technique and adaptation of secular materials to the Jewish environment, Sara has opened the eyes and ears of all ages to the joys of Jewish learning and celebration."
Phyllis S. Greene
"Sara has been a resource not only to the entire Washington community but also to Jewish educators around the country. Programs established in Washington have been models for many other cities, and Sara has attended conferences, made presentations, and consulted with innumerable groups. While she has done all this she has, along the way, educated and catalyzed others to take up the cause…. I first met Sara in the late summer of 1977 when we had to take our son out of a Jewish day school and place him in a small private school for children with learning disabilities…. In preparing this recommendation, I looked through some old files and found this speech, which I had long forgotten. As I reread it, I realized that it said why Sara is deserving of this award. You should know that the seven-year-old child mentioned at the beginning of the speech is now a sophomore at Syracuse University – still learning disabled – who keeps strictly kosher, observes the Sabbath, has organized a student group for Israel, and tutors several young children in Hebrew. Jay is a beneficiary of Sara's early intervention and network of services, and my work as an advocate…for Jewish special education…was directly due to Sara's gentle prodding."
Fran Eizenstat