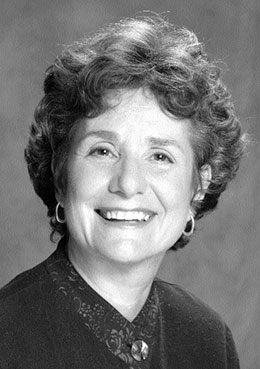 Barbara Ellison Rosenblit was born in Atlanta to a family deeply rooted in the South. With her parents' encouragement, Barbara became the first person in her family to attend college when she left Atlanta to go to Brandeis University in 1966. There, she majored in English and American literature. In time, literary analysis skills became a window of entry into Biblical reading, analysis, and study. This was an early indication of Barbara's lifelong interest in making interdisciplinary learning more complex by integrating mutually illuminating subjects, rather than simply grafting them awkwardly together. Eventually, the hallmark of Barbara's work became this conscious joyful blurring of boundaries in both learning and teaching.
Barbara continued her education at Columbia University Teachers' College, where she earned a Master of Arts in Language, Literature, Speech, and Theater in 1971. In 1975, after teaching high school English in New York and Berkeley, CA, Barbara joined Sherut L'am, a sort of "Israeli Peace Corps" for college graduates. She lived and worked as an English teacher in Yerucham, a development town. She left Yerucham after two years, armed with ever-useful Hebrew textual skills and with a new understanding of Jewish history.
Back in Atlanta, Barbara was recruited to work at the Epstein School, where she soon became the curriculum coordinator, and later the first middle school director, all while continuing to teach. Barbara's projects always bore her signature integrated, interdisciplinary approach. One project, Na'aseh ve Nishma, successfully linked social action, Torah, and ethics study. She implemented portfolio-based Judaic graduation requirements and cross-faculty holiday curricula based on universal themes.
In 1994, Barbara enrolled as the first student in Emory's fledgling Masters program in Jewish Studies. She became interested in exploring the oft-silenced voices of Biblical women. Her writing found an audience in journals such as CrossCurrents, Kerem, and Response.
When a new high school, an experiment in transdenominational Jewish learning, was starting up in Atlanta, Rabbi Simcha Pearl, its head, offered Barbara a free hand in designing courses. She accepted and began working at what is now the Weber School. An infusion of ideas came via an invitation from the Jewish Women's Archive to serve as an educational consultant for them. She, in turn, incorporated their materials into a year-long senior elective course at the Weber School. Work with Sheila Miller, an integrative arts teacher, produced two public exhibits with the seniors: "A Place at the Table" and "No Idle Pursuits."
Barbara continued to spread her intellectual wings, with teaching and mentoring always at the center. A National Endowment for the Humanities grant to study Dante in Siena led to a senior elective on Dante at Weber that included contemporaneous Jewish topics. She and an NEH colleague from Marist, a nearby Catholic school, co-taught a joint Jewish-Catholic faculty seminar.
On all her journeys—intellectual, creative, or merely prosaic— Barbara's source of love and inspiration has been her husband, Ishayahu, and their three children, Avi, Rachel, and Jonathan.
From Barbara Ellison Rosenblit's Statements of Motivation and Purpose:
"I am a fourth generation Atlantan. My grandmother, Addie Arnold, born on Atlanta's Southside in 1888, spoke with a drawl and cooked her pole beans seasoned with fatty brisket instead of fatback. That alone defines the merger of the secular and the Southern version of the sacred. I went to afternoon Hebrew school, to the disapproval of Addie, who believed that girls shouldn't waste their time in school. 'What do you need it for?' she would query. My mother, with her equally thick drawl and a lifetime of missed opportunities, saw to it that I missed nothing. 'She'll go,' she responded. 'It matters to know things.' It did matter. To pry open my narrow little world, I left home to go 'up north' to study, the first in my family to go to college.
"After college and a Masters degree, my path looked straight. Even then, I knew I would be a teacher in some form or fashion for the rest of my life, but the path has veered off in unexpected directions. At one of those crossroads, I left for Israel to join Sherut La'am. After two years, I left, armed with Hebrew, granting me entry into the world of Jewish learning and teaching.
"Three areas currently take up my time, inform my dreams for Jewish education, and shape my aspirations: mentoring, designing and teaching courses that stretch boundaries, and faculty culture.
"Mentoring requires daily commitment. Acclimating and succeeding as a new teacher is difficult at best. Judaics and Hebrew teachers are especially vulnerable, often arriving with inadequate training. A formal observation once or twice a year is standard practice in most schools. But through a pilot program at Pardes/Hebrew University, Rabbi Simcha Pearl experimented with bringing new, untried teachers to campus, and I was asked to mentor them. I created a time-intensive model based on what I intuited would provide them with the support they needed.
"Designing and teaching courses that stretch boundaries is my next passion. I have always let my interests overlap, aiming to expose what is gloriously complicated and complex, not to simplify and trivialize. There are many reasons to approach Jewish learning not exclusively through Jewish sources. Learning that brings many fields into conversation with each other is richer, denser, truer. So my humanities course combines general and Jewish history, art, music, and literature.
"Concern with developing faculty culture is an extension of mentoring, because experienced teachers also require inspiration and the chance and skills to reflect on their work. Our work can be surprisingly lonely. I have been charged with designing a professional development program for the faculty. Building a culture that is based on Jewish sensibilities and responses drives the model of the school and of the teaching I espouse.
"I am energized by the possibilities of my work. I want to shape a replicable mentoring program, to train a generation of teachers who know what self-reflection is, whose conversation is collegial as well as congenial, who recognize the power and the potential of their work each day they walk into the classroom. I want teachers to be unafraid to find the universal in their subjects and design connections in an otherwise fragmented Jewish school day. I want to give students the chance to be guides to their own past so they can imagine their own futures. Teaching is the one constant in my life. It is hard work, touching the future, touching the holy. I, for one, cannot imagine any better way to spend a lifetime."
From her Letters of Support and Nomination:
"With her pedagogical talents, extraordinary creativity, and breadth of knowledge, Barbara deeply engages all her students in the learning process and encourages them to think in powerful new ways about themselves, their society, and their place in the Jewish community. In opening their eyes to neglected aspects of their American Jewish heritage, she provides students of all ages with compelling illustrations of key Jewish values and helps to break down deep-rooted stereotypes about Jewish women. One of Barbara's greatest strengths as a teacher is her innovative interdisciplinary approach, in which she brings Jewish and secular subjects, the humanities and the arts, into direct conversation with each other."
Dr. Gail Twersky Reimer
Executive Director, Jewish Women's Archive "In my three years at the Epstein School, I was drawn to Barbara, as was everyone else on the faculty, as a colleague, as a mentor, and as a friend. We all recognized Barbara's intellectual rigor, her pedagogic creativity, and more importantly, her unequivocal respect for the educational process. Watching Barbara teach, we could not help but be impressed by her unflagging respect for her students, for her willingness to learn from them, and her creation of a classroom environment that engendered curiosity and the desire to learn. Barbara has extraordinary gifts. From her art history classes, I learned that Jewish social conscience can be derived from the paintings of Jacob Lawrence and that the works of Manet can demonstrate the beauty of creation."
Lisa Kogen
National Program Director, Women's League for Conservative Judaism Adjunct Faculty, Jewish Theological Seminary
"I invited Barbara, then a teacher in the local Jewish day school, to join the advanced university class on the first chapter of Genesis that I was giving in my home. She came and stayed for ten years, taking courses in the Zohar, Jewish philosophy, biblical literacy, liturgy, and other topics. Eventually, Barbara joined and completed our MA in Jewish Studies program.
"The creative transmission of traditional texts characterizes not only Barbara's scholarship but her teaching as well. Her students receive an integrated view of what happened, and they are encouraged to pursue genuinely original readings of what might have happened."
David R. Blumenthal
Chair, Judaic Studies, Department of Religion, Emory University
"Barbara Rosenblit is a passionate, creative pursuer of knowledge. She is eager to learn and teach almost anything, because for her, teaching is not about protecting her aura of expertise or her position at the top of a hierarchy of knowledge. For Barbara, education is about modeling her journey of learning and teaching. It is her willingness to model this process, which calls her to be open and honest with herself and with others, that makes Barbara so unique. Barbara is real."
Marc Baker
Teacher, Judaic Studies, Curriculum Coordinator, The Weber School