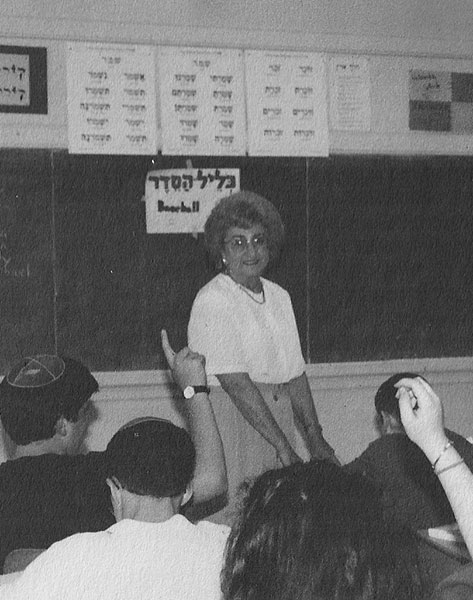 Dvorah Smolensky Heckelman was born in Calgary, Canada. Her grandfather, Rabbi Shimon Smolensky, was Calgary's rabbi, shochet, mohel, chazan, and Hebrew school principal. Starting at the age of five, she attended the Calgary Talmud Torah every day after public school. After graduating from high school, she and nine other students from their small Jewish community were sent to study at the Teachers' Institute of the Jewish Theological Seminary in New York City. In 1949 she received a bachelor of religious education from JTS as well as a bachelor of arts in philosophy from New York University. She later earned a master of education from the Harvard Graduate School of Education, and subsequently began a teaching career that has lasted more than forty years. She was first associated with the Early Childhood Center of Brooklyn College, the experimental Beth Hayeled Foundation School, and the East Midwood Hebrew School in Brooklyn, New York.
Moving with her family to Albany, New York, she taught at Agudat Achim Hebrew School and at Temple Israel. In 1963 she worked with Shraga Arian, Joseph Lorch, and other dedicated leaders to form what was to become the Beth Shraga Hebrew Academy of the Capital District. She made significant contributions in many areas – as a board member, teacher, parent, curriculum coordinator, and ultimately, principal – of a school that grew from 19 children to one that currently educates almost 300 children from the Albany, Schenectady, and Troy areas of upstate New York.
Now retired as principal of Beth Shraga, Dvorah Heckelman continues to teach Hebrew language and literature there. She also teaches Hebrew in the modern languages department of Union College in Schenectady and serves as a consultant to the Kesher Jewish Resource Center of the Capital District. She is an active member of the United Synagogue Commission on Jewish Education, the Capital District Board of Jewish Education, and the Task Force for Children and Youth of the Albany Federation. This year Mrs. Heckelman was honored with a doctorate of pedagogy, honoris causa, from the Jewish Theological Seminary.
Dvorah Smolensky Heckelman's Statement of Motivation and Purpose:
"I believe I was motivated to devote my life to Jewish education because of the confluence of two powerful forces: I have a passion for teaching and a love of children that has, if anything, strengthened with my years…. From the age of eight, when I successfully taught my two younger sisters to read and write in Hebrew and English using a broken piece of chalkboard in the back of my father's general store in Western Canada, I knew that I wanted to teach and that I wanted to teach in Hebrew…. Any attempt to define what motivated my commitment to strengthen and sustain our Jewish people would have to begin with my family. I was the product of a loving, involved Jewish family, prepared to make major sacrifices for my Jewish education. Seared in my memory is the vision of my father leaning against his battered car in the public school yard waiting to transport me and my sisters to Hebrew school, which began one half-hour after public school. He frequently closed his store to make the run. Warm recollections include Jewish holiday celebrations with the extended family of boisterous cousins, aunts, and uncles, celebrated with a proper balance of joy, religious deference, and mischief. My grandfather was a rabbi, cantor, shochet, and teacher in the Jewish community. As his granddaughter, I was regarded with all of the sanctions and expectations of such a role…. In Albany I had the good fortune of meeting a remarkable educator, Shraga Arian. He built a school where children not only learned but lived a Jewish life in school and beyond. Finally I would say it was the students themselves who motivated me. Even today, after forty years of teaching, studying, and writing about education, when I stand before a class, I feel humbled by the overwhelming responsibility. To some extent, large or small, I will affect the life of that student that day. If I succeed, I will tie him or her closer to our heritage, to our people. If I fail, I may drive that child away…. My thrust as an educator has, for most of my professional career, been threefold: to impact directly on children by providing the very best living-learning experiences in the classroom and beyond; to educate parents so that we can be partners in the educational process; and to guide and direct teachers by applying the very best and most current knowledge of learning principles and child development theory. To these ends I continually seek the most creative and innovative educational techniques that will enable me to reach each family, each child, and each teacher."
From Her Letters of Support:
"Twenty-seven years ago I moved with my family to this seemingly non-descript upstate New York city. As a seven-year-old boy who had heretofore refused to go to shul, I was enrolled for the first time in a Hebrew day school…. I knew that I would hate the place, make my parents' lives miserable, and would be back in public school within a year. Instead, the flimsy matchbox school provided me with an enchanted Jewish kingdom in which to grow and flourish…. My one year at the not-ready-for-prime-time school turned into eleven wondrous years brimming with Hebrew, Judaica, marvelous general studies, and most important, outstanding teachers and role models. I went on to Princeton University and then to dental school. I returned to Albany to complete an internship at a local hospital. I had only intended to stay in Albany for one year. I received a phone call from Dvorah. She had remembered me from my student days and knew I was back in town. Would I mind doing her a small favor? She asked me to fill a vacant position on the Board of Education of my alma mater. She always began each meeting with a dvar torah or some anecdote relating to Jewish pedagogy. On this particular night she nonchalantly passed around copies of an article presented at a JESNA conference. The gist of the article was the essential need for incentives to attract high quality avocational and vocational Jewish educators to the field. That article was meant for me. In short, my one year sojourn in Albany turned into six. Professionally, I divide my time equally between being on staff at the Veterans' Hospital and being on staff at Beth Shraga…. I am flourishing in my role as Tanach teacher in the middle school and music teacher in the elementary school. Dvorah has been my mentor every step of the way, and has been the school's steady beacon from the beginning until today."
Simcha Pearl
"Capable, competent, efficient, knowledgeable, professional, caring, and loving are all terms that come to mind when thinking of Dvorah Heckelman and her relationship to Jewish education. If I had but one word to describe Dvorah it would be steadfast. Under her resolute and dependable leadership, the Jewish community and Beth Shraga specifically weathered many storms…. Dvorah Heckelman brings honor to the term Jewish educator."
Daniel R. Hershberg