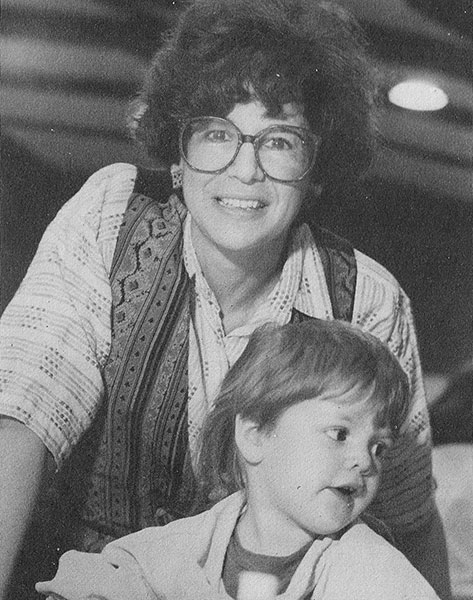 Executive Director
The Covenant Foundation
New York, NY
Harlene Winnick Appelman earned a bachelor's degree in English literature from Northwestern University and a Master of Arts in Teaching in English and Education from the University of California, Berkeley. She completed twelve years of Hebrew school at Congregation Shomray Hadath in Elmira, New York, and attended Young Judea, the State University of New York Summer Program in Israel, and an ulpan at Binyanai Ha'oomah in Jerusalem.
Her work experience includes roles as Education Director at Congregation B'nai Shalom Religious School in Walnut Creek, California, Education Director at Beth Israel Congregation in Ann Arbor, Michigan, and Family Life Education Director at Congregation Shaarey Zedek in Southfield, Michigan. Harlene has also worked as a teacher and teacher trainer in many different settings. Currently, she serves as Supervisor of Jewish Experiences for Families at the Jewish Community Center in Detroit, and is Senior Consultant for Jewish Education Planning and Development to the Budget and Planning Department of the Jewish Welfare Federation of Detroit.
In 1983, Harlene Winnick Appelman received the Solomon Schechter Award for Excellence in Family Life Education Programming from the United Synagogue of America, and in 1987 she was an invited participant in the Sherman Seminar for Outstanding Young Professionals at Brandeis University. Her articles have been published by Karben Copies, Inc., Hadassah Magazine, Journal of Jewish Communal Service, and National Jewish Monthly.
Harlene Winnick Appelman's Statement of Motivation and Purpose:
"My Jewish education career was an evolution. It was the ultimate melding of the strands that I will describe, but it was certainly an evolution. The three major influences that pointed me toward Jewish education were family, youth movement (Young Judea), and community….
My own home was traditional. My parents and grandparents wove a web of Judaism through which I viewed my entire world. My grandmother believed simply. She was not scholarly, but had been brought up knowing how to live, how to behave, how to determine right from wrong, and all of it had to do with the fact that she was Jewish….
In addition, I have been fortunate enough to have had wonderful teachers and mentors along the way….
When I reached Tel Yehudah, it was Michael Rosenack, now a professor at Hebrew University, Fred Lazen, now at Ben Gurion University, Mel Reesefield, and Avi Mendelowitz who became my role models. Eli Bar-Nun, Benya Mayer, and Morris Zilke were the shlichim and have each contributed significantly to the Israeli educational system that urged me to make aliyah. Three summers at Tel Yehudah, having attended basic training, machon, and the first ulpan, cemented a strong Jewish foundation that supports me even today.
It is also important to add that it was during this period of my life that I met Howard Wasserman, who introduced me to the concept of family education. Although I was convinced, even then, that family education made good sense, … I had no idea what a profound effect it would have on my future in Jewish education. Shortly after I moved to Ann Arbor, Michigan, I saw a notice in a CAJE bulletin advertising a job in family education in Southfield, Michigan. Thanks to Howard, I knew what it was. Because of Mandell Berman, a community lay leader and generous philanthropist, and Rabbi Irwin Groner of Congregation Shaarey Zedek, I had the opportunity to launch into a career in family education that has become a driving force in my life.
…I am convinced that life-cycle events present moments of educational opportunity that are unequaled. I want to explore and develop more and better ways of using those opportunities to bond Jewish families to the Jewish community."
From her Letters of Support:
"Recently I was at a 'think-tank' involving some of the leading Jewish family educators in North America. As a joke, someone suggested 'We would be O.K. if only there was a Jewish aspect to toilet training!' Everyone laughed; Harlene Appelman interrupted the laughter and said: 'There is-orthodox Jews won't put tzistzis on a child until he is toilet trained-that makes toilet training a legitimate Jewish rite-of-passage.' We were silent…. At that moment all of us understood that in many ways, Harlene understood Jewish family education on profound and intuitive levels, levels we hadn't even begun to consider…. "
Joel Lurie Grishaver
"Harlene has never failed to meet and exceed each challenge presented to her. She has done so with grace, winning friends and supporters as she proceeded to accomplish what many doubted could be done. She has been the dreamer, with her feet firmly planted on the ground; she has been the teacher, a veritable educational pied-piper for others in the community-students, teachers, and lay leaders alike; she has been a committed and knowledgeable Jew, always ready to display the flexibility necessary to appeal to the diverse, pluralistic Jewish community in Detroit.
Harlene, always energetic and motivated, has a vision of Jewish education, a philosophy that guides her, and in turn, those privileged to work with her. She understands and promotes the importance of Jewish lay leadership…and the notion that Jewish education begins with the parent, not the child. The client is the family, not the child. Her primary goals, it seems to me, are to facilitate the transmission of values to Jewish families who are not always in sync with the religious school's values, and to educate the family to become more integrated into the Jewish community ….
The unquestioned result of all of Harlene's activities has been the transmission and deepening of Jewish knowledge, values, and identity to literally thousands of students and to twice as many parents. Harlene does far more than pay lip service to the notion that Jewish education must begin with the parents. From the Rainbow connection to the Family Living Room Program to the L'Chayim Program, Harlene has successfully and creatively pioneered the teaching of Jewish children through the teaching of Jewish parents. Her commitment is energizing, her enthusiasm is unrivaled – and always directed."
Peter M. Alter