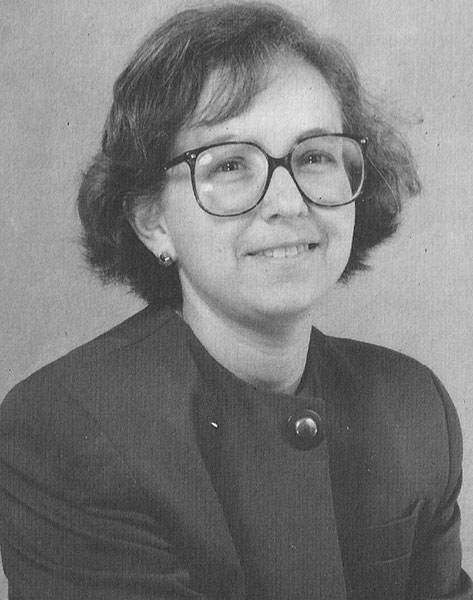 Ellie Bach Gellman was born in Minneapolis and grew up in a family that encouraged learning and asking questions. Ellie received her early foundation in Hebrew language and Judaica at the Minneapolis Talmud Torah and at the Beth El Synagogue where she began student teaching when she was 13 years old. Since she first taught t'filah to a group of ten-year-olds in the coat closet at Beth El, Ellie Gellman has devoted her energies to the day-to-day work of education – teaching children.
Mrs. Gellman received a bachelor's degree in Hebrew studies and education from the University of Minnesota in 1977. She also spent a year at the Center for Jewish Education in the Diaspora at Hebrew University. As she gained experience in the classroom, Ellie found that she was drawn to students who had trouble learning or trouble fitting in. Intrigued by how to fit the richness of Jewish content to the learning styles of different types of children, Ellie decided to focus on Jewish special education. She received a master's degree in special education from Columbia Teachers College in 1978.
After completing her degree, Ellie taught in a special education resource room at North Suburban Synagogue Beth El in Chicago, and she spent summers as the director of the Tikvah Program for teenagers with special needs at Camp Ramah in Wisconsin. From 1983 to 1985 Ellie worked for the Board of Jewish Education in Washington, D.C., as the administrator of the Shema V'Ezer program. During those years she also taught a weekly adult education class on prayer and the Siddur. On Shabbat mornings Ellie held unofficial but very popular story-telling sessions for preschoolers who found services too long. The stories that originated with restless children eventually became books about Jewish children living Jewish lives. Ellie is the author of six books published by KarBen Copies: Shai's Shabbat Walk, It's Chanukah, It's Rosh Hashannah, Tamar's Sukkah, Justin's Hebrew Name, and Jeremy's Dreidel.
In Calgary, Alberta, Ellie was the teacher of Grade One Jewish studies at Akiva Academy. She also served as the special education consultant for the school. In her work in the classroom she developed active learning materials that made it possible to integrate special needs students into the mainstream. Since 1992 Ellie has been at Netivot HaTorah Day School in Toronto, doing what she always finds her way back to: telling stories, making up lesson plans and learning games, and finding myriad ways to teach children.
Ellie Gellman's Statement of Motivation and Purpose:
"Jewish learning was everywhere when I was growing lip. I never asked the question whether I would be involved in Jewish education. I only had to decide how. I was fortunate to grow up in Minneapolis, a city with a strong commitment to Jewish education. In college my friends were students who continued to teach in the Minneapolis synagogues. Over pizza we planned Shabbatonim, wrote text books, and studied parshat hashavua so we could draw cartoons about the text. Before I even received formal education training I was fortunate to have found the principles that still guide me – learning is teaching and teaching is learning, and Jewish education belongs everywhere. I have had the opportunity both as learner and teacher to renew that commitment by watching some exceptional educators and participating in excellent educational programs. Camp Ramah emphasized informal education and taught me to be sure of my goals. From Yisraela Kolsky, an Israeli master teacher, I learned the importance of song in teaching a second language and the power of energy in a classroom. My junior high school Bible teacher sat cross-legged on the teacher's desk, firing off questions to challenge us. From him I learned to value children as thinkers. A gentle, old-style rebbe taught me that a teacher is a storyteller. For me, part of the excitement of being a Jewish educator has been meeting people with different approaches to Jewish learning. I have been encouraged to remain in classroom teaching by remembering the impact that these gifted individuals had on me as a student. Moving to a small community such as Calgary has become an opportunity to do everything, all at once. Here a teacher automatically becomes a community educator, and each day is filled with teachable moments. I am excited to meet my students in Safeway, where they can notice what is in my shopping cart before Rosh Hashanna or what is missing from my groceries before Passover."
From Her Letters of Support:
"On January 31, 1988, Shabbat Shira, my daughter got up on the bima at Congregation Tifereth Israel, Washington, D.C., to mark her bat mitzvah. She chanted the single longest haftorah of the year. She positively glowed up there as she sang with a real presence of the heroism of Deborah. I have no doubt that this would not have been possible without the help, encouragement, and guidance of Ellie Gellman. For any young person this would be a wonderful achievement. For a child who was, at that time, enrolled in full-time special education to address a severe learning disability, it constituted a monumental achievement. Ellie seemed to me a gentle wizard. She had tricks up her sleeve to get Shira to remember letters and vowel markings and words and grammatical constructs that no classroom teacher had ever been able to do. Ellie put as her first priority honing Shira's Hebrew. But she made it clear to Shira and to me that Shira should always know that participating in the Jewish world took many forms and tapped many skills. Being a great Hebrew student was not the be-all and end-all of a Jewish education. She almost instinctively infused their weekly sessions with excitement about Jewish life and ritual. But she did more than this. She listened to Shira's problems; she soothed her feelings of frustration; she paid attention to her complaints about school, teachers, parents, and the usual range of concerns of an emotional, articulate, bright, but dyslexic pre-adolescent. Just an update: Shira is now a senior, with over a 'B' average in a 'mainstream' high school. She spent last year at Kibbutz Beit-Hashita's 11th grade program. She studies Hebrew at the Middle East Institute in the evening, and is eagerly awaiting acceptances from such schools as the University of Wisconsin, the University of Maryland-Honors Program, and Brandeis University. No one person can take credit for Shira's achievements and for her perseverance in overcoming a severe handicap. But Ellie Gellman was one of those people who, along the way, lent a hand, an ear, and a heart that made such accomplishments possible."
Mrs. Hasia Diner
"Mrs. Gellman was an important influence in my personality and educational development. She taught me many invaluable skills which have helped me throughout my years as a student and will continue to help me as I grow. She also taught me skills which left the classroom and took me into the real world and helped me get along. She was very warm and funny and that helped me learn. She had fun and creative ways of teaching me that I have not found in any other teacher. When she left Washington, I felt sad. I missed her a lot. I still do."
Shira Diner