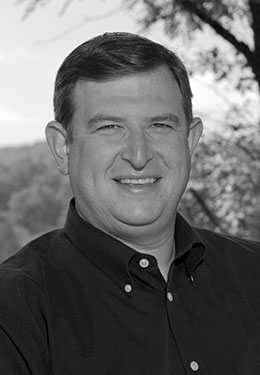 Rabbi Loren Sykes has spent thirty consecutive summers in Ramah camps—twenty at Camp Ramah in Wisconsin and ten at Camp Ramah Darom. It's little wonder that today he is such a passionate believer in Jewish camping.
Loren's parents, Lynne and Allan z"l, were active members of Congregation Beth Shalom in Northbrook, Illinois. Loren was very much at home at Beth Shalom, where congregational professionals and lay leaders noticed his love of being Jewish and cultivated his involvement. In the winter of 1976, Loren met Rabbi David Soloff for the first time and decided to attend Camp Ramah in Wisconsin. Little did he know that Rabbi Soloff would become not only his camp director, but his mentor, teacher, colleague and beloved friend of thirty years. It was at Ramah in Wisconsin that Loren discovered the significance of experiential Jewish education, learning important lessons in Torah, education, influence, observance, and life.
Upon completing his undergraduate studies at the Joint Program between JTS and Columbia University, Loren started rabbinical school at JTS intending to enter the pulpit. Loren's love for Israel and Israel education, first cultivated by shlichim at Ramah, was intensified by a year of study at Machon Schechter. Following ordination, Loren chose to serve as assistant director of Camp Ramah in Wisconsin, to the surprise of no one but himself.
Loren's first introduction to the Jewish South was as the student rabbi of the Fitzgerald Hebrew Congregation in Fitzgerald, Georgia, a small town three hours south of Atlanta. For six years, Loren gave Hebrew lessons in the Perlis Truck Stop in Cordele, conducted Erev Shabbat services, and led Torah discussions in different homes on Saturday nights. During that time, Loren learned about the challenges of small-town Southern Jewish life and became an advocate for Southern Jewry.
In the summer of 1994, Louis Winer z"l asked Loren to help get the Fitzgerald Jews excited about a southern Ramah. Loren applied and was invited to serve as the founding director of Camp Ramah Darom. He and his soul-mate Rebecca—whom he met and proposed to at Ramah in Wisconsin—have since spent every summer, along with their three blessings, Elan Nesher, Mira Shoshana, and Amalya Dina, in the spectacular mountains of North Georgia.
In 2005, Loren inspired Ramah Darom's board of directors to create Camp Yofi: Family Camp for Jewish Families with Children with Autism. Under the exceptional leadership of Susan Tecktiel and Su Kabot, Ramah Darom reached out to a segment of the Jewish community 1990–1991, I had an entire Ramah family to help me acclimate and have a rich year of learning and life that I would have otherwise missed. Camp introduced me to my wife, Rebecca, and was the summer home for our son, Elan, until we moved to Atlanta to help lead Camp Ramah Darom. Virtually every facet of my life has been touched or shaped by thirty years with Ramah.
"Serving as the founding director of Camp Ramah Darom allows me to spend nine months of the year dreaming about the Jewish future and planning a kehilla—a sacred community—that can serve as a model for what the Jewish South can look like. I share that vision with campers, staff members, families and communities and watch them shape it and make it a reality. Building creative, fun, dynamic and sustainable Jewish educational communities has always been and will continue to be my raison d'etre."
From his Letters of Support and Nomination:
"Loren knows before whom and for what he stands. And he says it out loud and often to a special group of over 150 college-aged staff members he personally takes under his wing every summer. Loren emphatically believes that camp is for staff. Many camp counselors are for the first time asking themselves the big questions and Loren feels a sense of chiyuv (commandment) to be there as their guide. This is why, for instance, he commissioned a four-year longitudinal study of attitudes of entering eleventh graders (his oldest campers)—to understand their attitudes towards and knowledge of Israel and the Peace Process, choosing a college campus and Jewish involvement and all of this to determine if Jewish camping can have an impact on Israel advocacy and on college choice. It's beyond summer camp. Loren believes in year-round investment in young Jewish adults."
Naomi Less
Senior Program Officer, Foundation for Jewish Camping
"From the beginning, Rabbi Sykes has gone nonstop. He personally visited and continues to visit the many supportive communities of the South. He sat and continues to sit in Rabbis' offices. He met and continues to meet lay leadership all over the South. He visited and continues to visit college campuses all over North America. He recruited staff and now boasts a staff equal to the finest Ramah camps. Rabbi Loren Sykes too often ignored or rejected. Loren hopes that Camp Yofi will expand across the country, touching more lives and awakening the Jewish community to the need for inclusiveness. Loren counts Camp Yofi as the most humbling and meaningful contribution of his career. With the guidance of countless others, Loren continues to help Camp Ramah Darom grow—not only in the number of campers and staff members whose lives are transformed Jewishly, but also in the depth of transformation brought about by Ramah camping. Over the next ten years, Loren hopes to make alumni Jewish learning, in-summer adult Jewish learning, and year-round adult Jewish experiential learning centerpieces of the growth of Ramah Darom.
From Rabbi Loren Sykes's Statements of Motivation and Purpose:
"In the spring of 1975, my mother did something she has never been able to explain: she took me to Congregation Beth Shalom in Northbrook, Illinois, on the first morning of Passover. Fred Katzenstein, a man with bright red hair and an equally bright personality, told me that if I came to shul the next morning, he would give me peticha. I didn't know what that meant, but since Fred was nice and funny, and he gave me a piece of candy, I promised to return.
"The next morning, Fred took me by the hand and led me onto the bimah. I pulled the cord on the curtain, the ark opened, and there I stood, two inches away from the Torah for the very first time in my life. From the handmade cover to the silver crown, I was taken by the beauty, the power, and the mystery of Torah. I felt as though I was standing right in front of God! I got to touch the Torah, embrace it, and pass it onto the rabbi. At that moment, I did not know that I wanted to be a rabbi, but I did know that I wanted to know Torah.
"In the winter of 1977, I received a letter from my Hebrew school principal inviting me to attend an eight-week Jewish summer camp in Wisconsin. I was convinced that I had found a summer home in Camp Ramah. Twenty-eight years later, I have yet to miss a summer at camp. "From singing around the table with the Israeli staff on Friday nights to participating in a simulation game about Jewish philanthropy, Camp Ramah showed me that living Jewishly meant living creatively, intellectually and spiritually, within a framework of law and custom. When my friend Marlene Ansell returned home during the 1978 season to die of leukemia, camp taught me how to mourn. By the time I lived in Israel in has provided the leadership and vision to educate and Jewishly empower these future leaders."
Rabbi David Soloff
Director, Camp Ramah in Wisconsin
"Ramah Darom is a success today because of the vision, hard work, and dedication of Loren Sykes. For many small communities, Ramah Darom has become the best Hebrew school experience their children have received. Rabbi Sykes has worked closely to ensure that the Judaics curriculum is at the highest standard. To ensure that Israel was part of everyone's summer learning, he has traveled annually each winter to personally meet with and hire the best mishlachot available. Likewise, to ensure that American staff understood the history of Israel, he developed a program with a local professor to teach them the history of Zionism.
"Loren Sykes leads by example. Teaching young adult staff is one his many passions. Rabbi Sykes hires all staff, teaches at camp throughout the summer, and when staff graduate and go onto other jobs, he is asked by them to continue leading study sessions. His parsha of the week, sent to donors and camper parents, continues to bring Judaism into the world they live in today. What better mentor could we ask for?"
Mayer Mitchell
Founding Board Member, Camp Ramah Darom
"As the first and only executive director of Camp Ramah Darom, Rabbi Sykes has created from scratch an environment that is safe, inviting, and warm, and transmits Jewish knowledge, values, and identity in everything that exists. He always finds new, creative ways of teaching the key principles of Jewish education and leadership so that everyone from a camp veteran to a Ramah novice never gets bored and continually is motivated to work for and with him. Rabbi Sykes is my role model, both professionally and personally. He saw in me what very few others could see—my potential to make a difference in Jewish education."
Dani Gray Luft
Family Life and Upper School Coordinator, Congregation B'nai Tzedek