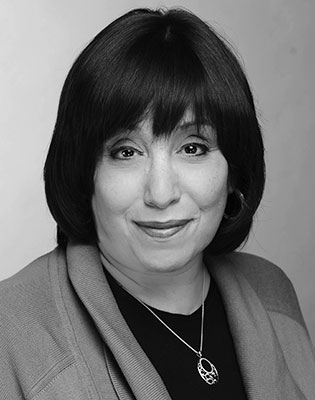 Gitta Jaroslawicz-Neufeld
Director of Education, Allegra Franco School of Educational Leadership
Brooklyn, NY
"My educational and career journey has not always been a straightforward one. Yet I have always had a passion for excellence, an avid desire to learn and teach, and the aspiration to make a difference. I see myself as looking back upon my heritage and cultural roots, while looking forward to the future and how I can be an agent of tikkun olam."
As the Director of Education at the Allegra Franco School of Educational Leadership, Gitta Jaroslawicz-Neufeld has played a major role in pioneering education activities in the vibrant Syrian Jewish community of Brooklyn. Seven years ago, a group of Sephardic lay leaders recruited Gitta and charged with the task of expanding the outreach, curriculum, and scholastic level of a fledgling women's teacher training program, now known as the Allegra Franco School of Educational Leadership. Since that time, two dozen women have been placed as teachers in schools serving the Sephardic community. Five of these young women have gone on to additional pursuits in higher education, including Master's degrees and other advanced training. Gitta's principal responsibilities include developing and implementing teacher training and adult education programs for Sephardic women, as well as teaching college-level Judaic Studies and teacher preparation courses. She also mentors new teachers in Sephardic community schools and provides post-graduate teacher training and mentorship. In addition, Gitta has developed and implemented a community-wide women's learning program serving about 300 women weekly.
"From my earliest years, I was taught to be proud of who I am and where I come from, and to see that not as an entitlement, but as an obligation to the Jewish community. My parents established a home and family where learning – in all its forms – was stressed equally with a concern for society and the needy."
Although she was born and raised in New York City, Gitta's parents were both from Polish Hasidic families who were exiled to Siberia, relocated to Samarkand, and survived post-World War II Europe before arriving in the United States. Before joining Allegra Franco, Gitta spent 20 years working in the public school system. She established herself in her career in special education for the New York City Board of Education. At the same time, her lifelong connection to Jewish education continued to grow. She volunteered as a teacher for women's groups, consulted with a local yeshiva, and co-founded the Soille Bais Yaakov High School and New Seminary. Here she developed a seminary program (linked to a local university) that enabled Haredi women, who otherwise would not attend college, to achieve a university education.
"Watching my students become empowered to learn independently and to offer their own novel interpretations of text excites me. Accompanying my students into the classroom and seeing their transformation into forward-thinking, reflective educators who maintain a strong allegiance to the unique customs and traditions of their community motivates me. I want to create teachers who are masters of the craft. I want the students of this community – and every community – to learn from teachers who are role models – intellectually, morally and culturally."
A graduate of Machon Sara Schenirer and Queens College of the City University of New York, Gitta currently is pursuing an Ed.D. in Teacher Leadership at Walden University. She lives in Far Rockaway, NY, with her husband, Rabbi Dr. David Neufeld. She is the proud mother of four children and grandmother to eight grandchildren.
From her Letters of Nomination and Support
"Gitta's personal passion for excellence, her unwavering commitment to her students and colleagues, and her continual desire to improve and refine this initiative have all combined to produce graduates who are now teaching in schools across the community and directly impacting its future. She is a role model for women of all ages in our community. She will have an impact on generations to come."
Jeffrey A. Cohen
CEO, Earthbound, LLC
Chairman of the Board, Allegra Franco School of Educational Leadership
"Gitta transformed a fledgling program into a successful learning institution. Her tireless efforts built a comprehensive and high-level curriculum that produces graduates that are coveted by Sephardic Jewish day schools in Brooklyn. Gitta is a true pleasure to work with and lifts the bar for Jewish education."
Rabbi Joseph Dweck
Rosh Yeshivah/Head of School, Barkai Yeshivah
"I have personally seen how Gitta has transformed the lives of the young women she educates. They have grown to be confident women who are moving into positions of leadership in what had been a very male-dominant society. In so doing she is helping ensure that Jewish tradition will continue amongst the Sephardic population in Brooklyn. Her approach as a Jewish educator encourages students to develop true ownership of the material and insures that the students will be passionate about what they teach."
Richard Altabe
Headmaster, Yeshivat Shaare Torah
Dean of Secular Studies, Yeshiva Darchei Torah
Former Principal, Magen David Yeshiva HS
"Gitta has played an important role in changing attitudes in the Syrian Jewish community, providing an educational center of quality for young women, and supplying the community with a most important commodity: trained teachers."
Sara Reguer
Chair and Professor, Department of Judaic Studies, Brooklyn College