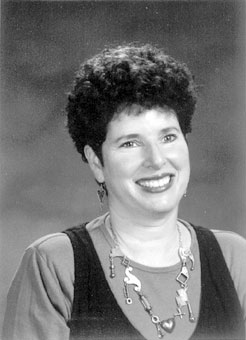 Lorraine Posner Arcus was born in Queens, New York, and grew up in Valley Stream, New York. Her parents, Herb and Rebecca Posner, blended a traditional Jewish home with many cultural activities. Her mother, a Sunday school teacher in Elmont, New York, studied with Dvora Lapson, a renowned children's Israeli dance instructor and choreographer. After mastering numerous Israeli folk dances, Lorraine's mother became the local Israeli dance authority, and integrated dance into her weekly curriculum. It was through her mother's dances that she, as a child, began to develop a deep connection with Israel, Jewish culture, and Jews around the world.
In 1968 during a North American Federation of Temple Youth seminar in Warwick, New York, dance instructor Fred Berk, of blessed memory, built upon the foundation that Lorraine's mother provided, and opened Lorraine's eyes to the thrill and spirit of Jewish dancing. Fred quickly recognized Lorraine's energy and ability in dance, and invited her to pursue a more serious study of Israeli dance leadership and repertoire.
In 1970 Lorraine participated in an American Zionist Youth Foundation Israeli Dance Seminar, led by Fred Berk. It was during this experience that she met some of the pioneers of Israeli folk dance, among them Gurit Kadman, Rivka Sturman, Shalom Hermon, and Sara Levi-Tanai. They taught how steps and styles brought from their countries of origin (i.e., Germany, Yemen, or Turkey) were used to create the first Israeli folk dances. The variety of Israeli dances resonated with Lorraine and drew her closer to an understanding that this very young country of Israel had created a culture that could become part of every Jew around the world.
When she settled in Albany, New York, in 1973, it was her hope that as many children as possible would receive Israeli dance instruction and she found support for her goals at Temple Israel. Her dance programs there met with such success that she established an annual Israeli Dance Leadership Seminar. Sponsored by the Board of Jewish Education of the United Jewish Federation of Northeastern New York, the seminar's goal is to train participants how to teach Israeli dance to Jewish youth. During its twenty-five years, this program has drawn participants from nearly every synagogue, youth group, day camp, and religious school in the Capital Region—as well as representatives from beyond the local area.
But even before she formed the dance leadership seminar, Lorraine felt there would be teenagers who might connect to Judaism through dance just as she had done as a teenager, and so she developed Tzamarot, Temple Israel's high school performance group. Not only does the group learn Israeli dance repertoire, but they educate the community through annual performances. Tzamarot is the local Jewish community's ambassador to the broader ethnic and interfaith North American Jewish community in the Albany area. In addition, her own three children continue the tradition of young people teaching dance to even younger ones. Each one teaches Israeli dance at their high school, college campus, or temple.
Lorraine's academic background is extensive. She holds a bachelor's degree in psychology from the State University of New York in Albany, New York, and a master's degree in special education from the College of Saint Rose in Albany, New York. Her graduate studies also include course work at the Hebrew University in Jerusalem and the University of Rochester in Rochester, New York.
Her direction of Temple Israel's dance program represents only a portion of Lorraine's commitment to Jewish education. She also teaches Judaic kindergarten at Bet Shraga Hebrew Academy in Albany, New York, where she coordinates and directs their annual Israeli dance festival. Additionally, she established a comprehensive Israeli dance program at Camp Ramah in New England and wrote Z'man Lirkod: A Manual For Teaching Israeli Dance.
Lorraine's work in Jewish education has been and continues to be multi-faceted. She has taught students of all ages and abilities. Her endeavors have attempted to impart a love of Jewish culture, heritage, and history through the most creative and effective means available.
From Lorraine Posner Arcus' Statements of Motivation and Purpose:
"When I was steady enough to walk without faltering, my parents had the foresight to put dance shoes on my feet. From that moment, dance became an integral part of my life. However, it wasn't until I was exposed to Israeli dance that it became part of my very heart and soul.
"Having the experience of being nurtured by perceptive educators, the greatest influence being Fred Berk, of blessed memory, gave me the lifelong incentive to foster these skills in hundreds of other young people. There has not been a year since I was seventeen years old, despite college studies, graduate school, marriage, and three children, that I have not conducted a program of Israeli dance instruction and leadership training.
"I believe that the continuity of the Jewish community is as much dependent upon our youth having positive experiences in identifying with Jewish and Israeli culture, as it is dependent upon their ability to read Hebrew and identify figures from Biblical and post-Biblical history.
"A culture's folk dance repertoire expresses the characteristics of its
4 way of life, its customs and its history. Where in past generations the transmission of religious and cultural identity was often taken for granted as a by-product of our tightly knit community, these same conditions do not exist today.
"I think nachas is motivational. It is said that when you teach a child, it is as if that child is your own. Watching so many of 'my children' grow through their involvement in Israeli dance and seeing their lives enriched gives me the strength and desire to continue to expand the programs I have created.
"My future aspirations follow several parallel paths. It is an exhilarating experience to help other communities to embark upon a program of Israeli dance and I hope to have the opportunity to expand this part of my work. I look forward to continuing to direct the local Israeli dance programs, and to inspiring my graduates to establish similar programs for the next generation. By actively transmitting my love of Jewish culture through Israeli dance to my students and encouraging them, in turn, to be leaders, I hope to carry on the tradition inspired by my beloved teacher, Fred Berk, 'm'dor, l'dor.'
"In Fred Berk's article, 'What Makes a Good Folk Dance Teacher,' he wrote, 'To be a folk dance teacher can be a wonderful profession…. A folk dance teacher will never be rich, but may be a happier person, living a more fulfilled life which money can never buy.' It is this richness that I have reaped through watching young and mature people develop the same spark within them for Israeli dance that I have. It is by hearing the enthusiastic audiences who not only learn about Israeli history and culture at performances, but who are invigorated by the passionate and enthusiastic dancers, that I receive my reward."
From her Letters of Nomination and Support:
"Lorraine is an outstanding educator and powerful role model. She combines her talents with a deep commitment to Jewish values and education. Through the art of dance, Lorraine's students are given the gift of a life-long way to celebrate being Jewish. There are many paths that one can take to develop a love and understanding of Judaism. Lorraine, our 'Miriam,' dances her students towards their heritage."
Marilyn Cohen
Teacher, Bet Shraga Hebrew Academy "Lorraine is a consummate master at locating and bringing to the surface the best that a student has to offer, no matter how deep within that 'best' may be. She can take the most gangly or uncomely, the most unwilling or unknowing, and raise them to dizzying levels of spirited excitement for their Judaism….Regardless of their background, from where they originate, or even what language they speak, with Lorraine, all are united with a commonality to join hands together as Jews and friends."
Dr. Simcha Pearl and Dr. Elana Zimand
Former students, Parents of current student
"Rather than read and reread midrashim about Miriam's well in order to understand its significance, Lorraine created a piece of dance that allowed us to experience the long trek in the Sinai, the joy of crossing the Red Sea, and the relief of finding water wherever Miriam traveled. Through Lorraine's fertile imagination and creative mind, Jewish young adults have been: chalutzim, building Israel up from the swamp and the sand; Yemenite, Latino and Eastern European Jews making aliyah; joyous Israelis, not much older than ourselves, exuberant and intent on living each day to the fullest."
Lily Rabinoff-Goldman
Former student
"The lights are dimmed. In pairs they run down the center aisle toward the stage in a burst of color and excitement, hands clapping high into the air, in time to the nimble beat of 'Festi, Festi, Festival'–children, teenagers, and adults who have prepared for this Zimriah-Rikudiah (song and dance performance) most of the year. Sometimes the audience of parents, grandparents, and culture lovers stands and claps too, tears glazing their cheeks as they experience a surge of emotion not unlike that felt by the Jewish world after the Six-Day War. It is no less a war that we educators are fighting: to preserve Jewish pride and identity here in the Capital District, (Albany, NY) and these are, after all, our children."
Rabbi Paul B. Silton and Faye Silton
Rabbi, Temple Israel; and Colleague