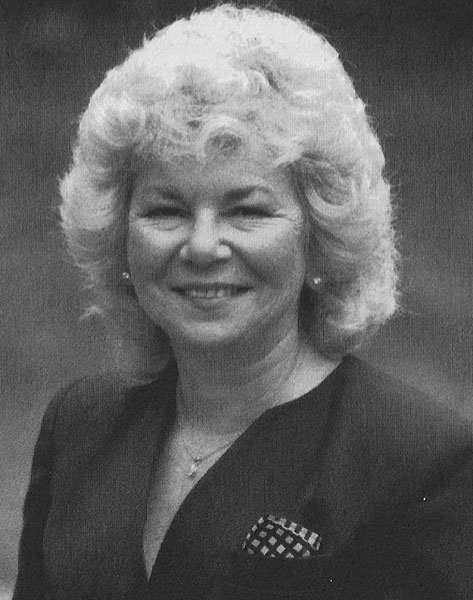 Henia Lewin entered the Kovno Ghetto with her parents when she was eighteen months old. Her parents, Gita and Yona Wisgardisky, hid her in a disguised walk-in pantry. Two years later, and following the death or deportation of her grandparents and other family members, her parents smuggled her to the safety of Lithuanian Christian acquaintances. Henny, as she is affectionately known, was later reunited with her parents, both of whom miraculously survived the Holocaust. Together they made their way through Poland to a Displaced Person's Camp in Saltzheim am Main, Germany. There, under American auspices, Henny began her Jewish education, in the first grade. The family immigrated to Israel in 1949, which became home both physically and emotionally. That connection has remained unbreakable. Her family subsequently emigrated to Montreal, Canada, in 1953, due to her mother's inability to tolerate the hot Israeli climate. Henny studied at the Adath Israel Academy and at the United Jewish Teachers Seminary while concurrently attending Sir George Williams College, where she majored in psychology. She was Hebrew valedictorian upon graduation from high school and Yiddish valedictorian when she graduated from the Teachers Seminary.
After graduation, Henny taught Hebrew in Montreal and at Ramah summer camps. In 1963 she was "imported" to Atlanta, Georgia, by its Hebrew Academy to teach in its day school. Her range of responsibilities included teaching first graders to read and write Hebrew, seventh graders to chant the blessings for their haftorahs, and older teenagers to appreciate Israeli culture and Jewish heritage. She subsequently moved to New York and married a fellow child survivor of the Holocaust.
In 1968 the couple moved to Burlington, Vermont. Henny has taught at the Ohavi Zedek Hebrew School ever since. She teaches all levels of Hebrew, tutors children, and helps prepare them for bar and bat mitzvah. After earning a Masters in Teacher Education from the University of Vermont (UVM), she began teaching Hebrew there as part of the Department of German and Russian. In 1983 her students started The Jewish Action Coalition, of which Henny has served as faculty advisor for the past fourteen years. In addition, she has served as the Director of Hillel at UVM for the past five years, becoming, in effect, the "Jewish address" on campus. Henny also serves on the Burlington Chevra Kadisha (Jewish Burial Society) and has been president of the Burlington chapter of Hadassah. In 1997 she will be on a year's leave from UVM, having been recruited by the National Yiddish Book Center in Amherst, Massachusetts, to be their in-house "Yiddish educator" and to teach Yiddish at Hampshire College and the University of Massachusetts at Amherst.
Henia Lewin's Statement of Motivation and Purpose:
"I was a ten-year-old newly-arrived Olah. We came from a Displaced Persons Camp in Germany, where we waited four long years to emigrate to our Homeland. Prior to that we survived the nightmare of the Holocaust in Lithuania. That special TuBishvat I joined with other child survivors as well as native-born sabras in planting trees on a hill near Jerusalem. This forest would contain over a million trees in memory of over a million children who had perished in the Shoah. As I planted my sapling that day I put down my own roots into the Land of Israel….
When we moved from the Maabara (transitional housing) to our own home in Ramat Gan I joined the public library and proceeded systematically to read all the books they had on the shelves in the youth section, close to 3,000 titles in all, over the next three years. I read Jewish writers such as Shalom Aleichem, Peretz, Agnon and Avram Mapu as well as foreign authors who had been translated into Hebrew such as Dickens, Dostoyevsky, Hugo, Dumas, etc. While I was in the sixth grade I developed an interest in Talmud and proceeded to attend the weekly meetings of the Talmud Club. My Hebrew vocabulary grew to include terms from Jewish tradition and liturgy as well as newly coined expressions needed to translate modern stories of pirates, spies, cowboys and Indians….
Unfortunately my family lived in Israel for less than four years. Leaving Israel was traumatic. I feel that I have been living in exile ever since. I was not able to return for a visit until sixteen years later. I drove to that forest where I had planted my sapling. The trees I saw stood erect, tall and proud, in neat straight rows, just as we the children had stood when we planted them….
When my family came to Montreal, I was 13 years old, again facing the challenge of learning new languages, adjusting to a new culture and making new friends. Fortunately, I was able to attend Hebrew High School which enabled me to continue studying such subjects as Tanach, Talmud, and Hebrew literature. My parents owned a small grocery store and we lived in the rear apartment. I had to help in the store, but on Friday nights I was free to attend Jewish Youth Group meetings where we discussed Jewish history and current events and where we danced and sang Hebrew songs. My parents, like many parents of that generation, suggested I become a teacher. Since I was shy and self-conscious of my foreign accent I didn't think I would succeed in a teaching career. I decided to study chemistry and physics so I could work in a laboratory. During my freshman year in college, while struggling with the science courses, I was visited several times by a former teacher who had become the principal of the United Teachers Seminary. He felt that I would make an excellent Hebrew teacher, and when he offered me a full scholarship, the decision was made for me! Looking back after thirty-five years, I know that this is exactly where I ought to be…. I hope that God will grant me mazal and koach to continue working on my chosen task."
From Her Letters of Support:
"It is my pleasure to write on behalf of my friend, my teacher, and my mentor Henia Lewin. I have known her since I was a child as my family belonged to Ohavi Zedek Synagogue where Henny Lewin also davens and continues to educate young children in the Talmud Torah.
I grew up in a Conservative Jewish home, but my circle of Jewish friends was very limited because we were one of the few Jewish families in my town. When I entered the University of Vermont, an unsure young woman, I decided to take a Hebrew language course as one of my electives…. It became more like a group of friends getting together to learn and become more enriched in our knowledge of Israel and Jewish customs as well as speaking Ivrit. It was the first time I was ever exposed to Judaism as not just a religion. Through Henny Lewin I was learning that we are a living people with a multitude of rich customs, a living language, a homeland and a very full and interesting history. She allowed us to experience our Jewishness in whatever way she could bring it to life for us. Henny Lewin encouraged me to pursue a career in Jewish education. It felt almost impossible because I had to work very hard to bring my grade point average up to the point where I could transfer to the Jewish Teacher Training Program at McGill University. With Henny Lewin's encouragement I did…. Because of Henny Lewin's belief in me and the fact that I was accepted into McGill's Jewish Education program, I spent one year at the Hebrew University in Jerusalem. Now everything clicked. I saw my dream becoming a reality I never thought possible…. It is wonderful to be doing what I love and what I do best – teaching. I am also happy to be giving in return some of what Henny Lewin gave to me. Ten years ago I was a young, confused freshman in college from a small town in Vermont. I never imagined myself where I am today – living a full Jewish life and teaching young children in a day school. I am very grateful to one woman who supported me through my many years of hard work and studying."
Beth LeVine, former student
"I have observed Mrs. Lewin as a teacher of my children in Hebrew school, as an officer of the Burlington Jewish Community Council, as a UJA campaigner, as a leader in the Soviet Resettlement Committee in our community, and as a friend and admired peer in the Jewish community and Ohavi Zedek Synagogue. As the leader of the University of Vermont's Jewish Action Coalition, she has been instrumental in stimulating students to develop an interest in Israel. Our son, who studied with Mrs. Lewin years ago, is presently in Israel teaching English in a junior high school. A Jewish family from Armenia who settled in our community says that had it not been for Mrs. Lewin their absorption in America would not have been so smooth. Her ability to speak with the mother of the family in Yiddish on their arrival at the airport, her caring to the point of bringing bedding from her home and making their beds the night of their arrival and then visiting them daily to see that their material and social needs were met, attests to Henia's character and neshama."
Marshall G. London, past Chairman, Jewish Community Council
"Henny Lewin; somehow I feel inadequate to the task of describing the contributions of someone who absolutely represents Jewish education to this small community in the periphery of the Galus. Yet, it is within a community like Burlington that the influence of one person makes the difference between absorption and assimilation, and Jewish identification and continuation. It is within a community like Burlington that one person has to stand boldly and follow the dictates of R. Hillel who insisted that in 'a place where there is no "man," strive to be one.' Luckily for the children and adults of this isolated outpost of Judaism, Henny Lewin lives here and has taken upon herself the role of Jewish Educator."
Joe Greenwald, Rabbi, Ohavi Zedek Synagogue