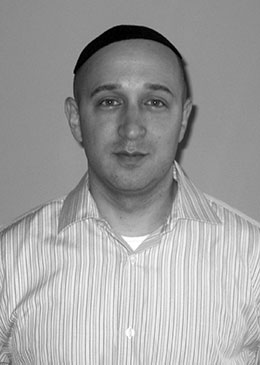 Founder
Kramer Education Group
New York, NY
Email Marc
Dr. Marc N. Kramer, the product of a Jewish intermarriage between a nominally Reform father and ritually-committed, deeply spiritual mother, was raised in a Jewish environment framed by the appositional notions of commitment and compromise. Each member of his family was encouraged to forge a personal Jewish pathway with the limitations that it neither infringed upon the Jewish life of another nor prevented the family from celebrating together. From the outside, the family seemed at once eclectic and cohesive: dinnertime required china, glass, paper plates and countless pots and pans in order to meet everyone's dietary needs, but come 6:30, they all ate together. Beneath the surface, they wrestled with what it meant to simultaneously live within and beyond denominational norms.
This early immersion in Jewish pluralism inspired Marc to pursue a Bachelors degree in Near East and Judaic Studies from Brandeis University. After studying and learning in Israel, an extraordinary stint at the El Paso Hebrew Day School, and with the support of the Wexner Graduate Fellowship, he continued in his studies, earning a Masters degree in social work from Columbia University, a Masters degree in Jewish Studies at JTS, and both a Masters and Doctorate in education from Columbia University Teachers College. When asked what he had learned from "all of this education," he noted that the community is "complex, complicated, and in need of leaders and organizations who can celebrate, rather than combat, this reality."
Marc is currently the Executive Director of RAVSAK: The Jewish Community Day School Network, the North American association of pluralistic Jewish schools devoted to serving children and families from across the spectrum of religious practice. Under Marc's leadership, RAVSAK has evolved from a grass-roots entity into one of the largest, fastest growing and most dynamic Jewish day school organizations in North America. RAVSAK serves schools in 33 US states, 4 Canadian provinces, Mexico, and the UK.
Of his many contributions to the field of Jewish education, Marc's jewel-in-the-crown accomplishment is surely Project SuLaM: Study, Leadership and Mentoring, a 2-year intensive program of Judaic studies for professional leaders in community day schools. Project SuLaM, with the support of AVI CHAI, is raising the bar of Jewish culture and commitment by empowering school leaders with a new lens on Jewish learning.
Additionally, Dr. Kramer is a consultant to the Jewish Board of Family and Children's Services of New York, where he develops and implements psycho-educational and psycho-social programs that explore the intersec tion of traditional Jewish text, contemporary social issues, and normative mental health. In this arena, Marc is interested in helping others develop coping mechanisms and life skills, rooted in sacred text and bolstered by caring communities. Through JBFCS, Marc has worked with countless synagogues, JCCs, schools, senior centers, summer camps, youth groups and other Jewish organizations on issues ranging from anger management, bereavement, and illness to staff supervision and program development.
Marc's "next big thing" is to explore ways to maximize and incentivize Jewish family growth in the context of broadening the community's understanding of what it means to be a Jewish family.
2018 Update:
In 2016, Marc stepped back from his work at RAVSAK to create the Kramer Education Group, a boutique consulting firm focused on issues of leadership and change in the Jewish non-profit sector.  His clients include Jewish day schools, synagogues, central agencies, foundations, and individual leaders looking to grow through executive coaching.  
From Dr. Marc Kramer's Statements of Motivation and Purpose:
"A number of years back, I read the final words of Psalm 98 (Yishpot teiveil b'tzedek u'amim b'maisharim—God will judge the world with righteousness and people with fairness) as Yishpot teiveil b'tzedek u'amim b'me'ah sha'arim—God will judge the world with righteousness and people through one hundred gates. Error or poetic license aside, this resonates as the high note of my professional hopes: to help Jewish day schools erect new tents for Sarah and Avraham which are open not only north, south, east and west, but to the myriad of compass points between.
I hope to share this serendipitous homophone as a metaphor for an educational cultural of maximal inclusion which make the world of Jewish learning available and enticing to all Jews—no adjectives, period. "What motivates me to now see this work as a life commitment is best unpacked through a brief anecdote. Once I overheard two of my pre-teen students discussing their Sukkot vacations from school. One spoke about his black-letter-law sukkah, the gart'l on his esrog, and lengthy shiurim. The other told of a family picnic, time to master a new video game earned for good grades, and the band that played all night long on Simchat Torah. The dialogue ended with both students speaking from the core of their Jewish souls: 'Cool.' 'Cool.' And then they went back to their studies.
"How do we assure that all Jewish children come to see the Jewish lives of others as 'cool'? What needs to evolve in our communities such that diversity within the Jewish community is embraced and not feared? How do we fashion communities of maximal inclusion that are minimally intrusive into the private lives of families? What would we need to do and say (or not do and say) to make every Jew feel welcome at the supper table of Jewish life?
"The work is great; the day short. Ultimately, I understand my work as the bringing together of divergent views; teaching others to immerse in a mikvah of active listening; planting idea-seeds in fields that others tend; and modeling the aspirations I hold for myself and for my colleagues. It is said of the American Jewish community that 'the third generation struggles to remember what the first generation struggled to forget.' While this certainly rings true, I would extend the adage by noting that we as Jewish educators have the opportunity to help a new generation engage—without struggle—in a life of authentic pluralism, bursting with joy."
From his Letters of Nomination and Support:
"Marc's transformational leadership has allowed RAVSAK to evolve from a loose affiliation of schools into the central address for community day school education. He has crafted a vision that ensures that children from across the spectrum of Jewish practice are able to flourish in rich, pluralistic settings. Marc has fashioned the organizational structure of RAVSAK to meet the diverse needs of member schools and to help these schools build capacity. Because of Marc, RAVSAK is able to offer its member schools the support and resources to meet the increased demands for excellence in Judaic and secular education. As a result, RAVSAK has become the fastest growing network of Jewish day schools and high schools in North America."
Lynn W. Raviv
Past President, RAVSAK
"He is strong in his views, and a concrete and hands-on educator. He has an uncanny ability to predict the future needs of a particular school; at the same time, he intuitively knows the direction and needs of the Jewish community in North America.
"Through RAVSAK, Marc has created a vision for education and leadership for the North American Jewish community. This vision has successfully raised the professional status of teachers and administrators and created strategic partnerships with foundations, federations and businesses. He is sought after as a facilitator and manager for major foundations' projects, bringing together thoughtful educators and support personal that can become effective think tanks to handle the challenges of this generation's Jewish educational leaders."
Susan Weintrob Head of School, Hannah Senesh Community Day School
"His understanding of leadership, of learning, and of interpersonal relationships made every conversation enjoyable and productive, and his personally rich Judaic knowledge helped identify where the program wanted to move participants. His skill as group therapist, which I had seen before in RAVSAK planning meetings, was once again in evidence at the full-day retreat, and the Judaic and general studies staff raved about the day as the best professional development session they had in at least five years. I continue to turn to him for crises large and small, and I am grateful for this relationship. In a word, Marc gets it: he deeply understands schools, learning, and leadership. Over the last several years, the RAVSAK network of day schools has grown in prominence and professionalism due, in large measure, to his stewardship."
Dr. Michael Berger
Associate Professor of Jewish Studies, Emory University
"Dr. Kramer has built an exceptional repertoire of skills, programs and ideas to advance his vision for strengthening the Jewish community. Dr. Kramer's work is characterized by his intense commitment, enthusiasm, breadth and depth of knowledge, pedagogical and group skills, high level of organization, and humor. These strengths have allowed him to be effective with students of almost every age, socioeconomic background, denomination, and educational level.
"Dr. Kramer's effectiveness as an educator and curriculum developer reflects his ability to combine: knowledge of Jewish values, texts, traditions, rituals, history and culture; understanding of developmental and group psychology; pedagogical skill; appreciation of how Judaism can guide us in facing life's daily and exceptional challenges; and a deep love of Judaism, which springs from his personal religious and spiritual practice."
Jonathan Katz, Director, Jewish Connections Programs Vicki Rosenstreich, Director, Bikur Cholim Coordinating Council Jewish Board of Family and Children's Service