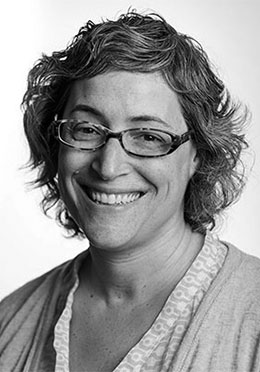 Dr. Rebecca Schorsch
Director of Jewish Studies
Chicagoland Jewish High School
Deerfield, Illinois
"Though I was raised by three generations deeply and differently affected by the Holocaust, I was not taught a Judaism of suffering, but a Judaism of joy. This is the Judaism I seek to transmit. My work has prepared me to function as a community educator: a spokesperson of passion and substance. I want to educate students in a Judaism that enriches their lives, attunes them to the world's beauty, and inspires a reverence for the gift of life. I want to educate my students in a Judaism of multiple voices, hailing from diverse contexts, grounded in ancient sensibilities and aspiring to speak to generation upon generation."
Dr. Rebecca Schorsch has worked at Chicagoland Jewish High School (CJHS) in Deerfield, Illinois, since 2003, and has been the Director of Jewish Studies since 2011. At CJHS she oversaw the merger of the school's Bible, Talmud and Jewish Thought departments, developed new curriculum for the non-Hebrew program within the Jewish Studies Department, and continues to create school-wide learning programs for students and colleagues.
Rebecca was born into a family of educators. "I was blessed to be raised by people whose lives embody Torah, who live Jewish texts in their actions, who dare to hope as the embodiment of their Judaism, and so I too became a Jewish educator." As a graduate student, she studied Midrash and found it emblematic of the Judaism in which she was raised. "In these imaginative and playful rabbinic interpretations and stories, I found the textual correlate to the Judaism of my upbringing: a Judaism replete with possibilities, inviting in its depth, and compelling in its passion and complexity."
Since 2001, Rebecca has served as Scholar-in-Residence at Camp Ramah in Wisconsin, teaching campers, staff and families, and working with counselors and unit heads to create educational programming. From 1990-2003, she taught at Florence Melton Adult Mini-School sites across in the Chicago metropolitan area. Rebecca is also a founding board member of Chicago Jewish Day School (CJDS) and has been active in crafting the religious and educational vision of CJDS since its inception. "I have had the privilege to help students young and old shape their identity, deepen their understanding of Jewish text, nuance their assumptions, discover their religious interests and sharpen their intellectual clarity, so they can think honestly, critically and broadly about Judaism and the world."
Rebecca received her B.A. from Columbia University in 1987, her M.A. from The Jewish Theological Seminary in 1989, and her Ph.D. from the University of Chicago in 2003.
She is a frequent Scholar-in-Residence at both local and regional institutions. Rebecca received the Tikvah Frymer Kensy Distinguished Alumni Award from the Jewish Theological Seminary in 2011.
From Her Letters of Nomination and Support
"Rebecca was instrumental in creating a culture of Torah Lishmah – learning for its own sake – at Chicagoland Jewish High School, a culture in which the categories of teacher and learner are more fluid than the structure of schools often allows. What is compelling and stirring both in Rebecca's teaching and in all of her interactions is how she pushes people to challenge their beliefs and engage in difficult reflection. Ultimately, this is the way in which Rebecca's influence is often experienced not merely as profound, but as transformative."
Tony Frank
Head of School
Chicagoland Jewish High School
"As dynamic as the life of the mind is for Rebecca, she is equally endowed with the passion of soul. Her heart sings of her love for the Jewish heritage, and one hears that song in the renderings of her sharp intellect. In the pride and joy that their teacher takes in her Jewish identity, Rebecca's students seize upon an integration of mind and soul that is compelling for their own lives in a secular world."
Dale Griffith
Chair, English and History Departments
Chicagoland Jewish High School
"The skills Rebecca teaches and the conversations she begins leave students with important challenges and lessons that resurface as they continue their lives as independent young Jewish adults. Rebecca Schorsch does not just educate and instruct, she also empowers and guides so that all of her students can develop thoughtful and personal Jewish identities that engage the richness of Jewish tradition and delve deeply their souls."
Benjy Forester
Student
Washington University in St. Louis