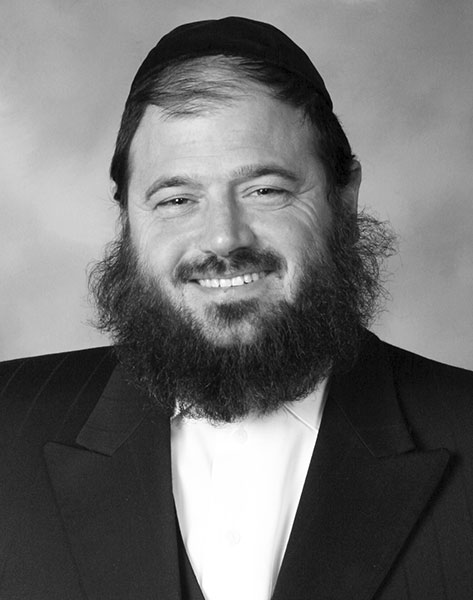 Rabbi Yakov Horowitz "From the moment I began teaching, more than twenty-five years ago, I dreamed of creating a school where each and every child would look forward to attending each day; where children would be treated like the unique individuals that they are; where children would view the school—their school—as their second home, secure in the knowledge that their rabbis and teachers appreciate their individual talents and abilities. In the winter of 1997, I was approached by a group of parents who asked me to found a Yeshiva based on the principles that I instituted in my classroom; this became Darchei Noam, and it has given me the opportunity to realize my dream."
Rabbi Yakov Horowitz was raised in Belle Harbor, New York and attended Yeshiva Torah Vodaas, where he developed a close relationship with his rebbi, the tzaddik Rabbi Avrohom Pam of blessed memory. Rabbi Horowitz served as an eighth-grade Talmud teacher for fifteen years—in Boro Park, Brooklyn and later in Monsey, New York—eagerly volunteering to teach the weaker track of students year after year. His hands-on experience with students who were unsuccessful in school led many parents with underachieving children to seek his counsel. Soon, word got out that a charedi rabbi was willing to work with at-risk adolescents at a time when the issue was not on the communal radar. These experiences led Rabbi Horowitz to publish his first column in the spring of 1996, a searing 4500-word essay imploring educators to address the needs of underachieving children.
In September 1997, Rabbi Horowitz founded Yeshiva Darchei Noam of Monsey, New York, to actualize the educational values that he promoted in that essay and throughout his life. Darchei Noam (where he serves as Dean to this day) has grown rapidly, from 39 children in the basement of a local synagogue at its inception to its current population of 270 students. This process of growth will reach an important milestone this fall, when Darchei Noam moves to a state-of-the-art facility. Rabbi Horowitz is also the National Director of Project Y.E.S. (Youth Enrichment Services), a program he created in 1997 to help Orthodox teens-at-risk lead productive and meaningful lives. His weekly columns on parenting, Jewish communal life, and Torah appear in more than half a dozen periodicals. Rabbi Horowitz recently published two books, "Torah Thoughts for Teens" and "Living and Parenting," and his popular website (www.rabbihorowitz.com) has brought his progressive-yet-traditional worldview to many thousands of Jews worldwide each week. He has alsoproduced numerous tapes and CD's on parenting, which have helped a generation of parents and educators hone their skills. Over the past eleven years, he has conducted more than three hundred parenting classes worldwide.
Rabbi Horowitz spent three summers in the late 1990's as a Fellow at the Mandel Institute's Senior Leadership Program and was awarded the 2002 Rockland Educator of the Year Award and the Grinspoon-Steinhart Award for Excellence in Jewish Education. He serves as a member of the Curriculum Advisory Committee of The Institute for Day School Management of the UJA-Federation of New York and is involved in a host of local and national educational endeavors.
Rabbi Horowitz is constantly seeking new ways to realize his dream: that each and every Jewish child succeed in school and become a proud, productive member of society.
From Rabbi Yakov Horowitz' Statements of Motivation and Purpose
"At age eighteen, I decided to try my hand at teaching in a summer camp that had a Judaic Studies program. I volunteered to take the weakest group of students, a group of eight pre-teen boys who were extremely restless and were very poor students. To say that it was easy teaching those students would be overly nostalgic. But I loved every minute of it and got hooked on teaching. I did not know it then, but my life was changed forever.
"As the years went by and my career developed, I continued to be troubled by the lack of resources for underachieving boys and girls and by the prevailing denial of this problem by individuals and community leaders alike. In April of 1996, I took pen to paper and wrote an article about what I saw as a crisis in Jewish education. During the first month after it was published, I received more than 300 telephone calls to my home from frantic parents around the corner and quite literally around the world. Clearly, I had touched a nerve.
"The following is an excerpt from that article. Although it was written as a call for action in the arena of underachieving children and at-risk teens, it sums up my strong feelings about what all teachers must strive for: You must be made aware of the drawbacks of teaching a class such as this. You will be genuinely sad when the year ends—you would love to have just a bit more time to polish the diamond that you discovered and washed so very carefully. You will worry about them—long after they have left your class in a way you never thought you could. Former students will call you on Friday afternoon to wish you 'Good Shabbos,' and drop in to say hello when they return from yeshiva during vacation break.
You see, you aren't becoming A rebbi of theirs. Hopefully, you will become THE rebbi, the one they will remember for the rest of their lives. "In the years ahead, I would like to establish a pre-service teaching institute that would allow far more future rabbis of our children to be professionally educated. I would like to publish the creative, skill-based Judaic Studies educational materials that we have developed at Darchei Noam for classroom use and create nationwide communities of practice for Judaic studies teachers. It is my passionate belief that these synergistic initiatives will help Jewish children around the world better access the richness of our glorious heritage and become proud, committed, well-educated members of our community."
From his Letters of Nomination and Support:
"Rabbi Yakov Horowitz is an educational virtuoso in the yeshiva world. His charisma, ability to connect to both scholars and lay people, and deep concern for Jews across the spectrum of Jewish life make him an extraordinary Jewish educator.
"Darchei Noam is distinctive for its significant professional development programs for faculty, innovative uses of educational technology by Jewish studies teachers, and great sensitivity to individual children. Rabbi Horowitz's rapport with the students is astonishing: having memorized the names, addresses, and phone numbers of all students, he routinely uses the knowledge to demonstrate his concern for each child."
Yossi Prager
Executive Director – North America, The Avi Chai Foundation
"In my 31 years as a Jewish educator, I have never met anyone like Rabbi Yakov Horowitz. His accomplishments are bigger than life. He has a magnetism that attracts students, parents and colleagues. His warmth and his substance come forth even in brief encounters. The meteoric growth of his school is concrete testimony to his success in creating something from scratch that draws people in. He has established high standards in all aspects of his school's program.
"To me, Rabbi Horowitz is a giant; humble and grand at the same time. He is clearly propelled by a vision of the Jewish people that is connected, tolerant, and engaged in forging meaningful bridges between Torah and the modern world."
Rabbi Joshua Elkin
Executive Director, Partnership for Excellence in Jewish Education
"Rabbi Horowitz is an educator for parents as well as children. He speaks truthfully to his community, in a way that allows them to listen. Rabbi Horowitz knows how to ask the difficult questions. He lets his community feel those questions instead of trying to protect them. He courageously welcomes feedback from anyone who cares to comment. He is not afraid to stand alone. Rabbi Horowitz tackles the hard stuff that makes life messy, and he does it with integrity and deep insight. He is a born leader."
Diane Troderman
Chair of JESNA and Trustee of Harold Grinspoon Foundation
"It was a cold December day and we had gotten an unexpected snowfall the evening before. At Darchei Noam, it seemed as though the entire school was using the weather as an excuse to test the sledding capacity of the steep slope behind the school. Imagine my surprise when I was told that the idea for this outing came from the head of school, Yakov Horowitz. Yakov understood that he had a responsibility to develop the body, soul, and spirit of these boys as well as their intellect. So there they all were, flying down the hill behind their principal.
"Yakov sees his responsibilities to his students as multi-faceted, and he is not afraid to think and act multi-dimensionally. He has never failed to show up at any communal table to which he is invited, regardless of who is issuing the invitation and who may be sitting next to him. If he can be helpful, he is there."
Rabbi Deborah Joselow
Commission on Jewish Identity and Renewal,
UJA-Federation of New York