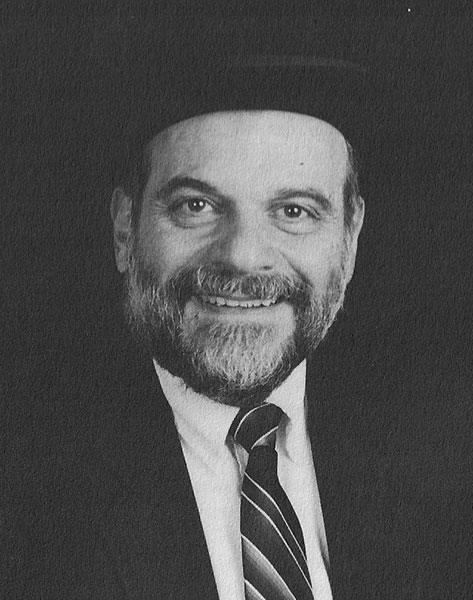 Berel Wein was born into a rabbinic family. His grandfather, Rabbi Chaim Zvi Rubinstein, was a founder of Hebrew Theological College, and his father, Rabbi Zev Wein, served as a rabbi in Chicago for fifty-one years. Rabbi Wein complemented his natural love for Torah study and teaching by educating himself in other disciplines as well: in 1954 he received a bachelor of education from Roosevelt University, and in 1956 he received a law degree from DePaul University. While pursuing his secular studies, he also completed his rabbinic ordination at Hebrew Theological College. From 1956 to 1964 he practiced law in Chicago. His love for Jewish teaching overwhelmed all other pursuits, however, and in 1964 he left Chicago to become the rabbi of Beth Israel Congregation in Miami Beach, Florida, where he entered the world of Jewish education and public service. In Miami Beach he served as leader of and as one of the main teachers at the fledgling Mesifta of Greater Miami, a Jewish high school for boys. At the same time he continued further study and earned a doctor of Hebrew Letters from Hebrew Theological College in 1967. In 1972 he became Executive Vice President of the Union of Orthodox Congregations of America, Rabbinic Administrator of its Kashruth Division, and taught at Touro College and at other institutions in the New York area. In 1973 he became the founding rabbi of Congregation Bais Torah in Suffern, New York. He founded Shaarei Torah of Rockland County in 1977, a yeshiva he still heads and in which he still teaches.
Beginning in 1984 he organized special classes in Jewish history at his synagogue and yeshiva. These popular class lectures were recorded and have been enthusiastically received. Tens of thousands of subscribers all over the world listen to Rabbi Wein's "travels" through Jewish history. He is the author of Triumph of Survival, a book about Jewish history, and he is at work on a new book about Jewish history. Dr. James David Weiss has written a book about the life and teachings of Rabbi Wein, appropriately titled Vintage Wein.
Rabbi Wein continues to serve as pulpit rabbi, teacher of Talmud and Codes, Jewish history lecturer, author, and international public speaker. In these roles he fulfills his ambition to continue in his "family business" – to teach Torah to the people of Israel.
Rabbi Berel Wein's Statement of Motivation and Purpose:
"I am a descendent of rabbis and Torah educators, both on my father's and mother's sides…. I remember vividly my maternal grandfather…. He was and is my role model of what a Jew, especially a rabbi and teacher, should be. He was gentle, kind, warm, and loving. He was also single-minded, committed, industrious, and he never quit. Even though I was only ten years old when he died, I always have felt that I wanted to emulate my grandfather. I wanted to be a synagogue rabbi, to found and teach in a rabbinic school of high quality, to educate many Jews, and to attempt to help rebuild the Jewish people…. Anyone who lives in our fateful generation, along with the survivors of the Holocaust and the builders of the Jewish State…must be motivated to be an actor in, and not merely an observer of, such an effort. If God placed me in this time and this place with such great opportunities, I would be most remiss in not attempting to play a meaningful role in Jewish life. Jewish history is a strong motivation for me. Our generation writes a bold and vital chapter in this history. I want to help write that chapter."
From His Letters of Support:
"I feel quite humbled by this task. It takes a certain level of human development to appreciate the greatness of one's teachers and I feel quite distant from that level. The Rabbis tell us it took the Jewish people 40 years to truly appreciate the greatest of all teachers, Moshe Rabenu (Moses). Despite this inadequacy I will do my best to capture the essence of Rabbi Wein the educator…. As a teacher and as a rosh yeshiva (head of a talmudic academy) in particular, Rabbi Wein has been able to capture the spirit and vitality of the yeshiva of old and to adapt it to fit the reality of today. Rabbi Wein has been able to design a curriculum…for today's reality. He instituted a broad range of Torah goals allowing students to feel accomplished even if they were not blessed with the analytical mind necessary to excel in Talmud…. He aspires to produce a mensch as much as he does a scholar…. I was his student for seven years and received my Rabbinic ordination from him…. I would like to conclude with a personal anecdote…. I was having a conversation with Rabbi Wein regarding a certain scholarly sefer (book) dealing with intricate questions in Jewish law. The sefer contained some fairly outlandish questions, some that seemed to border on the absurd. 1 approached Rabbi Wein with one such question and asked him what it was doing in print. Rabbi Wein read the question and began to comment on the lack of discretion used by the author. He caught himself mid-sentence and abruptly terminated the conversation. He looked visibly upset at what he had already said. A few hours later I was attending Rabbi Wein's lecture. I was more than a bit surprised when, in middle of the lecture, Rabbi Wein took out the sefer I had shown him earlier and used an excerpt from it to clarify a difficult passage. In my seven years as a student of Rabbi Wein this was the one and only time I ever heard him quote from that sefer. Never mind the scholarship that obviously was necessary to find an excerpt that fit in so smoothly with an unrelated lesson. The real lesson it taught me was that Rabbi Wein altered a lecture being delivered to 25 students so that, without saying one direct word, he could teach one student a lesson of respect."
Rabbi Shlomo Goder
"One of my friends says that he has never heard Rabbi Wein speak without being stirred. But Rabbi Wein has changed the face of American Jewry in many other significant ways. He founded Shaarei Torah, a school which demonstrates that a classical 'Litvishe' yeshiva approach can be successfully grafted onto the American Jewish landscape. It is a mussar yeshiva with a topical spin that makes it relevant to the contemporary teenager…. Students come from all over to attend. After four years at his school they have been well prepared to compete in a secular environment while they have also been spiritually changed for the better."
Dr. James David Weiss
"I know from conversations with parents and faculty of the high school he founded that courtesy and community spirit go hand in hand with a high level of scholastic achievement, and that the honor system actually works there…. He inculcates in his students a sense that they must give something back to the Jewish community that nurtured them and that enabled them to receive a fine education.
Countless rabbis and educators have learned from him not only how to relate to people of all stripes, but that they are obligated to do so. Countless laymen have learned to love their heritage through his subtle influence and enlightening and entertaining lectures and speeches…. He is a teacher par excellence, in the study hall and the synagogue, in his adult education and training programs, and within the entire Jewish world."
Rabbi Nosson Scherman