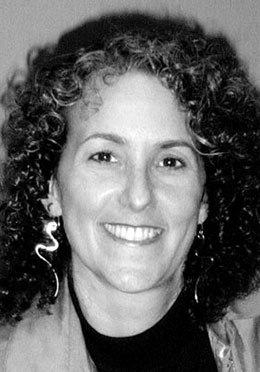 Rabbi Elyse Goldstein believes she comes from a family of women rabbis—but officially she is the first. She credits her Jewish passion to her mother, Terry Goldstein, who was national director of the Reform youth movement NFTY for over 20 years. Elyse grew up surrounded by rabbis, cantors and Jewish educators who urged her to forge ahead into the rabbinate. She followed her dream into Jewish studies at Brandeis, graduating summa cum laude and Phi Beta Kappa in 1978 before taking a year off to study traditional texts in Jerusalem. In 1983, she was ordained by Hebrew Union College-Jewish Institute of Religion in New York.
Her teaching focuses on opening up the world of sacred literature, especially to those who have never felt that sense of ownership. From her student pulpit, Temple Beth Or of the Deaf, she began to identify deeply with those on the margins. She will never forget the joy and wonder of her deaf congregants as they discovered a Judaism they could hold in their hands.
As assistant rabbi at Holy Blossom Temple in Toronto from 1983–86 and solo rabbi at Temple Beth David in Canton, Massachusetts, she introduced new programs and learning opportunities, including the first feminist study group at Holy Blossom and an interfaith women's clergy group at Beth David.
But in 1991, Canada beckoned her "home" with an offer she simply could not refuse. The Reform movement had the vision to start a new adult education center that would welcome all into the study of Judaism, a place that could "turn on" Jewish young people and reconnect those drifting away, where those already affiliated would deepen their knowledge and commitment. Kolel: The Adult Centre for Liberal Jewish Learning was conceived, and she was invited to nurture and sustain it. Kolel now celebrates its Bar/Bat Mitzvah year.
As Kolel's Board of Directors and student body grew more interdenominational and pluralistic, Elyse shepherded Kolel through the process of becoming an independent communal organization. Now recognized as Canada's leading pluralistic Jewish education center, Kolel enjoys the support and respect of the entire Jewish community and has served as a model for other adult education programs throughout North America and Israel.
Elyse is the author of ReVisions: Seeing Torah through a Feminist Lens and Seek Her Out: A Textual Approach to the Study of Women and Judaism, as well as the editor of The Women's Torah Commentary and The Women's Haftarah Commentary. She will forever remember the six
months that she, her husband Baruch, and sons Noam, Carmi, and Micah recently took to travel together around the world. And she is proud of becoming a Canadian citizen the same month as the Covenant Awards ceremony.
From Rabbi Elyse Goldstein's Statements of Motivation and Purpose:
"In March of 1968, I had my Bat Mitzvah. I can still remember every detail, though it was nearly 40 years ago. I was the only girl in my Reform temple to choose a Bat Mitzvah instead of a 'Sweet Sixteen.' I knew for sure, at that moment when I stood nervously in front of the Torah scroll, that I was transformed. Although I had never seen or experienced a woman rabbi in my life—for no institution had yet offered a woman that choice—I knew for sure that I was destined to become a rabbi. I could not yet say why, and I did not yet know how. I only knew that I was home and that I wanted others to feel that way, too.
"I went to HUC, thinking my path to the Rabbinate would be predictable. But in my second year of seminary, I discovered a community that would have a lasting impact on my life: the Jewish deaf community. I went on to sign at deaf Jewish weddings, funerals, sermons, and classes, teach deaf children for Bar and Bat Mitzvah, convert deaf people to Judaism, and engage deaf congregants in ritual. Those three years taught me the true meaning of outreach: to open the gates of Judaism to those who might enter, but in those days, could not enter. I learned that not all Jews feel as welcome as I do in a synagogue; not all Jews reach out for the text; that there are countless Jews on the periphery waiting to come in. I knew on my ordination day, that one day I would pursue the dream of a new kind of welcoming community.
"The establishment of Kolel has been the single most transformative educational experience of my life. As a Reform rabbi, I had not seen serious outreach work in the liberal world. We felt we had 'lost' our best and brightest to literalists and cults, but we had never offered a way they could 'find' themselves Jewishly. Now we would—at least in Toronto. In 1991, Kolel existed only on paper. I was asked to dream it alive. Thirteen years later, in joy, I get to see daily how the words of the texts embrace Jews, their non-Jewish partners, and anyone on a spiritual search; how the tent flaps can open a little wider; how Judaism can begin to inform and enrich a life previously unaware of that power. For me, transformation in Jewish adult learning is taking a life detached from Judaism and helping it become a life infused with Judaism, a life lived Jewishly.
"My hopes for the future are both grand and simple: to help Kolel continue as a true pluralistic and communal organization; to open new departments of outreach, university programming, and to target under-served populations such as gay Jews, intermarrieds, and young couples; to use our new building wisely as a downtown 'bayit' and to expand its offerings to include Jewish poetry, art, literature and culture as a way into Jewish learning; to publish our innovative curricula and thus share our experience with other educators; and to act as a clearinghouse for new ideas and techniques in the burgeoning field of Jewish adult education. All this, but without sacrificing for one moment the very foundation upon which I stand: meeting the needs of the adult students who trust me to teach Torah to their willing and loving minds and hearts."
From her Letters of Nomination and Support:
"Rabbi Goldstein is not satisfied with the sterile study of the classroom. Her life is a model of activism inspired by our sacred values. What she studies, she translates into life lessons. She serves on community boards, cares deeply about the schools of our community, concerns herself with issues of poverty and hunger, devotes herself to the Rabbinic community, and publishes books and articles to disseminate her avant-garde thinking. To sum up, Rabbi Elyse Goldstein has been a major force in the Toronto Jewish community by living a life devoted to mitzvot, by nurturing Jews into advanced literacy, and by bringing distant, indifferent Jews into passionate encounters with their Jewish potential. She is a model of pro-active, creative Jewish teaching—skilled, dedicated, and passionate."
Dr. Seymour Epstein
Senior Vice President–Jewish Education and Identity UJA Federation Toronto
"Rabbi Goldstein's commitment to both klal Yisroel and the concept of our community as 'one' has helped make the Toronto Jewish community one envied around the world. She has always made herself available to deal with issues ranging from interpreting Jewish law to government, from acting as a voice of balance and passion on Israel-related matters to arbitrating serious inter-communal issues. Her passion, charisma and ability to inspire both her students and the community alike are unparalleled."
Bernie M. Farber
Executive Director, Canadian Jewish Congress Ontario Region
"When I met Rabbi Goldstein, I was a 'spiritual seeker.' I began studying with Rabbi Goldstein and knew I had met my teacher. At our first lesson, I expected that she would stand before us and reveal snippets of facts and arguments and that we would politely listen. Instead, she entered into a covenant with us. Unspoken yet visceral, it was there just the same—all of us together as we were at Sinai, to learn and pray together. It wasn't long before my 'intellectual' interest in Judaism became a joyful process that has been unending throughout my life."
Adrienne E. Rosen
President and CEO, First International Courier Systems and Clinical Biologistics Canada
"I have known Rabbi Goldstein since she first came to Toronto, where she served as a rabbi at Holy Blossom Temple. During this time, she became known throughout the Toronto community as a creative thinker and dynamic teacher, with a special ability to reach out to young and unaffiliated Jews, to capture their imagination, and to bring them closer to the center of Jewish life.
"Rabbi Goldstein was the first woman to serve as President of the Toronto Board of Rabbis. Her commitment to pluralism in Jewish communal life was paramount during her tenure, and she was a voice of strength and unity for the Toronto Jewish community, while at the same time opening the doors of opportunity and equality and serving as a role model for women in community leadership positions."
Rabbi Daniel K. Gottlieb
President, Toronto Board of Rabbis