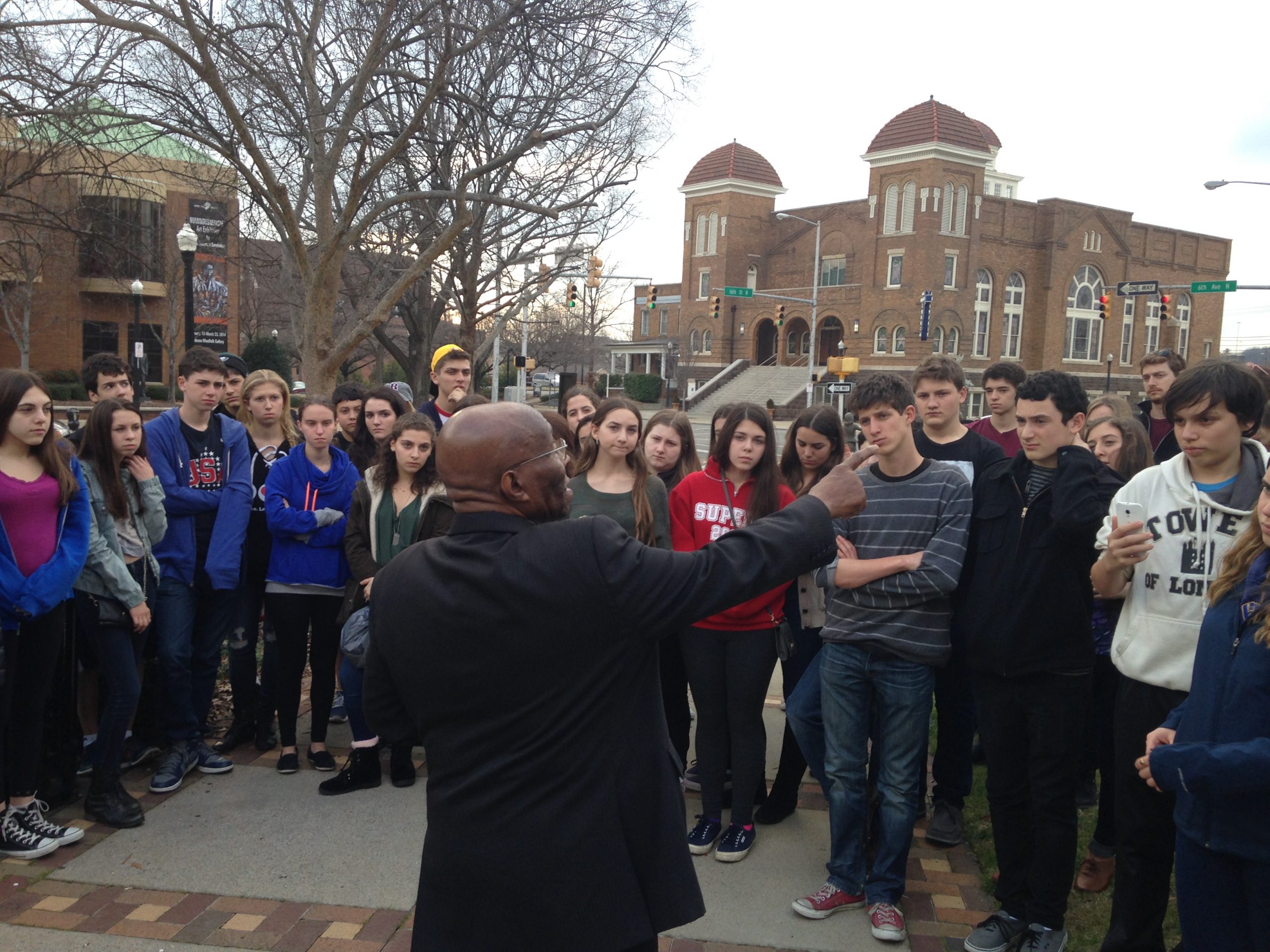 Etgar means "challenge" in Hebrew, and that's precisely what Etgar 36 students experience as they explore the continental United States on a 36-day summer trip. By stopping at locations like the Southern Poverty Law Center in Alabama, the Museum of Tolerance in Los Angeles and Washington DC's Capitol, over the course of their journey, teen participants meet and talk with people all over the social and political spectrum, including NRA and Tea Party members, gay rights activists and black and Jewish civil rights leaders. During the academic year,
For Billy Planer, founder and director of Etgar 36, "Etgar" also identifies a challenge to educating teens in the historical legacy of American Jews, and light the fire of their political passions and Jewish identity. In order to perform the Jewish obligation of tikkun olam, the Jewish imperative to repair the world, Planer believes Jewish teenagers need to learn more about history.
Planer's goal is to create an informed, engaged and invested Jewish teen population who will grow to become dynamic, involved citizens. The diverse range of viewpoints represented underscores the idea that the emphasis of the Etgar 36 trip is not on teaching any one 'party line,' but rather on sowing seeds of future social discourse and political engagement through interaction. Since the program started, Planer said, more than 15,000 people have traveled with Etgar 36.
The first Etgar 36 trip left in 2003; Planer later explained on Facebook, "It has been my hope to educate and inspire people to become activists in order to change the world in a way that we never see a day like that again."
"I had begun to think that we must start creating deeper, more meaningful programming that actually challenges our young people, in order to make them think, and to challenge who they are as Americans and as Jews," Planer recalled.
This idea of American identity was particularly important to Planer, he said, since programming for Jewish teens tends to focus almost exclusively on Israel.
"As a youth director, I noticed that we did a tremendous job in connecting our young Jews to our spiritual homeland, Israel, but not to our physical homeland, America," Planer said.
I would hear from so many teens when they [returned] from their summer trip to Israel, that [Israel] is where they 'felt Jewish'… but [that] they lived here."
Assuming that an overwhelming majority of young American Jews will not make aliyah, but rather, will create their Jewish lives in the U.S., Planer felt it was extremely important for teens to see the connections between the American and Jewish overarching narratives.
"We need to start making a Jewish connection to the one main country that has kept its promise to our people: that we could come here and live in peace, as well as survive and thrive [as Jews], without the government getting in our way," Planer said. Planer also felt it was important for young Jews to appreciate the long history of social and political activism in American Jewry.
Creating this program is Planer's personal method of tikkun olam. Rather than settling for a world in which yelling is our sole conception of civil discourse, Planer said he sees hope for the future in teaching kids how to find their own voices in order to engage in American democracy.
"This is in our DNA as Jews," Planer said. "I thought it could be an entry point for young people who don't feel connected to Judaism through the traditional religious route."
So how does Planer ignite the light of inspiration in Jewish teens?
"On Etgar 36 journeys, we treat teens as real people," Planer said. "We respect them and what they think, but we also have expectations of them to behave and act as real people. Once we create that bond, they see that we are truly interested in giving them an experience that will help them grow into the people they want to be intellectually and as activists."
Part of recognizing and acknowledging teens as 'real' people, Planer said, is relating to them as Americans for whom being Jewish is just one of many facets of their lives and identities: "They tend to view themselves as citizens of the world, not just Jewish citizens."
"Teens today are so comfortable in the diversity of their lives that we can't use our old-school thinking of, 'we need to create just Jewish experiences,'" he said. While many teens do appreciate the social opportunity to be within a Jewish group, Planer added, "they don't see the world as 'Jewish' and 'not Jewish.'"
 "An Etgar 36 journey is really a key that is being given to the participants that opens up the world of their mind, their passion and their ability to find and use their voice," Planer said. "I find that if we set the bar high and expect them to rise to the occasion, rather than wrap the teen in bubble wrap, they will."
By Jordana Horn for The Covenant Foundation