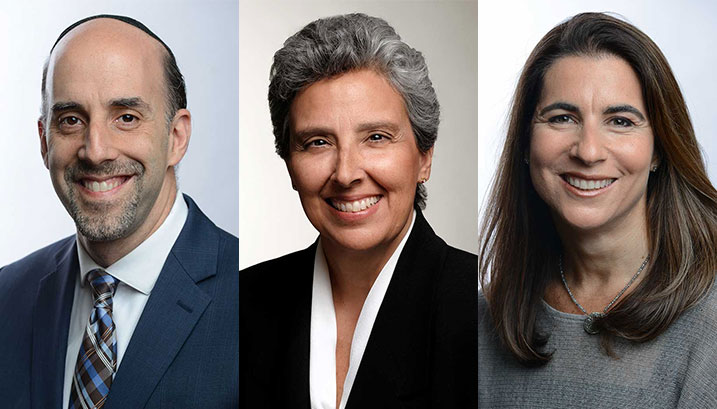 Advocates for Inclusive, Creative Jewish Education to Build Community and Future
Daniel Henkin, Director of Music at The Ramaz Upper School in New York and at Camp Ramah Nyack (NY); Rabbi Benay Lappe, Founder and Rosh Yeshiva of SVARA: A Traditionally Radical Yeshiva, Chicago; and Ilana Ruskay-Kidd, Founder and Head of School at The Shefa School, New York are the recipients of the Award, which is among the highest honors in the field of Jewish education.
"For over 25 years," said Eli N. Evans, Chairman of the Board of Directors of The Covenant Foundation, "excellent, innovative Jewish educators have been recognized by The Covenant Foundation. These three recipients now join 75 others who, together, form a contingent of inspired, courageous, motivated and forward-thinking Jewish leaders."
Along with the recognition that accompanies this award, each recipient will receive $36,000, and each of their institutions will receive $5,000.
DANIEL HENKIN, Director of Music at The Ramaz Upper School in New York and Camp Ramah Nyack, uses music as a portal to sacred text and creates moments packed with individual and collective expression, growth, and excitement.
At both Ramaz and Ramah, Henkin elevates an art that transforms not only those who are creating it, but also those who are consuming it.
As Director of Music at The Ramaz Upper School for the past nine years, Henkin directs the Lower School, Upper School, and Chamber choirs. He also teaches music history and theory and directs an adult choir open to members of the Ramaz and Kehilath Jeshurun communities in Manhattan.
"Daniel Henkin is much more than a music educator," said Rabbi Haskel Lookstein, Principal of The Ramaz School. "He is a Jewish educator whose students come to love Judaism, the Jewish people, and the State of Israel, because they love him and they love what he stands for."
Since 2005, Henkin has also served as Music Director at Camp Ramah Nyack, north of New York City. There, he produces the annual Ramah Zimriyah, a musical celebration and a highlight of the summer camping season attracting thousands of parents, alumni and community leaders drawn to the magic created by Henkin and campers.
"At Ramah, Daniel is our beloved Jewish rock star," said Amy Skopp Cooper, Director of Camp Ramah Nyack, who nominated Henkin for the Covenant Award and is herself a 2011 Covenant Award recipient. "He is first and foremost a Jewish educator, who pushes everyone to sing and harmonize to their full potential and, in so doing, makes every child and young adult feel like a star in their own right."
Henkin also directs choirs at other Jewish institutions, including Camp Nesher in Lakewood, PA and Queens College Hillel. Tizmoret, Queens College Hillel's Jewish a cappella group, which draws singers from colleges throughout the New York City area, has been a three-time national champion in Jewish collegiate a cappella competitions, has produced numerous albums, and has performed at the White House.
As an arranger, conductor, and director, Henkin has helped pioneer the contemporary Jewish a cappella movement. He teaches students from age 5 to those well into their 70s, injecting the power of Jewish engagement through music across and between generations.
"The Covenant Award, which I am honored and excited to receive, acknowledges the ways in which the universal language of music can deepen Jewish communal involvement and strengthen Jewish identity and community," Henkin said.
"I am privileged to wake up daily knowing that I can continue contributing to the scope and vibrancy of Jewish music, but the real merit is drawing strength from my students who inspire and challenge me daily to create and renew this cherished legacy."
RABBI BENAY LAPPE, Founder and Rosh Yeshiva of SVARA: A Traditionally Radical Yeshiva, Chicago, has created an exciting paradigm in Jewish education—learning that is traditional yet radical, and extremely rigorous yet accessible. She has painted a new picture of what adult education can look like and SVARA has become a compelling model of a new kind of Jewish learning.
When Rabbi Lappe founded SVARA in 2003, its focus was on providing serious Talmud study to Jews on the margins whose outsider experience stemmed from their sexual orientation or gender identity. Today, SVARA's approach to Jewish learning—one who foregrounds the native radicalness of the Talmud, and where everyone learns Talmud in the original Hebrew/Aramaic, even those who've just learned their alef-bet—speaks to a wide variety of Jews who feel that mainstream institutions and more typical approaches to adult learning are not working for them.
"There were so many others like me—Jews on the margins who'd been told that Judaism was a take-it-or-leave-it proposition," she said. "But in the Talmud, I discovered a Judaism that offered a third alternative. What I saw the Rabbis doing was very powerful to me. I realized that the Talmud, which has been taught to only 1% of the Jewish population, needed to be taught to the other 99% and I figured out a way to do that. I was a teacher who had finally figured out what she needed to teach, whom she needed to teach, and why."
Under her leadership, SVARA's students now represent the full spectrum of Jewish life and diversity and enrollment has grown dramatically. In its first year, eight students enrolled at SVARA. Last year, 600 students studied in SVARA's beit midrash. SVARA now boasts week-long summer Talmud retreats, a full-time yeshiva, and a teacher training program.
"Her Torah empowers those who would otherwise see themselves as fully outside of the Jewish community or on its periphery, giving them the inspiration, confidence and tools to become 'players' in a reimagined Jewish world—a world in which they have central roles," said Rabbi Lizzi Heydemann, Founder of Mishkan Chicago, who nominated Rabbi Lappe for the Covenant Award.
"Benay's teaching is rigorous Talmud study that is accessible to all … She turns people who barely know the alef-bet into serious students of gemara and shows them how the Jewish tradition not only allows, but demands, radical creativity."
Rabbi Lappe is also Senior Fellow and Director of Education at the Institute for the Next Jewish Future in Chicago, where she oversees the faculty and staff Beit Midrash and participates in its Judaism Unbound podcasts. Rabbi Lappe travels widely and brings SVARA-style Talmud study to seminaries, synagogues, schools, and other Jewish institutions across the United States and Israel.
"This is the greatest honor a Jewish teacher can receive. I will walk through the world just a little bit taller—for the rest of my life—because of it," Rabbi Lappe said upon learning that she would receive the 2016 Covenant Award. "My hope is that, because of the Covenant Foundation's recognition of me and of SVARA, this kind of rigorous Jewish learning will flourish, and those who never thought they had a place at the table, will see that they do."
ILANA RUSKAY-KIDD, Founder and Head of School at The Shefa School in New York, combines a passion for inclusivity with an entrepreneurial drive as she carves a space for children with special needs within Jewish educational life.
The 2014 establishment of The Shefa School, on the Upper West Side of Manhattan, was a significant moment for Jewish education in the New York area, and a milestone on Ruskay-Kidd's professional path as teacher, leader and change-maker in the field.
The pluralistic Jewish day school provides a Jewish environment for children with language-based learning challenges and offers a place for them to excel and reach their potential, a path virtually unavailable in more traditional Jewish classroom settings.
The school has grown exponentially in its short life, underscoring the reality of the underserved population of students and families that it serves. It enrolled 24 students in grades 2 to 5 in its first academic year. This fall, enrollment is expected to surge to 80 students in grades 1 to 7.
"The creation of The Shefa School has provided me the opportunity to combine my deep sense of education as social action with my deep love and connection to Jewish life and living," Ruskay-Kidd said.
Her devotion to Jewish education and her ability to turn vision into impact was evident in her work at the JCC Manhattan before she founded The Shefa School.
As Director of the JCC's Saul and Carole Zabar Nursery School, Ruskay-Kidd cultivated a culture that modeled best practices in the field, better understood developmental needs of young children, embedded Jewish values throughout and fostered important community ties. Under her leadership, the nursery school became a leading center for excellence in early childhood education.
At the JCC, Ruskay-Kidd also served as Senior Director of Family Life and Volunteer Programs, envisioning and orchestrating a dramatic expansion of cross-generational programs for parents, children, grandparents and caregivers.
Mr. Mark Horowitz, Director of the Sheva Center at the JCC Association of North America, nominated Ruskay-Kidd for the Covenant Award. "I came to experience her intelligence, creativity, imagination, and unparalleled dedication," Horowitz said. "At the core of Ilana's remarkable abilities and personality is her neshama, her Jewish soul."
With the founding of The Shefa School, and its continuing growth, Ruskay-Kidd has emerged as an advocate for Jewish day schools to more effectively recognize and support children with learning challenges. In the last year, she has convened over 150 professionals from more than 40 Jewish day schools in an effort to change the communal conversation on serving this population of students and their families.
"Building The Shefa School is a calling for me, a way for me to express my full self, and as the school's name, Shefa (abundance) implies, to honor my profound belief that all children are created betzelem elohim, in the image of G-d."
Upon learning that she would receive the 2016 Covenant Award, Ruskay-Kidd said it is a validation and impetus to continue her work.
"The Covenant Award is considered within the field as the gold standard honor for innovators within Jewish education. I am honored to join a group of remarkable professionals and take inspiration from them and this award to continue to make impact on the futures of our children and community."
Harlene Appelman, Executive Director of The Covenant Foundation, reflected on the opportunity to visit educators in their work places: "Encountering each nominee in the setting where he or she practices the art and craft of education is a particular privilege. Just a few moments observing them in their schools and communities fills one with optimism about not only the state of Jewish education," she said, "but also about the state of the Jewish community as a whole. I am honored to witness their extraordinary work and help the Foundation support it."
The Foundation and the Jewish community will honor the 2016 award recipients at a dinner in Washington, DC on Nov. 13, during the General Assembly of The Jewish Federations of North America.
For guidelines on nominating an educator for a 2017 Covenant Award, and to read biographies of past recipients, visit www.covenantfn.org/awards.
The Covenant Foundation is a program of the Crown Family Philanthropies