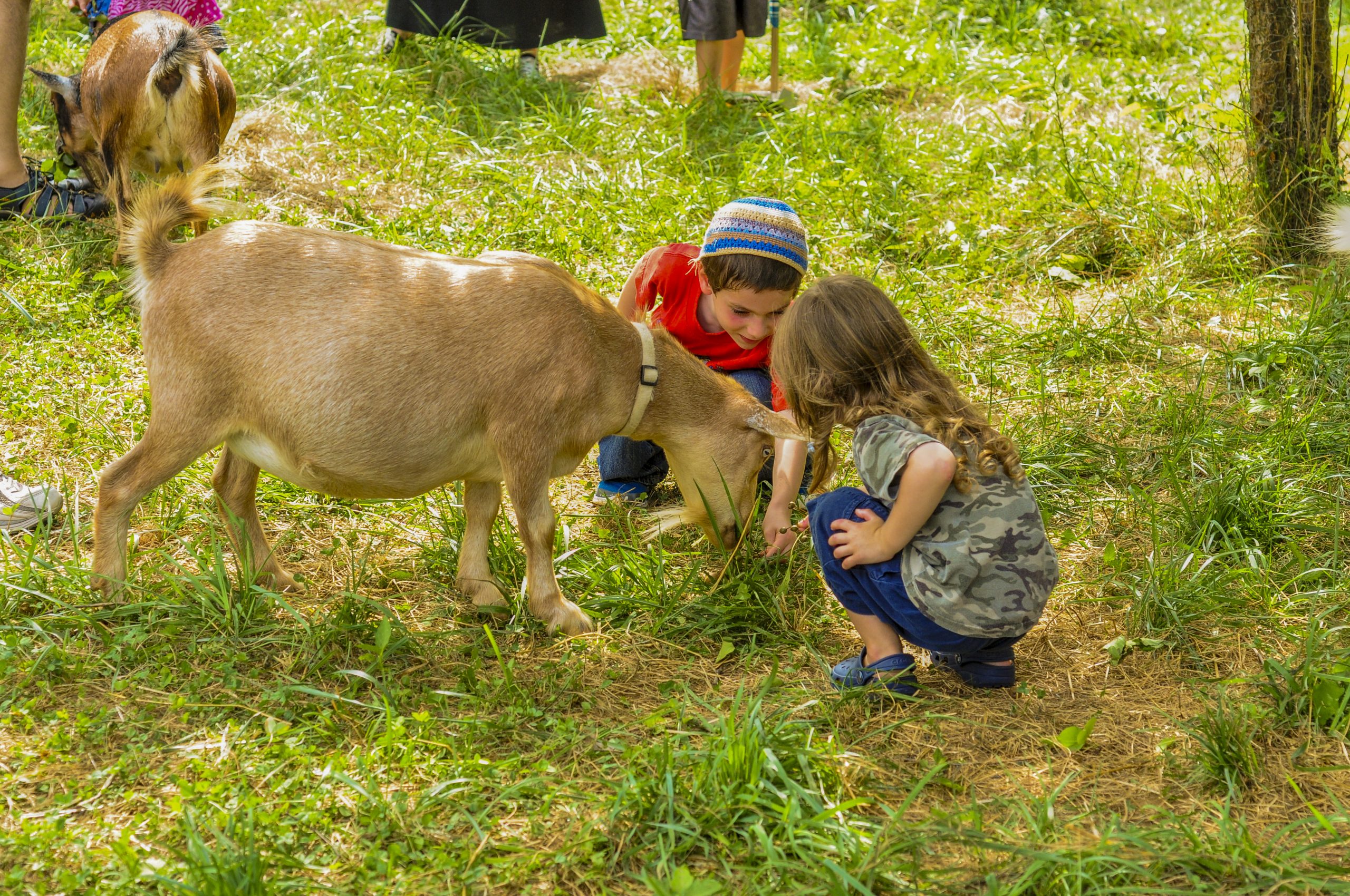 Spring has arrived, and the Jewish community is busy planting with purpose.
In Vaughan, Ontario, the yellow coltsfoot and purple-blue scilla are just starting to flower at the Kavanah Garden, a half acre community garden that's part of Shoresh, the Canadian-based Jewish environmental organization that includes the Kavanah Garden and Bela Farm. On "Yom Manual Labor" just a few weeks ago, volunteers gathered to turn the soil, plant seeds, paint outdoor tables and participate in construction projects with the Shoresh team, preparing the garden for growing season.
At Abundance Farm in the Northampton, Massachusetts, where garlic, elderberries, crocuses and daffodils are currently in bloom, all ages gathered on May 6th to participate in spring growing projects and share soup, salad and bread. With their wheelbarrows, trowels and shovels, children and adults alike will have a chance to dig in the dirt, and beautify the land, while enjoying fresh air, sun, and community.
And just recently, down in Reistertown, Maryland, volunteers gathered on 180 acres of rolling hills at The Pearlstone Center, to tend to blooming strawberry plants, as they readied for the spring harvest.
But while the flowers and fruit trees are just now abloom in the northeast, educators and volunteers on these farms and at many other Jewish land-based and environmentally focused organizations are living and working in intentionally Jewish ways that are not limited to the growing season.
In fact, a burgeoning movement of dedicated Jewish professionals and lay people are finding their way to the farm, so to speak, year round.
"Ninety-five percent of the people who come to Bela Farm are coming because they care deeply about the natural world," shared Risa Alyson Cooper, a 2013 Pomegranate Prize recipient and the Executive Director of Shoresh, which runs programs with schools, synagogues, camps and community organizations in the Greater Toronto area.
"In the beginning, I thought the ratio would be 50-50—half the people joining us on the farm because they were interested in the environment, and half because they were intrigued by the Jewish aspect. Now I understand that people are coming to us first because they care deeply about the earth; a huge percentage of our volunteers are not otherwise engaged in Jewish living and learning. But we provide a point of entry."
This is a familiar refrain across the JOFFEE movement (Jewish Outdoor, Food, Farming and Environmental Education). In fact, many of the leaders of JOFFEE organizations themselves were drawn to the work because of their own search for Jewish meaning.
Shoresh is the brainchild of Cooper and her old day school friend Sabrina Malach, currently the Director of Engagement for the organization. A model of sustainable land-based Judaism, Shoresh is a 20-acre reforestation project with 11,000 native trees, each sponsored in honor or in memory of someone. By connecting families to these trees, Shoresh has physically tied the community to this piece of land. Bela Farm is collaborative project, with an organic vegetable CSA, and 20 acres of organic hemp. Shoresh also stewards a 20-acre bee sanctuary and harvests honey for Rosh Hashanah from their apiary, a premier event at Shoresh and a perfect example of the way in which they build community while helping to protect the environment.
"All of our honey is harvested by hand," Cooper explains. "Every year people gather before Rosh Hashanah to work in the honey house, unpacking the honey, putting it into an extractor and spinning it."
"And then there's the moment where someone opens up the extractor valve and the liquid honey pours out," she adds. "There's a collective breath taken in because it's so amazing to participate start-to-finish in this natural process."
In fact, getting people to say "wow," like they do when they see that honey poured, is one of Cooper's metrics of success. As she explains it, community members are far more likely to take responsibility for the earth and its bounty, if they feel deeply connected to its natural process.
"We want to offer experiences where people can feel radical awe and wonder of and for the world around them," Cooper said. "And to give people these experiences through a Jewish lens is the most powerful teaching we can offer."
This idea—that one can engage Jewishly by connecting with the earth, is a guiding principal for many of today's leaders in the JOFFEE movement.
At Abundance Farm, in Northampton, MA, Director and Covenant Foundation grantee Jacob Fine shared that this understanding helps direct some of the strategic planning in his community's local synagogue.
"We have a couple thousand people who participate in [Abundance] Farm life each year," he explains, "but only a portion of those people are also synagogue members or send their kids to day school," he said.
Fine explained that by looking closely at the demographics of who is coming to Jewish themed events on the Farm and where they are accessing Jewish experiences (if not within the walls of the synagogue building), clergy and leadership at Congregation Bnai Israel, the synagogue that shares a campus with the Farm, have engaged in very intentional thinking on topics like identity, how to manage a membership drive, and what all of this means in the larger context of Jewish community in the 21st century.
For Fine and his colleagues at Abundance Farm, a Jewish food justice farm that also functions as an outdoor classroom, connecting to Judaism through the twin notions of social equity and radical sharing are ways in which they emulate Jewish living.
"Basic biblical theology explains that human beings don't own the earth—only the holy one is the ultimate owner," he says. "Humans are stewards of the earth, and that understanding is expressed through agricultural laws and systems that require we share resources in pretty radical ways."
This theology is practiced in real time on the Farm, which is unique in that it shares a campus with not just a Jewish Day School and a synagogue but also with the Northampton Survival Center, a secular organization which runs two food pantries that serve low-income individuals and families in the area and works to improve their quality of life.
Thanks to the growing integration amongst the three organizations at Abundance, radical sharing is a mitzvah that anyone who comes to the Farm can participate in.
Fine explains this in terms of the biblical teaching from Leviticus 19:9-11, pe'ah, which instructs that when we harvests our fields, we should not reap all the way to the edges of the field, but rather, we are instructed to leave some of the harvest for the poor and the stranger.
By hosting Pick Your Own events, clients from the Survival Center can come and participate in the life of the farm in a dignified way, harvesting produce alongside anyone else from the community, Jewish or not, food insecure or not.
"Everything the earth gives us belongs to God," Fine emphasizes. "It was never ours. Everyone deserves their share."
This is our way of honoring the halachic concept of kavod habriyot (honoring the individual with dignity)," Fine adds, "and it's built into the design of how we run things at Abundance Farm."
At The Pearlstone Center, about 350 miles south, Executive Director Jakir Manela runs a 180-acre campus that's growing rapidly but very much focused on the same values that Fine and Cooper talk about.
"Our core brand identity," Manela says, is 'living Judaism.' Not just Judaism that we learn off a page we read, or by listening to someone talk about it, but rather, by making havdalah outside at a campfire, harvesting food for Shabbat dinner, living our values and offering Jewish experiences that are infused with meaning because they involve intentional actions. This really resonates with people."
The Pearlstone site includes an active retreat center, a farm that grows organic and kosher food to service those retreats, a meditation garden and hiking trails that cater to the greater Baltimore area and beyond.
(Pearlstone used to manage about 11 acres of their larger campus owned by The Associated: Jewish Community Federation of Baltimore. In 2015, they were given the opportunity to create a master plan and capital campaign to maximize the potential of the entire property. Recently, blessings increased, when Pearlstone was just gifted an additional 150 acres from the Jewish Community Federation of Baltimore (which owns the Pearlstone site and recently closed an adjacent campsite that will now be added to the Pearlstone property). This most recent development will allow them to expand in massive ways.
Part of the plan for the extra space involves establishing a Jewish Eco village, the first of its kind in the country.
"We envision staff members living together in an inclusive, pluralistic, vibrant Jewish community, functioning as an anchor of talent and passion and, much like the intentional community of a moshav or a kibbutz in Israel. There will be practiced interdependence and shared living. We want to do this in an ecological way that reflects our values and serves as a model for the Jewish community."
But while Manela speaks of scaling up, and reaching upwards of 40,000 people within the first year of expansion, practicing gratitude and awareness and living Jewish values each day are still the central tenets in Pearlstone life.
During the months of May and June, when blueberry picking events really get underway, those who visit Pearlstone will pick fruit alongside a Jewish farmer and educator who will teach brachot of gratitude and share teachings about ethics. There will also be a ma'aser bin (for tithing) that U-pick participants can add to, as they go.
"When we celebrate Sukkot, or Lag Ba'Omer, or Tu B'Av on the Farm, we are doing it in a beautiful environment and infusing the experience with Jewish ritual, and this combination really speaks to the next generation of Jewish families and young adults that are seeking an inclusive and immersive experience," Manela says.
He adds that for many people who are seeking Jewish connection but haven't found it, the immersive experience with the land really resonates.
"So many people who have come to the Farm for a few hours or for a weekend, tell us: 'I've finally found my Jewish home.'"
By Adina Kay-Gross, for The Covenant Foundation