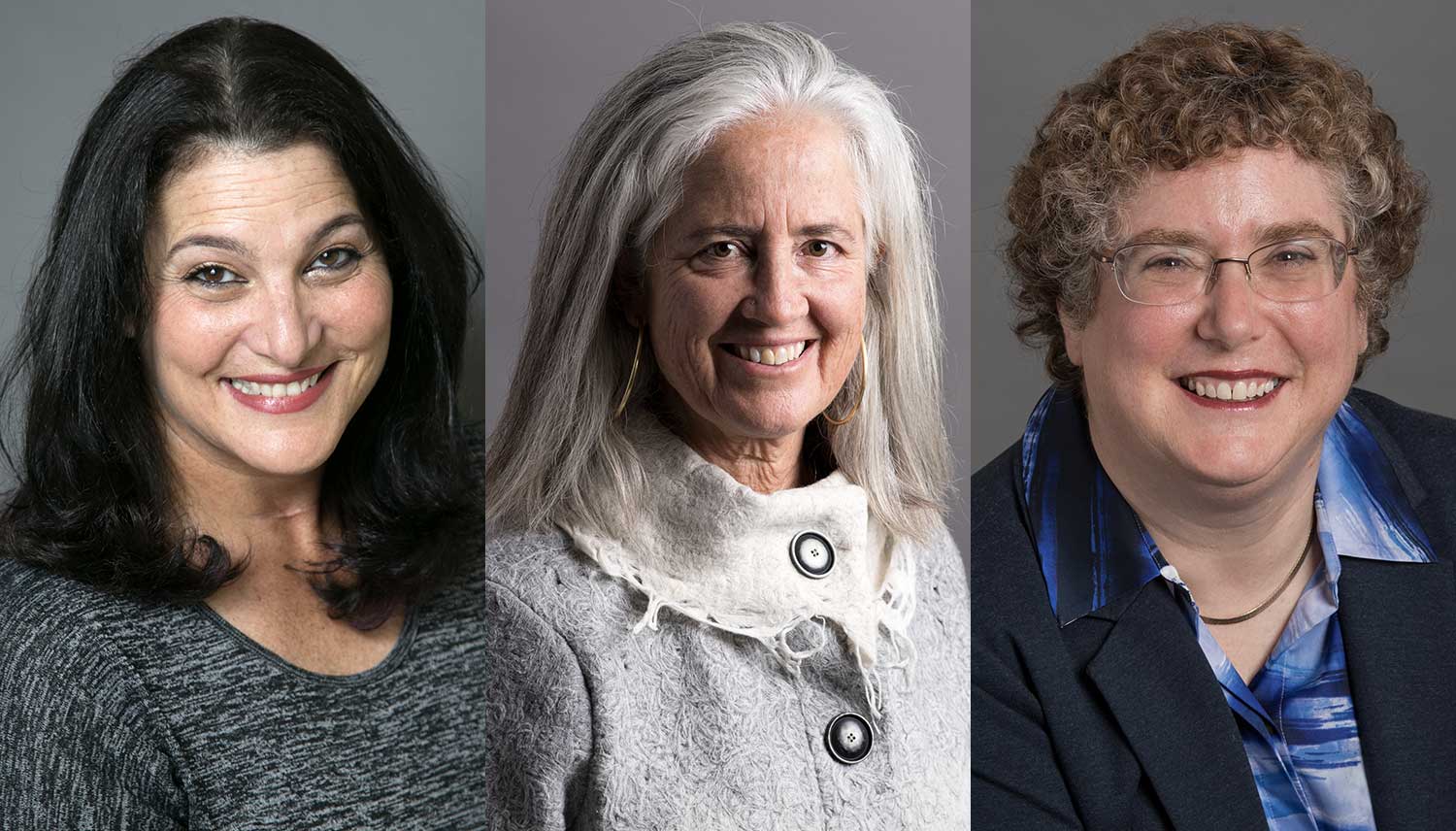 New York – June 6, 2018 – The Covenant Foundation has announced the names of three Jewish educators who are the 2018 recipients of The Covenant Award.
Naomi Ackerman, Founder and Executive Director of The Advot Project, Los Angeles, CA; Deborah Newbrun, Senior Jewish Educator and Director Emeritus at Camp Tawonga, San Francisco, CA; and Dr. Susie Tanchel, Head of School at JCDS, Boston's Jewish Community Day School, Watertown, MA, are the recipients of the Award, which is among the highest honors in the field of Jewish education.
"The work in which each of these remarkable educators is engaged broadens the scope of Jewish life and learning for all of us," said Cheryl Finkel, Chair of the Board of Directors of the Covenant Foundation and a 1999 Covenant Award recipient.
"With deeply felt purpose, they take their core beliefs of community, spirituality, and equality to both traditional and out-of-the-box learning spaces. It is a true privilege to honor them for all that they do."
Along with the recognition that accompanies this award, recipients will each receive $36,000 and each of their institutions will receive $5,000.
---
NAOMI ACKERMAN is the Founder and Executive Director of The Advot Project in Los Angeles, California. The Advot Project mission is to empower youth and young women from disadvantaged backgrounds to take control of their destiny by teaching them communication skills and healthy relationships through theater arts.
Advot (which means "ripples" in Hebrew) offers a variety of unique interactive programs customizable to various populations including students and incarcerated youth, and works in collaboration with nonprofit organizations.
Ackerman's original curriculum projects also include Listen to Me When I Speak, a program that uses theater as a tool to help mothers and daughters develop better communication skills, and Home Shalom, which aims to raise awareness about domestic violence in the Jewish community, with a particular focus on teens.
"Theater can be the perfect classroom, because people are open to learning," Ackerman said. "The lessons are live, engaging and can have a profound impact. The stage is a place where the core Jewish values that are so important to me can be heard, seen and taught loudly and clearly."
"As drama specialist, Naomi is the not the 'here's-a-script-now-read' type," said Vicky Kelman, a 2003 Covenant Award recipient, in her letter of support for Ackerman's nomination. "Rather, she works to blend the study of Jewish values with the creativity and playfulness of drama. Jewish values provide subject matter, the construct in which the learning happens, and Naomi herself is the role model of those values."
Ackerman's one woman play, Flowers Aren't Enough, which tells the story of a battered woman, has been presented over 1,800 times internationally, translated into four languages and experienced by over 300,000 people from Israel to India, New Zealand to South Africa. Through Home Shalom, Ackerman is currently staging the play in Los Angeles, along with workshops on healthy relationships for teens. The workshops inspire self-esteem, encourage a passion for social change, promote self-empowerment and teach the crucial skills necessary to create healthy relationships that prevent intimate partner violence, all within the context of Jewish tradition, values and the wisdom of thousands of years of Jewish civilization.
"Naomi is a fierce advocate for social justice and every individual child's right to reclaiming his or her spiritual inheritance of courage, confidence, and individual self-worth," said Rabbi Steven Carr Reuben, who nominated Ackerman for the award.
"For decades, she has been teaching, leading and living those very values in her remarkable educational work," he said.
A self-described freelance Jewish educator, Ackerman also teaches workshops on how to use theater as an educational tool in day schools, supplementary schools and synagogues across the country and has served as artist-in-residence at Camp Ramah in Ojai since 2007. She regularly presents at conferences on the topic of using arts to teach about Jewish ethics and she works closely with MATI, the Israeli cultural center in Los Angeles, on producing multi media events about Israel.
"It is an incredible honor to be celebrated by the Covenant Foundation," Ackerman said, after hearing the news that she would receive a 2018 Covenant Award. "This award amplifies the many voices and untold stories of the women and youth that I work with, to be heard, to be seen, and to no longer be alone in the dark. My heart is filled with gratitude."
---
DEBORAH NEWBRUN is Senior Jewish Educator and Director Emeritus at Camp Tawonga in San Francisco, California.
A leading practitioner in the field of Jewish camping, Newbrun served as full-time Director at Tawonga from 1984-2006. During her tenure, she turned Tawonga into one of the country's premier Jewish educational summer camps, infusing camp life with Jewish learning and a philosophy that Jewish education can happen everywhere, on and off the hiking trail. With a hands-on approach, Newbrun showed a generation of campers how to breathe new life into their Jewish identity and created a new design for Jewish outdoor education. While at Tawonga, Newbrun also launched Keshet Camp, the first Jewish LGBT family weekend in the country.
Using Camp Tawonga as her laboratory, Newbrun became a pioneer in the Jewish Outdoor Food and Environmental Education (JOFEE) movement, constantly searching for ways to infuse Jewish learning with the radical wonder inherent in our natural landscape.
It was during her service as a National Park Ranger after college that Newbrun first began to consider what it would mean to take Judaism and worship outdoors. "Growing up, I didn't understand that Judaism was a land-based religion," Newbrun said. "But if it was, why were we always praying indoors? I began searching for every Jewish teaching I could find about nature, and then mining each one for wisdom and guidance on how to be human. My vision remains to inspire a life of Jewish learning and exploration triggered by the same mandate that God gave to Abraham: be a blessing – hayeh bracha."
Three years ago, Newbrun received funding from The AVI CHAI Foundation to create JOLT (Jewish Outdoor Leadership Training) and has since taught four-day JOLT retreats for Jewish summer camp staff around the country. In addition to honing participants' skills in practical wilderness leadership, the retreats also focus on showing camp leaders how to teach Judaism outdoors. As a faculty member for the Lekhu Lakhem program through the JCC Association and Foundation for Jewish Camp, Newbrun co-leads camp directors on three-day retreats during which she trains them in Jewish programming, advises them on creating prayer spaces at camp and helps them envision new ritual traditions.
In 2000, Newbrun co-authored Spirit in Nature/Teaching Judaism and Ecology on the Trail, a hiking guidebook that instructs Jewish educators on how to teach natural history and helps naturalists teach Jewish values.
"Early on, Deborah recognized that the natural world could become a Jewish classroom and a Jewish text, and that a new kind of educator could be developed," said Rabbi Benay Lappe, a 2016 Covenant Award recipient who nominated Newbrun for the award.
"She is recognized as so influential in the [JOFEE] movement that its leaders see her as its founder and master teacher. Now, Deborah's students are changing the landscape of what it looks like to do Jewish," Lappe said.
"Being selected as a Covenant Award recipient legitimizes the notion that serious Jewish education happens at camp, in the woods, by the river, in a garden, and through singing or sleeping under the stars," Newbrun said, upon learning that she had been selected for a 2018 Covenant Award.
"As long as Jewish educators have the kavanah (intention) and capability to pass Jewish wisdom along, Jewish learning can happen anywhere."
---
DR. SUSIE TANCHEL has served as Head of School at JCDS, Boston's Jewish Community Day School in Watertown, MA since 2011. During her tenure there, she has focused on infusing school life with intentional pluralism and further strengthened a learning community of teachers who are trained to foster community through commonalities, as well as through differences.
Staunchly committed to modeling moral leadership, Tanchel recently led her faculty through professional development exercises in which they defined seven "Habits of Heart and Mind" – including empathy, integrity, and ability to hold multiple perspectives – that anchor and inform JCDS' educational program.
"One of the reasons that many of us fail to engage with our differences is that we lack the courage," said Alisa Berger, former Director of Learning and Teaching at JCDS. "Susie does not lack the courage. She acts with integrity at all times and expects the same from everyone around her. This deep moral leadership makes Susie a role model for everyone who knows her, for how to live an ethical life."
At JCDS, Tanchel's faculty are designing a scope and sequence for teaching the Habits in developmentally appropriate ways, including creating opportunities for students to consider characters' feelings in a biblical text, to hear another student's viewpoint during Writer's Workshop, or to take into account a friend's perspective on the playground.
"We are striving to create a courageous community that supports our children in facing challenges directly rather than turning away from them," Tanchel said. "To me, this work feels essential for Jewish day schools — which are, by their nature, particularistic — as we grapple with how to respond to an increasingly universalistic world." As such, Tanchel has also had a deep impact in the field by being a role model for LGBT students and faculty in the Jewish education arena.
Tanchel's commitment to professional development and to fostering the growth of educators extends beyond the walls of JCDS as well. She has taught DeLeT Fellows and candidates for Masters of Teaching in Secondary Education at Brandeis University, the Curriculum Initiative summer Bible program for teachers of Jewish students attending independent high schools, and led seminars for experienced teachers. Prior to her appointment at JCDS, she served as a Tanakh (Bible) teacher and Associate Head of Gann Academy. She has also co-chaired the Head of School group on pluralism for RAVSAK and served on the faculty of Combined Jewish Philanthropies' Genesis Program.
"With all Susie has accomplished, she remains the quintessential teacher and learner," wrote Arnee Winshall, who nominated Tanchel for the Covenant Award. "She is a deep listener who exhibits the highest level of respect for all people, young and old. She is always learning from others and often the first to challenge our assumptions in order to pursue bold ambitions."
"This award offers us a meaningful opportunity to explore with a broader audience the ideals of pluralism, in which we focus on our shared humanity," Tanchel said, as she reflected on what it means to be selected for the Covenant Award.
"Even as we uphold and celebrate differences," she added, "we will work together to shape communities characterized by inclusivity, generosity of spirit, and radical kindness."
---
"Every year we are astounded anew by the talent and creativity of our Award recipients," remarked Harlene Appelman, Executive Director of the Covenant Foundation.
"Naomi, Deborah and Susie all have deep neshamot (souls), which are evident in their teaching and reflected by their students, colleagues and friends. It is an honor to include them in our cohort of Covenant Award recipients, each one a true gift to Jewish education."
The Foundation and the Jewish community will honor the 2018 award recipients on Nov. 13 in New York, at the annual Covenant Awards dinner.
For guidelines on nominating an educator for a 2019 Covenant Award, and to read biographies of past recipients, visit: www.covenantfn.org/awards-prizes/awards-program/
The Covenant Foundation is a program of the Crown Family Philanthropies.