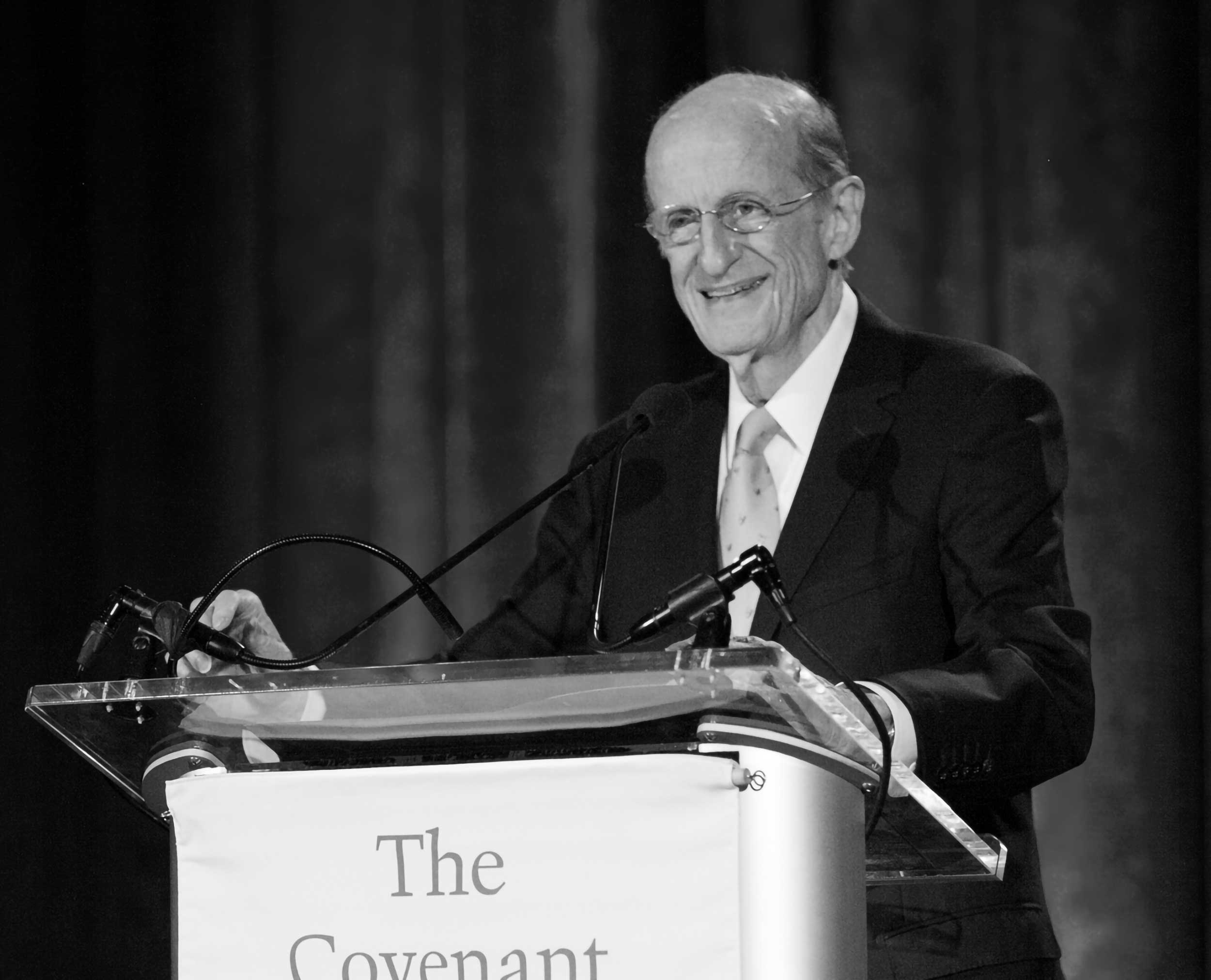 The Board and staff of The Covenant Foundation mourn the passing of our esteemed colleague and friend, Eli N. Evans. Eli was a true pioneer who deftly leveraged the power of philanthropy to create deep and meaningful change in the world. As an early social impact leader in our sector, his abiding mission was to make the world a more equitable and just place. By supporting bold ideas fashioned by the dedicated and talented professionals working in the field, he helped inspire and support remarkable educational and social change in spite of formidable challenges. Eli's essence embodied hope: nothing was insurmountable!
His generosity and grace were evident to everyone who met him. He was a role model and a mentor to so many working in the field of philanthropy and Jewish communal life.
Eli served as Chairman of the Board of The Covenant Foundation for twenty-two years retiring from this post in 2016. Instrumental at the Foundation's inception and in its ongoing leadership, Eli helped envision and gain support for a program of grants and awards that remain the backbone of the Foundation's success today.
Eli was born and raised in Durham, North Carolina and graduated from the University of North Carolina. After a tour of duty in the United States Navy in the Far East and graduation from Yale Law School, he served in The White House as a speech writer for President Lyndon B. Johnson.
He served as a senior executive with Carnegie Corporation of New York and was the first president of The Charles H. Revson Foundation from 1977-2003. Under his leadership, the Foundation launched creative ventures including the PBS series: Heritage: Civilization and the Jews (broadcast in 19 countries and to 50 million viewers in the United States); Rechov Sumsum, the Israeli Sesame Street as well as its American version Shalom Sesame; and Bill Moyers' Genesis: A Living Conversation.
A well-known Southern historian, Eli authored three books: The Provincials: A Personal History of Jews in the South, The Lonely Days Were Sundays: Reflections of a Jewish Southerner, and Judah P. Benjamin: The Jewish Confederate. Looking back at his literary career, Abba Eban, the renowned scholar and Israeli diplomat said, "The Jews of the South have found their poet laureate."
When inducted into the American Academy of Arts & Sciences in 2001, Eli was honored "for his dual contribution to American letters and as a philanthropist of uncommon originality and leadership."
We extend our deepest condolences to the Evans family.
May Eli's Memory be for a blessing