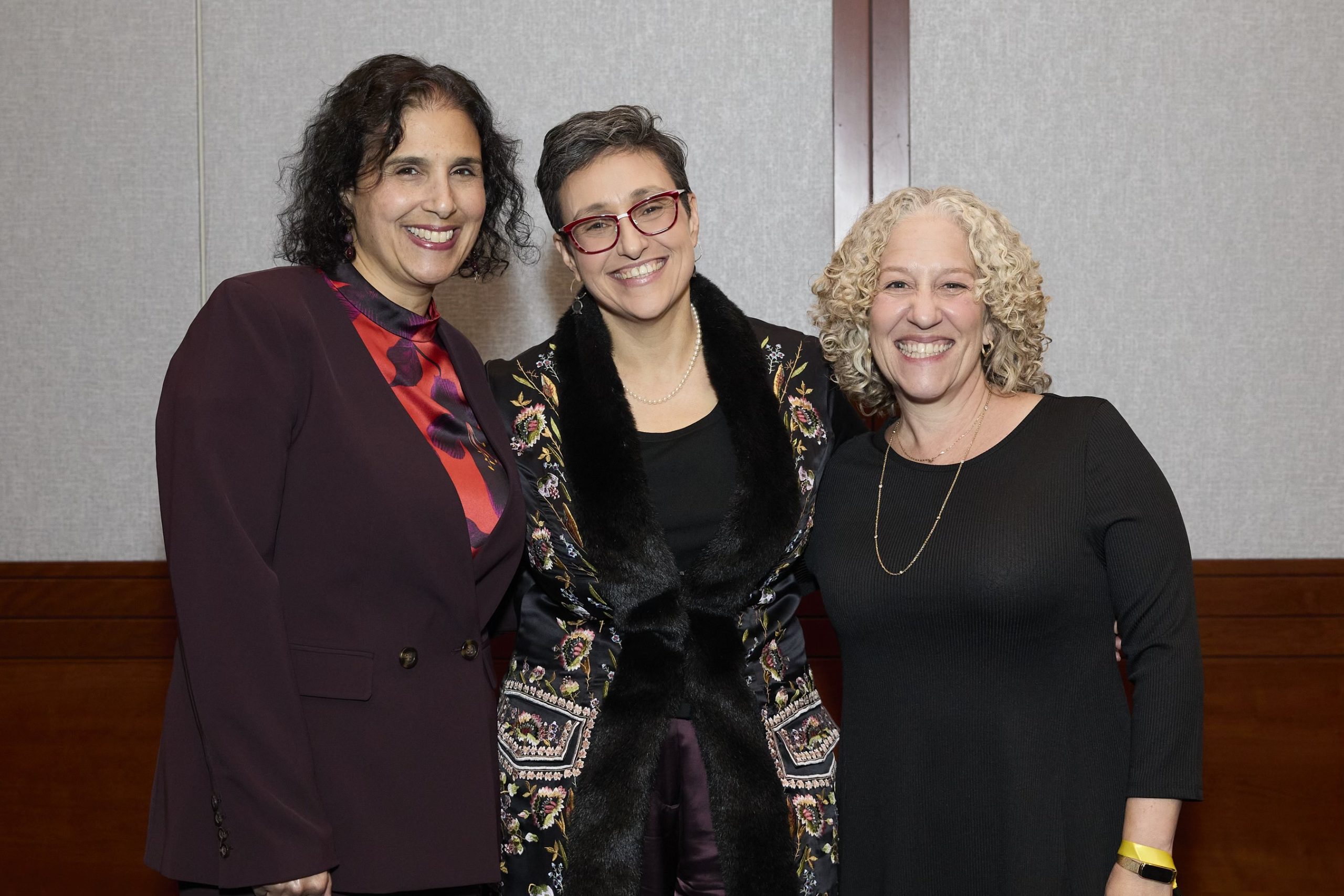 New York, NY – November 8, 2023 – The Covenant Awards celebration was held in New York City this evening, honoring three Jewish educators for their outstanding contributions to the field, and offering a much needed moment of optimism to the community at large.
RABBI TAMARA R. COHEN, Chief Program Officer, Moving Traditions, Philadelphia, PA; ALLISON COOK, Founder and Co-Director, Pedagogy of Partnership, Powered by Hadar, Cambridge, MA; and NICOLE NASH, Head of School, Hannah Senesh Community Day School, Brooklyn, NY, are the recipients of the 2023 Awards.
"It is such a privilege, year after year, to celebrate the deeply important work of Jewish educators across North America, and this year, it is ever more vital to the strength and continuity of our community," said Barbara Goodman Manilow, President of The Covenant Foundation Board of Directors.
"Tamara, Allison, and Nicole each look wholistically at the field of Jewish education and work to widen the tent, respond to the unique and varying needs of all learners, and ensure Jewish learning is happening in creative and innovative ways. We are delighted to welcome them into this incredible network of educators."
The Covenant Foundation is a program of Crown Family Philanthropies and members of the Crown family, including Steve Crown, Sara Crown Star, Jordan Goodman, and Danielle Rudas Goodman introduced the three recipients and presented the Awards, while Keating Crown announced the names of the 2023 Pomegranate Prize recipients.
Each of the 2023 Covenant Award recipients received $50,000 and each of their institutions, $10,000.
Established in 1991 to honor and celebrate those who have made a profound impact on Jewish education, the Covenant Award is given to three educators every year after a rigorous selection process. Recipients have advanced the field of Jewish education in myriad ways, including environmental education, social justice, inclusion, early childhood education, technology, professional development, and much more.
Rabbi Tamara R. Cohen – 2023 Award Recipient
RABBI TAMARA R. COHEN is the Chief Program Officer at Moving Traditions, Philadelphia, PA.
At Moving Traditions, Rabbi Cohen has made significant contributions to the national field of Jewish teen education and engagement, including the creation of initiatives like The Meyer-Gottesman Kol Koleinu Teen Feminist Fellowship, a national fellowship for 10th through 12th grade female-identifying teens; Kumi, an anti-oppression teen leadership experience to prepare Jewish teens for leadership and activism on college campuses and in social justice spaces; and Tzelem, a monthly group for LGBTQ+, non-binary, and gender expansive teens.
Accepting the Award from Danielle Rudas Goodman, Rabbi Cohen said, "Our youth need us to walk with them into the pressing questions and challenges of our era—as guides and as partners. They need us to be honest, brave, and moral cultivators of hope, even as we take seriously the threats we face. Hineni, here I am."
Allison Cook – 2023 Award Recipient
ALLISON COOK is the Founder and Co-Director of Pedagogy of Partnership, Powered by Hadar, in Cambridge, MA.
Pedagogy of Partnership (PoP) is a Jewish approach to teaching and learning that Cook developed along with her Co-Director, to train teachers and educational leaders. Through PoP, teachers learn how to guide students toward asking useful questions, listening to their havruta partners, challenging ideas in constructive ways, and exploring multiple perspectives. Through PoP, Cook has made an impact on hundreds of educators and students around the country.
Accepting the Award from Sara Crown Star, Cook said, "There is a tension in the field of education about whether we should prepare students for the real world as it is, or whether we should be preparing students for the world that ought to be. The distance between these worlds remains vast. Yet, Jewish learning gives us tools—skills, knowledge, and imagination—to map our way and travel along that distance."
Nicole Nash – 2023 Award Recipient
NICOLE NASH is the Head of School at Hannah Senesh Community Day School in Brooklyn, NY.
At Senesh, Nash guides her educational team to infuse Jewish values throughout the Jewish and general studies curriculum, and place priority on the social and emotional well-being of Senesh students. Nash also spearheaded Senesh's first strategic diversity, equity, inclusion, and anti-racism initiative, and led the school's board to construct its first diversity statement. The initiative also included a school-wide survey aimed at better understanding and embracing diversity in the school community.
Accepting the Award from Jordan Goodman, Nash said, "Jewish education is an imperative gift we must give our children, who deserve a chance to grow up in a place where they feel safe to be their full selves and where they can develop deep and meaningful Jewish identities. Our students and alumni are the greatest source of hope for a better future."
***
To view full biographies of current and past Covenant Award recipients, watch original films about the Awardees and their institutions, and find guidelines for nominating an educator for the 2024 Covenant Awards, please visit www.covenantfn.org. The deadline for nominations is November 27, 2023.
The Covenant Foundation is a program of the Crown Family Philanthropies.