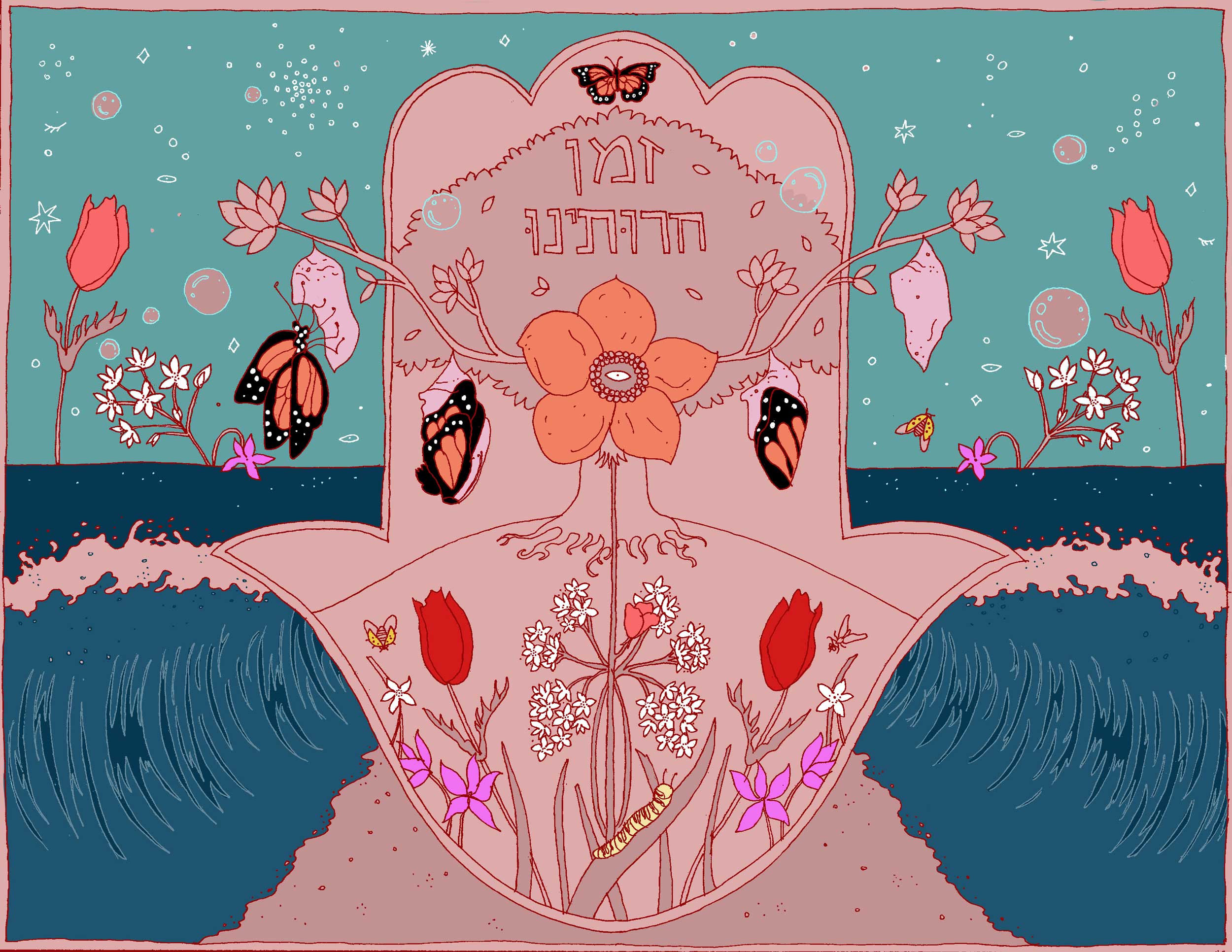 Passover is almost here, and Nisan has begun. Traditionally thought of as the first month of the Jewish year, Nisan brings not just the start of spring, but also an opportunity to look ahead toward what's new, and to begin again with hope. Included in this Holiday Headset are opportunities to add something new to your Pesach celebration. (Illustration by Jessica Tamar Deutsch.)
Learn
Just published, Pictures Tell: A Passover Haggadah is the result of a new collaboration between photographer and Covenant Award recipient Zion Ozeri, Sefaria's Chief Learning Officer Sarah Wolkenfeld, and editor Josh Feinberg. Using Ozeri's photographs of world Jewry as "visual commentaries," Pictures Tell also comes with separate study sheets from Sefaria, for deeper study.
Cook
A new season of the Jewish Food Society's podcast Schmaltzy launches in two days, and first up are two Passover episodes. Pair those with tickets to a virtual Passover brisket workshop, featuring cookbook author Jake Cohen and special guest food historian and author Jane Ziegelman, for a whole new taste of Pesach.
Sustain
According to the Jewish environmental organization Hazon, Passover is the perfect holiday on which to consider sustainability. With resources for everything from using higher welfare eggs on your seder plate to setting a conscious table for shulchan orech, Hazon has myriad new ways to infuse ancient traditions with environmental consciousness.
Grow
Grow your own karpas and maror and learn some Torah at the same time! Check out the at-home Pesach activities on GrowTorah's website, and learn how this organization curates educational garden experiences, infused with Jewish values and Torah study.
Engage
Looking for virtual engagement for the chag? Check out the virtual workshops and events on offer from The Kitchen, a religious community based in San Francisco. From bedikat chametz to a sing along with Rabbi Jessica Kate Meyer to a workshop on Passover prep for parents and more, The Kitchen has something for everyone, no matter where you are this Pesach.
Create
Jeanette Kuvin Oren, a Jewish artist who specializes in creating intricately designed ketubot and other Jewish ritual objects, can teach you to create your own art for Pesach. Now you can order a papercutting template from Oren's website, and try making one yourself. See what else is available in her Pesach store, here.