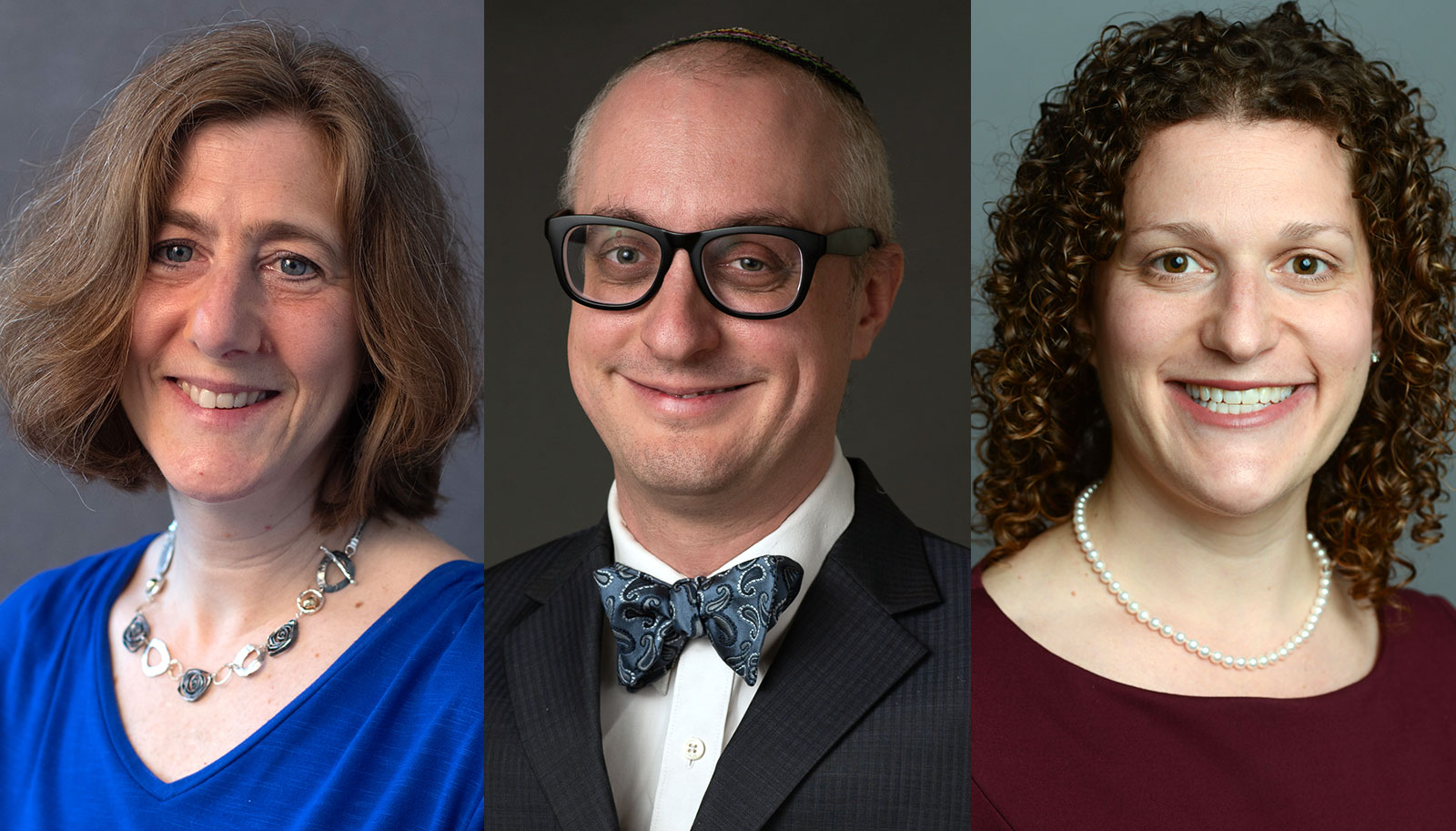 New York, NY – October 18, 2020 – Three Jewish educators received The Covenant Foundation's 2020 Covenant Award this evening, at the Foundation's first-ever virtual celebration.
Maxine (Max) Segal Handelman, Director of Family Life & Learning, Anshe Emet Synagogue, Chicago, Illinois; Russel M. Neiss, Senior Product Engineer, Sefaria, St. Louis, Missouri; and Amanda Pogany, Head of School, Luria Academy of Brooklyn, Brooklyn, New York, are the recipients of the Award, which is among the highest honors in the field of Jewish education.
"At this particularly sensitive moment in history, ensuring that all students find deep meaning in Jewish learning is more important than ever," said Barbara Goodman Manilow, President of The Covenant Foundation Board of Directors.
"We are so grateful to have this unique forum in which to acknowledge and celebrate the contributions that Max, Russel, and Amanda are making toward that endeavor. They have each found a powerful way to engage the Jewish community, and their dedication, energy, and creative spirit is invaluable."
The Covenant Foundation is a program of the Crown Family Philanthropies and members of the Crown family, including Keating Crown, Steven Crown, and Jordan Goodman, introduced the three recipients and presented the Award. Each of the 2020 recipients received $36,000 and each of their institutions, $5,000.
Established in 1991 to honor and celebrate those who have made an impact on Jewish life through innovative educational practices and models, the Covenant Award is given to three educators every year after a rigorous selection process. Recipients have transformed the field in countless ways, including through social action, informal education, inclusion, family engagement, technology, day school leadership, professional development, and more.
Maxine Segal Handelman – 2020 Award Recipient
MAXINE SEGAL HANDELMAN is the Director of Family Life & Learning at Anshe Emet Synagogue in Chicago, Illinois.
At Anshe Emet, "Max" Handelman works with the Educational Steering Committee to strengthen the educational experience for all children in the synagogue community, and leads Tot Shabbat, monthly Kabbalat Shabbat services and dinners, and family services. She also oversees High Holiday youth programming and leads the Young Family High Holiday services for several hundred people each year. Handelman also supervises youth family service leaders and trains a pipeline of teens to lead youth tefillah experiences. In partnership with the clergy and educators at Anshe Emet, Handelman created and now implements Family Education Days for Anshe Emet families, between 300 and 400 people in total.
Accepting the Award from Jordan Goodman, Handelman spoke about her role working with Jewish families, and the profound meaning she derives from that work. "The children I work with open my eyes to wonder, their questions open my mind to unconsidered possibilities and meanings, and their joy opens my heart to hope," she said. "From their parents, I've learned just how important community is. Maybe this is the gift I can give the Jewish people—building pathways to Jewish life and community for families with young children."
Russel M. Neiss – 2020 Award Recipient
RUSSEL M. NEISS is Senior Product Engineer at Sefaria, which is based in New York. Neiss lives in St. Louis, Missouri.
At Sefaria, Russel M. Neiss has worked to develop a groundbreaking educational resource—a free living library of Jewish texts and their interconnections, in Hebrew and in translation. In his role there, he also creates interactive platforms that enable learners to engage with Jewish textual tradition from anywhere. As Senior Product Engineer, he spearheaded the development of Sefaria's Source Sheet Builder tool, which has enabled tens of thousands of educators to create their own source sheets and share them with students, colleagues, and the wider community. Together with his colleagues, Neiss also envisioned, developed, and built Sefaria's first mobile app.
After an introduction by Keating Crown, Neiss accepted the Award and offered a charge to the community. "We must empower teachers and learners by giving them the skills and the permission to re-envision, remix, and ultimately renew our tradition to make it meaningful for them in their daily lives," he said. "We must be guided by our values and our hopes, and not driven by or cowered by our fears of what may or may not come to pass."
Amanda Pogany – 2020 Award Recipient
AMANDA POGANY is Head of School at Luria Academy of Brooklyn in Brooklyn, New York.
At Luria Academy, where she has worked for the past eight years, Amanda Pogany supervises the school's educational and administrative leadership (which includes 60 faculty members, 10 administrators, and 15 board members), provides the educational mission and vision for the school, and oversees the curriculum. She has also played an integral role in the implementation of Luria's five-year strategic plan. In addition, Pogany oversees Luria's inclusion program for students with special needs. Pogany has also played a key role in growing the school's population, which during her tenure has tripled, from 97 students to over 300.
Upon accepting the Award from Steven Crown, Pogany spoke about what being an educator means to her. "It's about building spaces that see and support the whole child—who they are, what they need, and how they learn," she said. "It's about saying yes. We say yes even if we have to push boundaries and stretch beyond what we've done in the past."
To view full biographies of current and past Covenant Award recipients as well as guidelines for nominating an educator for the 2021 Covenant Awards, please visit www.covenantfn.org. The deadline for nominations is November 12, 2020.
The Covenant Foundation is a program of the Crown Family Philanthropies.