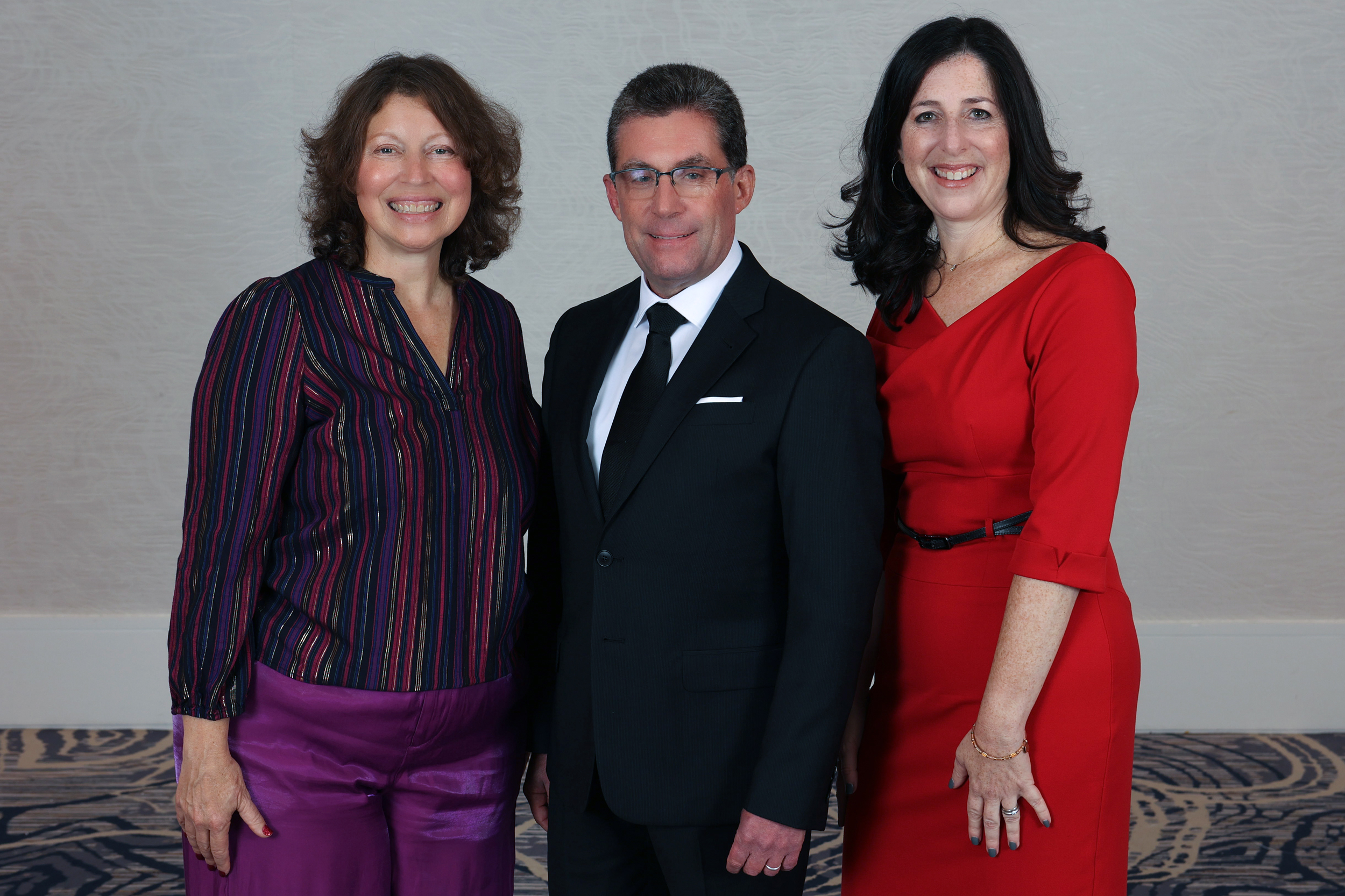 Chicago, IL – October 30, 2022 – For the first time in three years, the Covenant Awards celebration was held in person in Chicago this evening, honoring three Jewish educators for their tremendous contributions to their communities and to the broader field of Jewish education.
JILL ABBEY-CLARK, Founding Director, CBI Forest School, and Director of Education, Congregation Beth Israel, Charlottesville, VA; GABRIELLE KAPLAN-MAYER, Chief Program Officer, Jewish Learning Venture, Greater Philadelphia, PA; and DR. YIGAL KOTLER, Director of Jewish Education, Council of Jewish Émigré Community Organizations (COJECO), New York, NY, are the recipients of the 2022 Award, bringing the total number of Covenant Awardees to 93 educators strong.
"We are so delighted to welcome Jill, Gabby, and Yigal into this extraordinary network of Jewish educators," said Barbara Goodman Manilow, President of The Covenant Foundation Board of Directors.
"Each of this year's three Covenant Award recipients looked deeply at what their particular community of Jewish learners needed, and responded to those needs in compassionate, out-of-the-box ways, yielding extraordinary results. Their communities are more engaged in Jewish life because of their tireless work."
The Covenant Foundation is a program of the Crown Family Philanthropies and members of the Crown family, including Steven Crown, Jordan Goodman, and Danielle Rudas Goodman, introduced the three recipients and presented the Award. Each of the 2022 recipients received $36,000 and each of their institutions, $5,000.
Established in 1991 to honor and celebrate those who have made a profound impact on Jewish education, the Covenant Award is given to three educators every year after a rigorous selection process. Recipients have advanced the field of Jewish education in myriad ways, including environmental education, social justice, inclusion, early childhood education, technology, professional development, and much more.
Jill Abbey-Clark – 2022 Award Recipient
JILL ABBEY-CLARK is the Founding Director of the CBI Forest School and Director of Education at Congregation Beth Israel, in Charlottesville, VA.
In the late spring of 2020, after the start of the pandemic and several months of virtual school, Ms. Abbey-Clark founded the CBI Forest School, an outdoor program that follows a developmental, constructivist approach for children to play, learn, and grow together in a Jewish environment. Infused with Jewish meaning and values, the Forest School curriculum explores the spiritual and historical connections between Judaism and the natural world in ways that are both educational and fun, and has become a laboratory and a model of Jewish outdoor learning in the wider early childhood education (ECE) community.
Accepting the Award from Danielle Rudas Goodman, Abbey-Clark said, "I did not set out to start a Jewish Forest School. But by staying open to hineini moments, our community in Charlottesville, Virginia used Judaism as our guidebook, which brought us through a literal wilderness to unearth a new paradigm of Jewish education: fully outdoors, fully present, creating inquisitive, joyful, spiritual students."
Gabrielle Kaplan-Mayer – 2022 Award Recipient
GABRIELLE KAPLAN-MAYER is the Chief Program Officer at Jewish Learning Venture in Greater Philadelphia, PA.
At Jewish Learning Venture, Ms. Kaplan-Mayer leads disability awareness trainings for synagogues, schools, and Jewish organizations. She also facilitates a consortium of organizations that work in the disability field across the Greater Philadelphia Jewish community. In addition, Ms. Kaplan-Mayer leads seminars and webinars for parents, educators, and clergy members, consults with synagogue inclusion committees and leaders, and designs sensory-friendly family engagement programs. She also created the B'nai Mitzvah Tutor Training Program, the only training of its kind to support clergy members and tutors in learning how to tutor and lead meaningful b'nai mitzvah ceremonies for students with disabilities.
Accepting the Award from Steven Crown, Kaplan-Mayer asked the audience to consider approaching disability and inclusion from a heart-centered place rather than a place of fear. "If we shift our perspective, we might just bring to life the kinds of accommodations that every person with disabilities needs in order to live a meaningful, sacred life. By acknowledging our own reactions, we can make that vision into a reality."
Dr. Yigal Kotler – 2022 Award Recipient
DR. YIGAL KOTLER is Director of Jewish Education at the Council of Jewish Émigré Community Organizations (COJECO) in New York, NY.
In his role at COJECO, Dr. Kotler oversees the planning and implementation of Jewish educational programs for the Russian-speaking Jewish community (RSJ) of the New York Tri-State Area. He also created the RJKrug initiative, a Jewish educational program for families with school-age children, and the COJECO Academy of Russian Jewish Heritage, which offers classes and lectures for the community on various topics related to the culture and history of Russian Jews. In addition, Dr. Kotler creates experiential Jewish family programs in the form of city and museum tours, specifically designed for Russian-speaking children and adults, and leads many of them himself.
Accepting the Award from Jordan Goodman, Kotler said, "I understand my professional role as one in which I help fellow Jews—many of whom have been cut off from their Jewish roots for generations—realize that they themselves are the links in a chain of our collective Jewish heritage. They can bring it to life, for themselves and for their children, and, by doing so, pass this treasure on to the next generations."
***
To view full biographies of current and past Covenant Award recipients, as well as guidelines for nominating an educator for the 2023 Covenant Awards, please visit www.covenantfn.org. The deadline for nominations is November 14, 2022.
The Covenant Foundation is a program of the Crown Family Philanthropies.