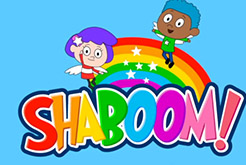 On April 6th, G-dcast will launch a new animated series on YouTube, geared toward Jewish kids aged 4-7!
Learn about fixing the world with two magical "sparks" named Gabi and Rafael who live in a playhouse in the clouds and help out a regular family that makes a lot of (as your grandma might have said) meshuga mistakes. Each 10 minute episode focuses on an everyday value like gratitude, saying I'm sorry, or helping others, plus teaches Hebrew vocabulary words with silly songs and goofy chants."
Learn more and watch a preview here and then tune in!