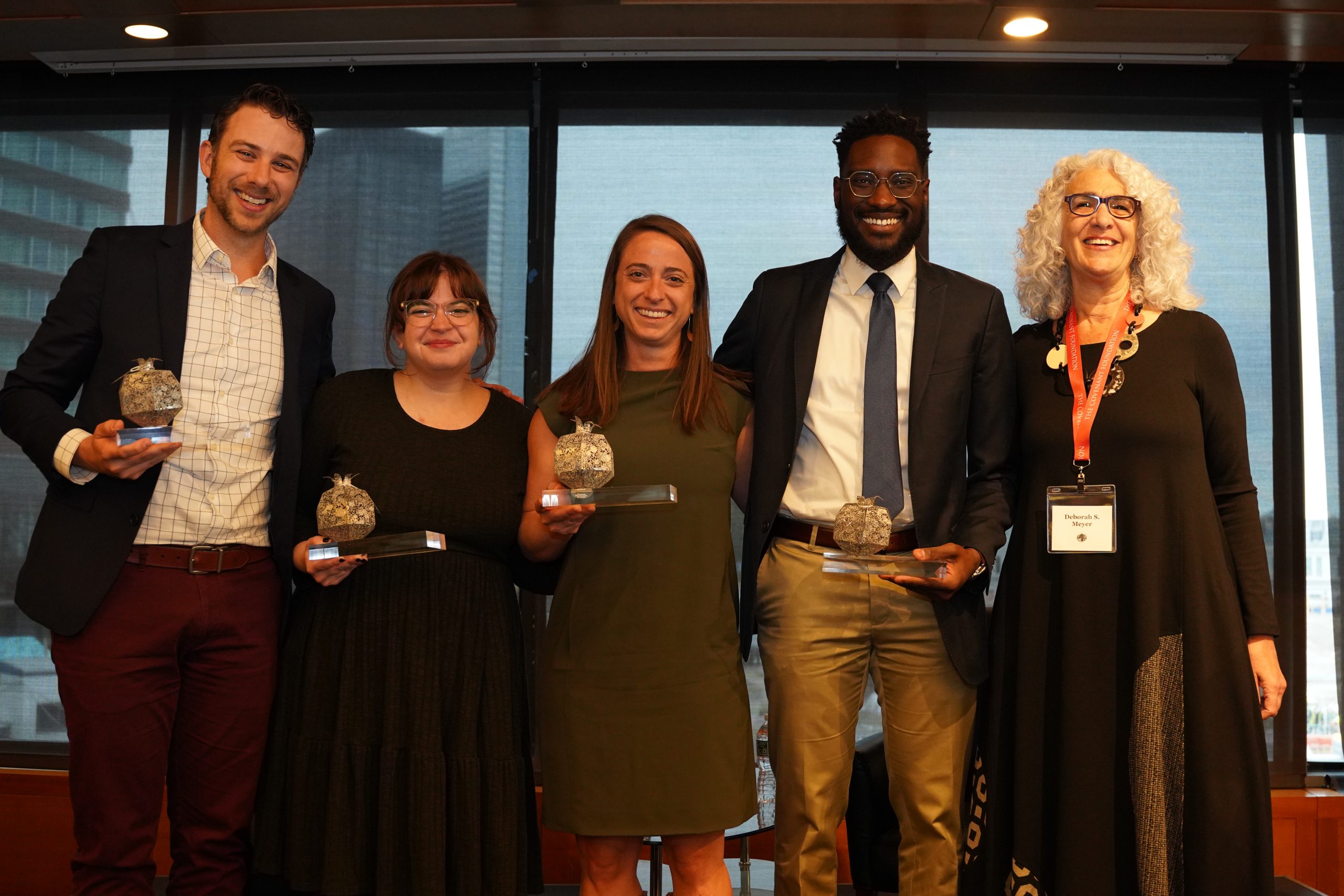 New York, NY – November 9, 2023 – Five emerging Jewish educators received the 2023 Pomegranate Prize today at a ceremony held at the Museum of Jewish Heritage- A Living Memorial to the Holocaust, in New York. The recipients join a cohort of 60 exceptional future leaders in the field of Jewish education.
The 2023 recipients are: Meg Adler, Associate Director of Bay Area Programs at Camp Tawonga, San Francisco, CA; Andrew Davies, Co-founder and Chief Improvising Officer of The Bible Players, Philadelphia, PA; Eliana Light, Founder and Head T'fillahsopher of The Light Lab, Durham, NC; Jory Hanselman Mayschak, Founder and Chief Executive Officer of BaMidbar, Albuquerque, NM; and Yehudah Webster, Program Director and Faculty Member of The Inside Out Wisdom and Action (IOWA) Project at The Kirva Institute, Los Angeles, CA.
The Pomegranate Prize is designed to honor emerging leaders who have been in the field of Jewish education for up to 10 years. Over a three-year period, each cohort has multiple opportunities to connect with thought leaders and extraordinary educators from across the spectrum of Jewish life. The Covenant Foundation aims to nurture Pomegranate Prize recipients in an intentional way, and empower them to take risks and make a difference in the field of Jewish education.
The Prize stands next to the Covenant Award, which, since 1991, has honored three outstanding Jewish educators each year for their impact on the field of Jewish education.
In addition to the Prize ceremony, this year's event also included music by Batya Levine, accompanied by Mel Hsu, Arielle Korman, and Sam Weisenberg, and a conversation about family, work and creativity, featuring New York Times best-selling author Peggy Orenstein, in conversation with Sandee Brawarsky, a celebrated journalist and former Culture Editor at The New York Jewish Week.
"Celebrating these five rising stars in Jewish education with Pomegranate Prizes offers us a much needed moment of hope in a very dark time," said Deborah Meyer, Board Chair of The Covenant Foundation.
"Learning about each of their creative tools of engagement, dedication to learners on the margins and in the center, fierce passion for equality and social justice, and equally deep passion for the spiritual aspects of Judaism, offers us a welcome reminder that there is light to be found amidst the darkness. We are so grateful to each of them for spreading their light, and for filling our cups with optimism."
"The Pomegranate Prize recipients represent the next generation of leaders in Jewish education," said Joni Blinderman, Executive Director of The Covenant Foundation. "They join a strong network of educators, all of whom are open to new ideas and perspectives and excited to learn with and from one another. Each year we are newly inspired as we see the ripple effects that this learning has on their practice in the field. We are so thrilled to have Meg, Andrew, Eliana, Jory and Yehudah join this remarkable cohort and take this journey with their peers."
Biographical snapshots of the 2023 Pomegranate Prize recipients:
Meg Adler is the Associate Director of Bay Area Programs at Camp Tawonga. Under Meg's leadership, the Tawonga B'nai Mitzvah Program has grown, flourished, and deepened, now serving 130 students annually. Additionally, Meg launched the Tawonga Family School and Hebrew programs. Meg has also served as a Jewish educator at Peninsula Temple Beth El and Temple Sinai of Oakland, and as a middle school educator at Studio 70's Edah, where she created spaces for female-identifying middle school students to express their own voices alongside the voices of women from Jewish history and tradition. Meg received an M.A. in Religion, focusing on Tanakh, from Yale Divinity School as well as a Certificate in Jewish Education for Adolescents and Emerging Adults from Hebrew Union College-Jewish Institute of Religion. Recently, Meg published her first book about Torah entitled Turn It, Turn It: The Many Faces of Torah, which is based on her online journal, Turn It, Turn It. She lives in Alameda, CA.
Andrew Davies an improviser and facilitator based in Philadelphia, PA. Andrew co-founded The Bible Players, a comedy team which is improv-ing Jewish lives. Edu-tainers who use improv and comedy as a way to teach Jewish values and Jewish stories, The Bible Players have toured 30 states, visiting hundreds of camps, schools, and synagogues. In the last year, they have added Mitzprov Playshops, which are project-based learning programs that dive deeper over several visits with learners. Andrew also co-founded CharacTours, an interactive theatrical walking experience. He is the Executive Director of both The Bible Players and CharacTours, and is a director of Artly Working, which runs improv training for workplaces to make stronger teams and happier people. Andrew received a B.A. in English Literature from Brandeis University, went on to study Improvisation at The Magnet Theater, and received a Certificate of Facilitation from Georgetown University. He is a 2018 recipient of The Jewish Education Project's Young Pioneers Award.
Eliana Light is working towards a world of One-ness, guided and inspired by Jewish heritage. She is the founder and Head T'fillahsopher of The Light Lab and the Co-Host of The Light Lab podcast. She is also a sought-after songwriter and performer of catchy, content-rich tunes for all ages and has put out four albums of original music, with one new one on the way. Eliana offers artist-in-residence weekends, learning, and professional development centered on making Jewish liturgy and prayer practice accessible and meaningful to all seekers. She received an M.A. in Experiential Jewish Education from The Jewish Theological Seminary as well as a B.A. in Sociology from Brandeis University. She earned a Certificate in Spiritual Entrepreneurship from the Glean Network's START Fellowship and has appeared on The New York Jewish Week's list of 36 Under 36. Eliana is based in Durham, NC, where she also serves as Artist-in-Residence at Beth El Synagogue.
Jory Hanselman Mayschak is the founder and Chief Executive Officer of BaMidbar. Jory started her career in the world of Jewish camping, when she joined the Ramah in the Rockies team during its inaugural season. Since then, Jory has worked in a variety of wilderness therapy and experiential education programs. In 2016, Jory returned to Ramah in the Rockies to develop and launch BaMidbar, the nation's first Jewish wilderness therapy program. Jory has dedicated her career to empowering and inspiring youth, and is thrilled to work in an environment where her three greatest passions—experiential learning, mental health and wellness, and Jewish tradition—intersect. Jory has a B.S. from Tufts University, an M.P.A. with a concentration in nonprofit leadership from University of Colorado, and a Certificate in Innovation and Entrepreneurship from Stanford University. An alumna of the Wexner Field Fellowship, Jory is based in Albuquerque, NM.
Yehudah Webster is the Program Director of The Inside Out Wisdom and Action (IOWA) Project at The Kirva Institute, where he also serves as a faculty member. He equips communities with the daily concrete spiritual tools of Mussar to subvert racism within ourselves and others through facilitating workshops, consulting with organizations, and building a community of anti-racist practice. Yehudah works as a spiritual activist and community organizer to animate and integrate anti-racist behaviors and culture in Jewish communities, supporting collective education, organizing, advocacy, and direct service efforts to dismantle racism systemically. He has presented in a wide variety of settings, including staff developments for organizations, college campuses, communal institutions, and youth group programs. Yehudah is also a co-founder and former board member of Ammud: The Jews of Color Torah Academy. He earned a B.A. in Anthropology from Columbia University as well as a B.A. in Modern Jewish Studies from The Jewish Theological Seminary. Yehudah is based in Los Angeles, CA.
The Covenant Foundation is a program of the Crown Family Philanthropies.