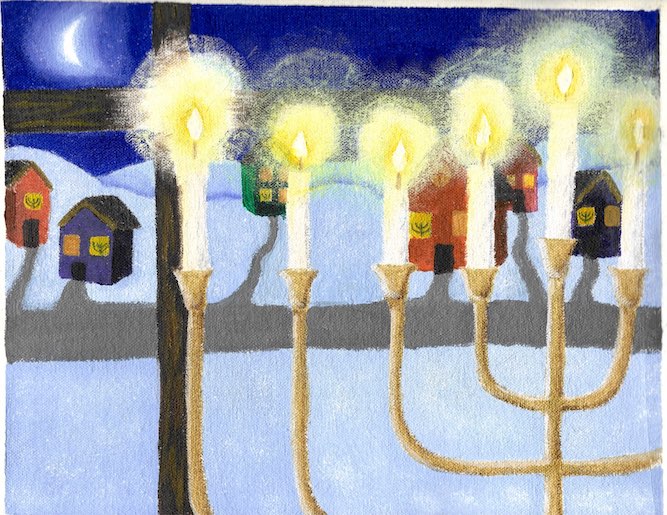 Hanukkah is here and the opportunities to engage are as abundant as the light this holiday brings. Read on for new ideas that are sure to add layers of meaning to your holiday celebrations this year.
Chag Hanukkah Sameach!
GATHER
Join a worldwide "open house" of Jewish communities at Hanukkah Homecoming, November 28-December 5. From celebrations, to services, to meals, community art projects, candle lightings and more, Hanukkah Homecoming events are a wonderful way to get to know your local communities face to face, rather than viewed through a computer screen.
Click HERE to find a place to gather and celebrate.
ENGAGE
On Wednesday, December 1, join the JCCA and partners for "Hanukkah: The Festival of Lights," an evening of performance, learning and artistic engagement. Featuring eight female international Jewish artists, including singer Tair Haim of A-Wa, Italian chef Sylvia Nacamulli, and dancer Rachel Linsky.
Watch the event right HERE.
CREATE
Looking for ways to enliven the story of Hanukkah for your children and young learners? Bring the story to life, through an interactive audio-led adventure designed especially for 3 to 8 year olds and their grownups. Check out the K'ilu Kit: Hanukkah Adventure—order it today, and have it delivered to you digitally right away. The kit includes audio tracks, a printable storytelling kit and props.
Order a kit HERE.
LEARN
Join HerTorah on Monday, December 6, for a celebration of "Hag HaBanot," or Eid al Benat: A Sephardic Celebration of Womanhood. This event will offer participants (ages 10 and up) a chance to explore the customs of this feminist holiday that celebrates women's relationships and learn about Sephardic heroines from HerTorah scholars.
RSVP HERE.
SUSTAIN
Looking for eco-friendly ways to celebrate this holiday? The educators at Grow Torah have several suggestions for ways to both honor the earth and the essence of Chanukah, like instructions on making a DIY upcycled chanukiah and prompts you can use when you take a "hidden miracles walk" in the great outdoors. Check it out HERE.
ABOUT THE COVER ART:
"This Chanukah-themed painting was done in both acrylic and oil paint on canvas. My inspiration for the design comes from the warm, familiar Chanukah scenes illustrated in the picture books that my parents read to me growing up. I aimed to make the focal point of my painting the flames of the chanukiah piercing the darkness. The light radiating from within 'our' house and from that of our neighbors symbolizes one of the core themes of Chanukah — spreading and believing in the power of light, even in dark times, just as the Maccabees did long ago."
ABOUT THE ARTIST: Dalia Heller