When you walk into a museum, you don't generally expect to view the work of teenagers, but that's exactly what you'd see on a visit to The Contemporary Jewish Museum (The CJM). In fact, youth engagement, creative collaboration with teens, and featuring teen voices, are significant parts of The CJM's mission.
Committed to supporting youth as they explore their identity and values, The CJM has always placed a strong emphasis on youth engagement through TAC (Teen Art Connect—the umbrella for all of the museum's teen programming), a year-long TAC Internship, free admission to the museum for youth 18 and under, and a vision for involving teens in the co-creation of museum exhibitions.
"We don't want to create for—we want to create with teens," said Fraidy Aber, Constance Wolf Director of Education and Civic Engagement at The CJM.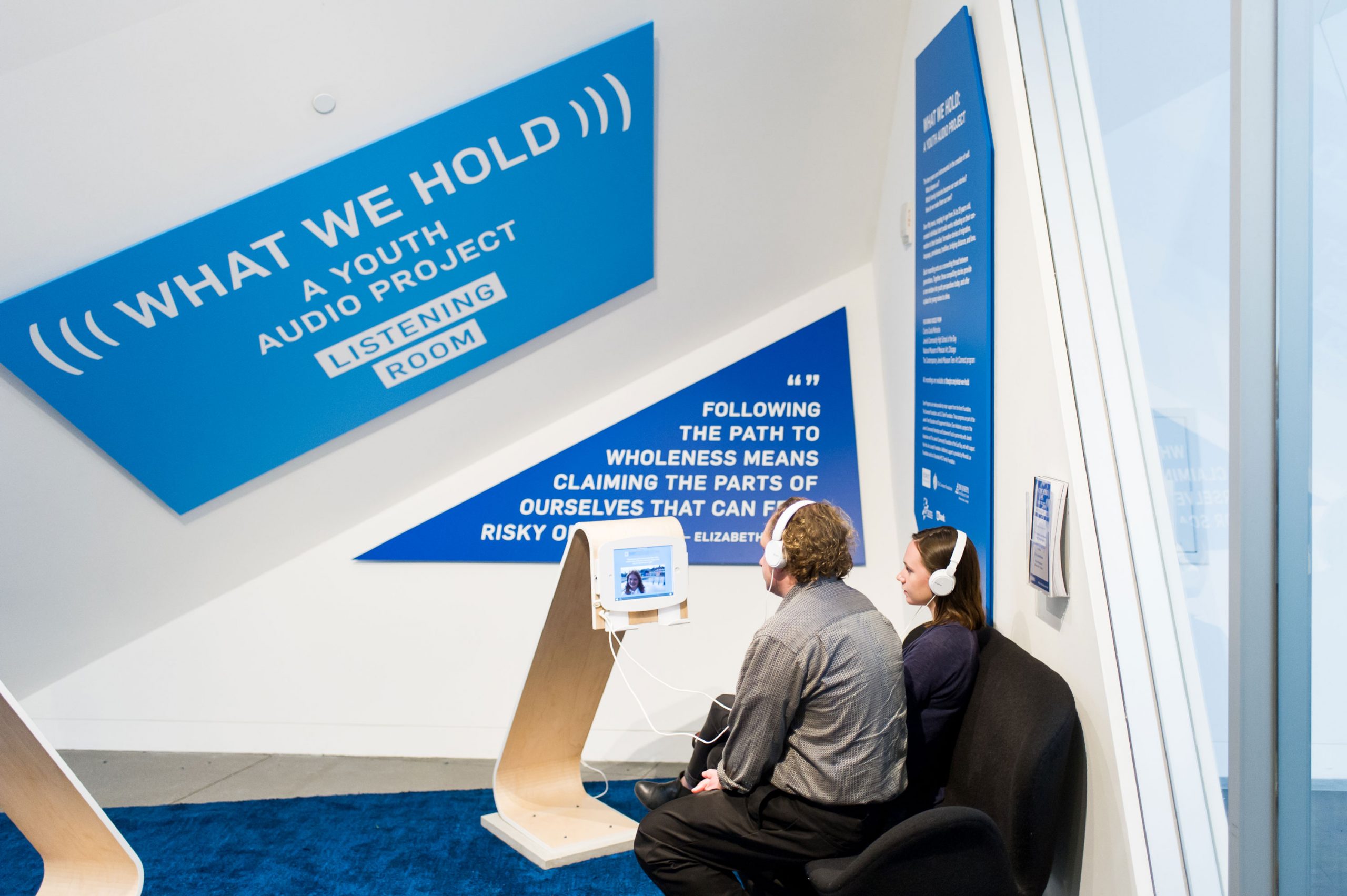 Three years ago, with support from a Covenant Foundation grant, The CJM launched a new youth project called What We Hold: 100 Jewish Teen Voices—an educational program in which teens create audio recordings of stories that explore Jewish values through intergenerational family narratives. Research has shown that a sense of "intergenerational self"—a self with a deep sense of both family and personal history, coined by Dr. Marshall Duke—is a strong predictor of overall psychological health. By delving into their Jewish heritage, and recording a family member's story, teen participants in the What We Hold project have an opportunity to intentionally and reflectively build their "intergenerational self" in their own unique way.
What We Hold gives teens this timely opportunity to reflect on their Jewish heritage at a point in their adolescence when they are actively exploring their Jewish identities and values as individuals and building their sense of intergenerational self, Aber explained.
To create the audio recordings, teens picked a family story, determined who they'd need to interview, conducted interviews and transcribed them, storyboarded and edited the narrative, and either developed a script to read for their recording or used professional editing software to splice together moments from the original interview into a tight and compelling narrative. Finally, they added their own reflections to the recording about what they learned from their family's story. Intentionally designed to mimic the process of a professional podcaster, the project empowered participants with lifelong skills for telling Jewish stories to a 21st century audience. Through this process, teens dug deeper into their Jewish family story and gained new insights into their own Jewish identities.
Ethan Finestone, a student at the Jewish Community High School of the Bay, recorded a story about his great-great-grandfather's emigration from Odessa, Ukraine to Scotland. He explained that because he learned that his family faced so much hate and persecution—to the point that they had to leave the place where the family had lived for hundreds of years—he now feels a new sense of purpose.
"It's my role as a Jew to bridge gaps when people are immigrating [to America] and to help immigrants as much as I can," Finestone said.
From recording his family's story, he also gained a renewed sense of pride in his Jewish identity and a feeling of appreciation for life in the United States.
"The fact that my ancestors had the courage to pack up and leave their family, home, and community—I feel proud of the strength they had," Finestone shared. "[I understand better] how lucky I am to be living where I'm protected and can express my Judaism to the fullest extent and still feel safe."
Elizabeth Levie, who participated through The CJM's TAC Squad program, explained that she didn't grow up particularly observant or involved in Jewish life. The What We Hold project opened a new path for her to engage with being Jewish and made her much more conscious of her Jewish heritage. Levie's recording tells the story of how her grandmother faced bullying for being Jewish and grappled with her Jewish identity as a result.
"[Her story] changed my perspective and made me feel like I have a responsibility to honor and hold on to it, because of all the persevering she did. It reaffirmed the importance of my Jewishness. I'm in college now and go to Hillel every Friday, because I understand how I am part of this wider history."
For Lilah Ferris, What We Hold was not only informative and inspiring but also liberating. A student at the Jewish Community High School of the Bay, Ferris recorded the story of her great-great-great-grandmother, Kerry Wiler, who left Germany and immigrated to Washington Heights, New York. After learning the way that Wiler crafted her Jewish identity, Ferris is now more confident in her own Jewish identity.
"I can be my own type of Jew and create my own Jewish path—that's what my great-great-great-grandmother did," Ferris said. "I feel more comfortable with my Jewish identity and knowing that it won't necessarily be like anyone else's Jewish identity. I have the freedom to define what it means to be Jewish for myself."
When Jesse Stein* was an intern at The CJM, he recorded a story that gives context to his grandfather's ardent Zionism. After fleeing Nazi persecution, his grandfather's family settled in Palestine. There, at age 16, his grandfather fought on the front lines in Israel's War of Independence. Interviewing his grandfather provided Stein an opportunity to reconcile two conflicting aspects of his Jewish identity: a commitment to advocating for peace in the Israeli-Palestinian conflict and being descended from someone who fought in that conflict.
"[What We Hold] forced me to confront that this [history] is a part of who I am," Stein explained. "You can take account of your family and take responsibility for where you come from, but you don't have to be defined by it. [It's like] existing in two worlds. It's challenging but I can hold both. [I can say], 'This is where my family comes from, and I'm going to do everything I can to create a better future.'"
At an opening celebration for the What We Hold exhibition, teen participants—in front of their families, friends, and community—publicly reflected on what they had learned from the whole experience. This special evening reiterated how The CJM's youth engagement work makes teens feel not only welcomed but also honored and respected.
"People don't usually hear teen voices or have access to teen ideas, so for museum visitors to witness teens being treated as professional artists in a museum space is extremely powerful," Aber said. "[What We Hold] is about real people and real stories, and reminds visitors that museums are places of human connection."
*Last name has been changed.
By Yonah Kirschner, for The Covenant Foundation
---
More to Consider