Ten years ago, Lisa Levy was sitting on the bus in Israel with her eighth-grade class, wondering why so many of her students weren't connecting to the vibrant, complex Jewish homeland they had been studying for years.
"When I looked around, I saw that most of them were staring down at their laps, instead of out the window," said Levy, who has taught art and Jewish Studies at Brandeis Marin day school, just north of San Francisco, for 15 years. The following year, digging deeper into her art and culture toolkit, Levy introduced her students to the flourishing street art scene in Israel. And on the next trip to Israel they saw the art for themselves.
"I almost cried when I saw their level of excitement," she said, describing the change as "phenomenal." Apart from recognizing and responding to the art itself in visceral and positive ways, the students began to connect with the energy and complexity of Israeli life, asking questions and making observations far beyond the content of murals in the Tel Aviv bus station, or the graffiti in Jerusalem's hip Nachlaot neighborhood.
This moment of educational insight was followed soon after by the arrival of Dr. Peg Sandel as Head of School, and Merav Steinberger as Dean of Hebrew and Jewish Studies. This trio, along with their colleagues, saw the potential for braiding art more completely into the study of Israel at the school. Graffiti on the walls of Israeli cities became a doorway into the soul of a country.
In 2018, The Covenant Foundation awarded Brandeis Marin a Signature Grant to solidify and expand this work, called the Tiferet Project ("tiferet" means beauty or adornment in Hebrew).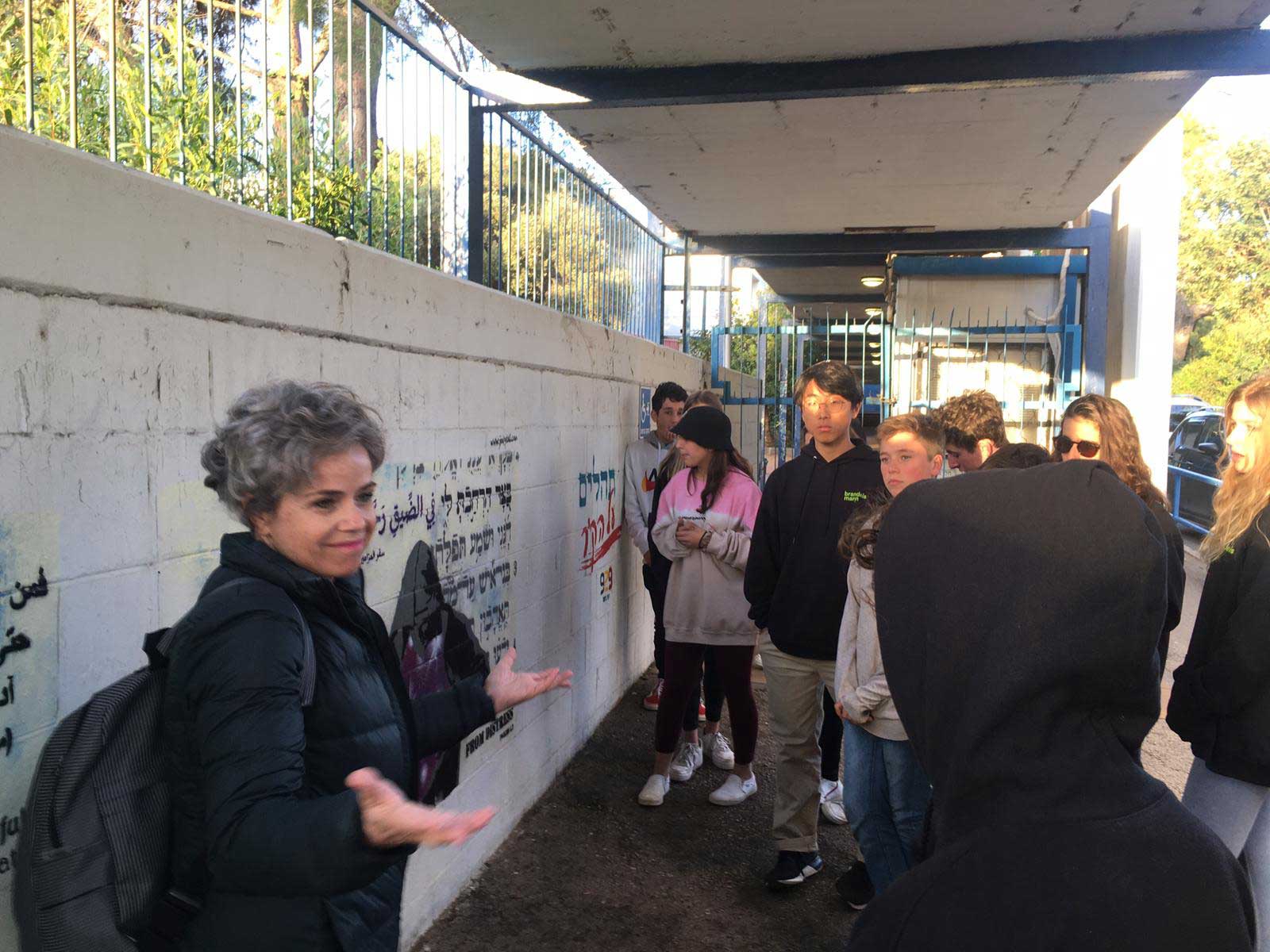 The heart of this program is a year-long class for eighth graders, called Israel Art and Culture. The first semester focuses on learning the language of analyzing art, followed by an exploration of Israeli culture and society, with an eye to finding points of connection with students' lives. In the second semester, and prior to their annual journey to Israel, the students do a deep dive into the country's street art. This work—colorful, energetic, and unafraid to tackle current events head on—gives students a chance to more deeply grapple with the complexities of Israeli society. Most importantly, perhaps, they come to their own conclusions about the country, with a baseline of excitement and knowledge about contemporary Israeli life.
"Israel is a young country, and the artists we studied saw Israel as a canvas to make political statements and effect change. They must feel very confident to express themselves so freely," observed Elia Janes, a recent graduate of Brandeis Marin. "At Brandeis, we are encouraged in our Jewish Studies classes to ask questions, but also we are given the responsibility to find our answers."
Olivia Felson, also a recent graduate, noted that the Israel Art and Culture class deepened her faith in Judaism while at the same time opening a window to an Israel she never knew. The study of art allowed her to see more clearly that "Israel is a second home to many different groups of people… and although there is a history of conflict in the region, there is also a strong community that transcends individual differences and instead focuses on innovation and the future."
For Sandel, this shift in teaching about Israel couldn't come a moment too soon. Like many educators, she worried that Jewish schools were failing to adequately engage students with a love of Israel, or create a teaching environment that included the political, religious, and other complexities of the country. Without these two pillars of engagement and nuance, she feared Jewish educators were setting students up for apathy and disappointment later on.
"With the Tiferet Project, we wanted to re-think Israel education," Sandel said. "We wanted to meet kids in subjects areas [like art and culture] where they had a natural curiosity, and enter into Israel studies from that space."
Discussing recent academic findings about the views of Jewish youth toward Israel, Sandel, who has a Ph.D. in Jewish Studies, noted that "some of the loudest anti-Zionist voices come from day school kids, kids who, davka, were supposed to be inoculated from these ideas. They had the feeling they had been lied to about the complexity of Israel."
The response, pedagogically, is boldness and innovation. "To what extent can we dare to let our students know that there is complexity, and give them the tools to deal with it? We are good at that as Americans. We can love this country, and recognize it has a lot of problems, and live with that tension. But with Israel, we haven't yet developed that same robust toolkit. The arts make that possible."
For Merav Steinberger, the yoking together of art and Israel has had benefits throughout the Jewish Studies curriculum.
"Our approach to teaching art parallels the way we teach texts, by asking questions and interpreting, and being able to agree or disagree with what is said," said Steinberger. When students see how "streets artists use graffiti in Israel—by crossing out what one person did, and adding their own 'text'—they understand from a different angle the process of Talmudic commentary."
As with every school program over the last 12 months, Tiferet underwent major adjustments because of COVID. Most importantly, the 2021 spring trip to Israel had to be cancelled, as was the arrival last year of an Israeli artist the school had studied, and who was set to work intensely with the Brandeis Marin community over a week-long educational residency.
Lisa Levy acknowledged this disappointment while looking forward to a future that will require her students to ask even better questions about Israel and Jewish life. More than anything, "we want students to push back against what they see. To look, and then look again."
By Dan Schifrin, for The Covenant Foundation
A former columnist for both New York Jewish Week and the j: Jewish Newsweekly of Northern California, Dan Schifrin has taught creative writing at UC Berkeley, San Francisco State, and Stanford University Continuing Studies, and served as writer-in-residence at the Contemporary Jewish Museum. He recently founded StoryForward, which offers creative writing courses to Jewish teens, intergenerational Jewish book club support, and public conversations connecting art, literature, and community. He is the author, among other things, of the play "Sweet and Sour;" the one-man show "String Theory"; and a forthcoming memoir about fatherhood and science fiction. As part of a LABA Fellowship at the JCC of the East Bay, Dan is writing a play about medieval Jewish Spain and its influence on twenty-first-century America.
---
More to Consider